Frankie Edgar: Top 10 Threats to Edgar's UFC Lightweight Title in 2012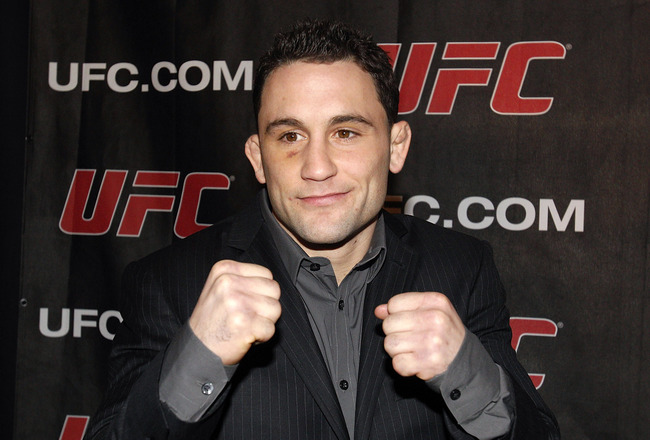 Michael Cohen/Getty Images
Frankie Edgar, the ultimate UFC underdog, went from a lamb to B.J. Penn's slaughter, to fluke Lightweight Champion, to undisputed title holder. Though that road saw him face off against a bevy of tough opponents, the lightweight kingpin has seen but the tip of the division's iceberg.
Edgar will face Ben Henderson this Saturday, in Japan, and, though the immediacy and difficulty of the challenge ahead warrants Edgar's full attention, "Smooth" is but one of many lightweights that will be vying for Edgar's crown before the end of the calendar year.
The following is a list of the top 10 threats Edgar may have to deal with before 2013.
10. T.J. Grant: The Lightweight Darkhorse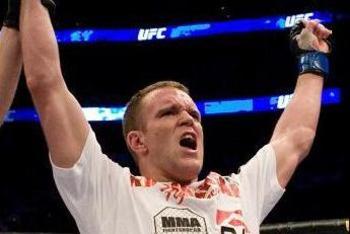 Why is he on the list?
T.J. Grant is probably not someone many people envisioned kicking off this list, but he deserves a place here.
Grant is a fabulous ground fighter that possesses an arsenal of slick submissions and impeccable ground control. He recently dropped down from 170 to 155 pounds, which will eliminate the size disadvantage he has faced to this point in his career.
Grant's lone lightweight contest came against Shane Roller. The Canadian looked dominant, out-muscling Roller, one of the strongest 155ers in the UFC, and outclassed him in every aspect of the game.
Does he have a chance
He has a very, very small one.
Grant's three losses in the UFC have come from Dong Hyun Kim, Johny Hendricks and Ricardo Almeida, all at welterweight, and all via decision. These men are notably larger than Grant, who would have a size advantage if he took on Edgar.
Even so, Edgar would have a decisive advantage on the feet and would be more likely to plant Grant on his backside than to suffer the inverse.
Grant has never been knocked out, but a five-round fight against the UFC Lightweight Champion might change that.
Will he have the chance in 2012?
Unlikely.
Grant's single lightweight bout is a good jumping off point, but the 155-pound division is stacked, and the ascent to the top is harrowing. Grant would likely need three victories over very tough guys before he even warrants title shot consideration.
He would likely need to be the beneficiary of another fighter's injury, plus get very busy very fast to have a crack at the belt prior to 2013.
9. Donald Cerrone: Dangerous Finisher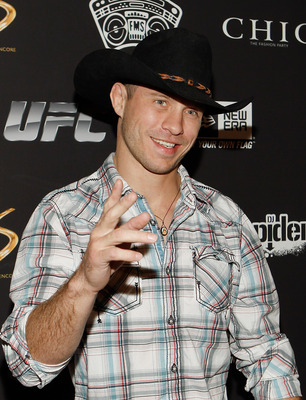 Isaac Brekken/Getty Images
Why is he on the list?
Since his days in the WEC, "Cowboy" has been one of ZUFFA's most active lightweights, as well as one of the most successful. Though he is coming off a loss to Nate Diaz, Cerrone will have the chance to rebound sooner rather than later.
He is capable on the feet and deadly on the mat. He is a staunch challenge for the toughest the lightweight division has to offer.
Does he have a chance?
He has a small one.
Cerrone is a good standup fighter, but he lacks the power to knock Edgar out. In 21 pro fights, Cerrone has one KO victory to his name.
Most of "Cowboy's" wins are of the submission variety, but projecting his chances of taking a top-tier wrestler like Edgar to the mat produces percentages of the minuscule persuasion.
Though he is a world-class fighter, Cerrone does not match up well with the current champ. Frankie would probably take this one by knockout or unanimous decision.
Will he have the chance in 2012?
Possibly.
Cerrone will face Yves Edwards in May, and a victory would get him back into the mix. He would need to reel off a couple more wins before getting consideration for a title shot, but it's conceivable he could accomplish this before New Year's Day.
8. Clay Guida: Wear N' Tear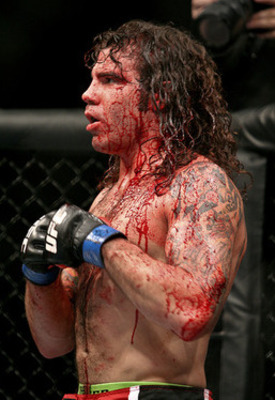 Why is he on the list?
Clay Guida is a ball of energy that would be an exhausting opponent in a 25-minute fight.
Guida has always been a tough fighter, but he has become a true contender over the past few years. A loss to Ben Henderson kept Guida from challenging Edgar this February, but the "Carpenter" will continue to mix it up with the best the UFC lightweight division has to offer for the foreseeable future.
Does he have a chance?
Very slight.
Guida has remarkable cardio, setting and maintains a pace very few fighters could keep for five rounds. He is also a very good wrestler and possesses good enough standup.
Unfortunately for Guida, his strengths are Edgar's strengths, and Frankie has superior striking. I doubt Edgar could finish Guida, but he would most likely defeat him.
Will he have the chance in 2012?
Quite possibly.
Guida would have been fighting Edgar this weekend had he defeated Henderson in his last bout. Though the loss knocks him down a few rungs on the lightweight ladder, he remains close to the top.
Two wins and Guida should have his chance at UFC gold.
7. Gilbert Melendez: Strikeforce Lightweight Champion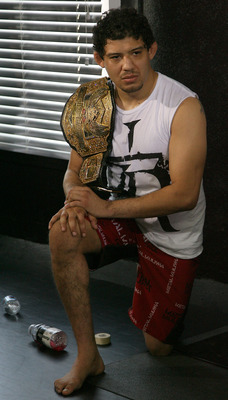 Valerie Macon/Getty Images
Why is he on the list?
Melendez has been on a roll since 2009, posting a 6-0 record under the Strikeforce banner.
The Skrap Pack product drew the blueprint for making Shinya Aoki look foolish and reeled off victories against Jorge Masvidal and Tatsuya Kawajiri in 2011.
Melendez is the Strikeforce Lightweight Champion,and would need to move to ZUFFA's sister promotion in order to get a shot at the UFC title.
Does he have a chance?
A minor chance.
Melendez is a good fighter, but he is somewhat of a Frankie Edgar-Gray Maynard hybrid. He possesses the same basic skill sets as the two UFC standouts, but is not as fast as Edgar, nor as strong as Maynard.
If a unification bout goes down between the Strikeforce champ and the UFC champ, it may look something like Edgar-Maynard III, minus Frankie tight-roping through round one.
Will he have the chance in 2012?
It is possible.
Since heavyweight champion, Alistair Overeem, and welterweight champion, Nick Diaz, both made the switch, it is logical to think Lightweight Champion, Gilbert Melendez, will too. However, the UFC lightweight division is stacked with viable contenders and rushing Melendez over may not be a concern of Dana White's.
It will happen eventually, though perhaps not in 2012.
6. Joe Lauzon: The Long Road to the Top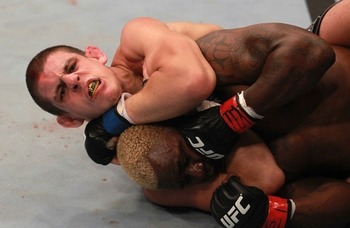 Why is he on the list?
Lauzon is the owner of an 8-3 record in the UFC and is fresh off a 47-second submission of Melvin Guillard. With that victory, "J-Lau" propelled himself into contention and will face off against Anthony Pettis this Saturday, in Japan.
Lauzon is very well rounded and should give Pettis all he can handle. A win against the last WEC Lightweight Champion would announce Lauzon's arrival as a serious top contender.
Does he have a chance?
A marginal one.
Lauzon could beat Edgar if he put on the performance of his life. He possesses good striking, solid wrestling and fantastic submissions; he is dangerous everywhere.
On the other hand, Edgar has the more polished standup and would more than likely avoid being put on his back against Lauzon, the one spot where he would be in serious trouble.
Lauzon could pull it off, but I envision Edgar winning by knockout if this one goes down.
Will he have the chance in 2012?
Quite possibly.
If Lauzon defeats Pettis this weekend he may only be one win away from a title shot. It seems that the next in line is the winner of the upcoming Jim Miller/Nate Diaz fight, but there isn't much else standing between the winner of Lauzon/Pettis and the champion.
5. Anthony Pettis: The Last WEC Lightweight Champion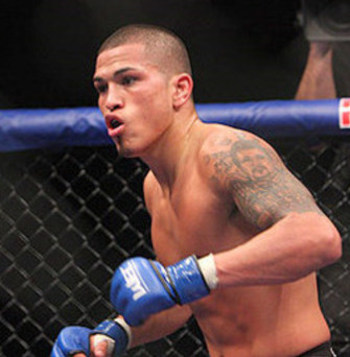 Why is he on the list?
Pettis made a name for himself by executing the now-famous, off-the-cage roundhouse kick en route to a victory over then-WEC Lightweight Champion, Ben Henderson.
Since his arrival in the UFC Pettis is 1-1, but he could advance up the lightweight ladder by defeating UFC veteran Joe Lauzon this weekend.
Does he have a chance?
Yes.
I am inclined to believe Edgar would defeat Pettis if the two ever hook em' up, but am loath to write "Showtime" off completely.
Pettis is a freak of an athlete and can finish fights from any position. He has five knockouts, six submissions and three decision wins.
The biggest issue Pettis would face against Edgar is the champ's wrestling. Pettis could hold his own on the feet and is a legitimate submission threat off his back. But Edgar would more than likely win this one via decision, à la Pettis' loss to Clay Guida.
Will he have the chance in 2012?
As it is for Lauzon, it is quite possible for Pettis.
If Pettis takes this weekend's fight, he would be one or two wins tops away from a title fight.
4. Jim Miller: An Opponent No One Wants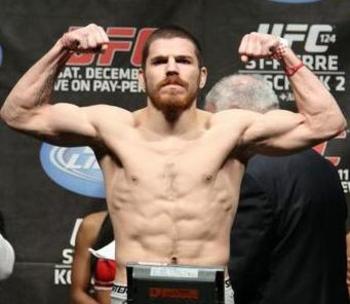 Why is he on the list?
Since a loss to Gray Maynard back in '09, Miller has amassed an 8-1 UFC record. His only loss in that time came by the hand of incumbent No. 1 contender, Ben Henderson.
After his loss to "Smooth," Miller obliterated Melvin Guillard, which earned him a No. 1 contender fight against Nate Diaz.
Does he Have a Chance?
A moderate one.
The problem I have picking Miller over Edgar is that they are very similar fighters. Both are high energy, tenacious and well rounded. Miller has a slight edge in jiu-jitsu, but Edgar has the edge on the feet.
This fight would be one for the ages, but I think Edgar's experience in five-round fights, as well as his superior boxing, would be enough to convince the judges to send the belt out with the man it came in with.
Will he have the chance in 2012?
It is in his hands.
A win over Nate Diaz this May would most likely make Miller next in line. At the very most, he would need one additional win.
3. Nate Diaz: Little Brother Ready for the Spotlight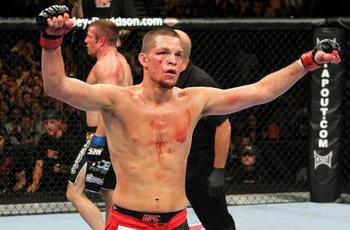 Why is he on the list?
After an ill-advised foray into the welterweight division, the younger Diaz brother has made an impressive lightweight reprisal, beating Takanori Gomi, and Donald Cerrone.
Diaz has fabulous jiu-jitsu and has improved his striking by no small measure since his time on The Ultimate Fighter.
Does he Have a Chance?
A moderate chance.
Edgar is a bad stylistic matchup for Diaz. The battle on the feet would be an intriguing bout between speed and reach, but it is Edgar's wrestling that would dictate the pace of the fight.
Though Diaz is a horror off of his back, Edgar's submission defense is outstanding.
The most likely outcome of an Edgar/Diaz contest would be Frankie via unanimous decision.
Will he have the chance in 2012?
If he beats Jim Miller, yes.
Given all the attention Nick Diaz has received since his fight with Carlos Condit, I'm sure the UFC would love to thrust another Diaz into the spotlight.
That is not to say Nate would be the beneficiary of a publicity campaign. If he is able to put Miller away this May, he will have earned his shot.
2. Gray Maynard: 1-1-1 Record Against the Champion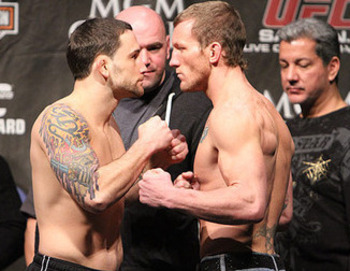 Why is he on the list?
How could he not be?
Maynard already owns a win over Edgar, as well as a draw. He owns a loss to Edgar, but he came as close to finishing Edgar as is possible before the lightweight kingpin rebounded.
In addition to Edgar, Maynard has defeated top lightweights Kenny Florian, Nate Diaz and Jim Miller.
He has an 8-1-1 record, with one no contest, as a UFC fighter.
Does he have a chance?
Absolutely. He did it once, he can do it again.
Edgar and Maynard are about as closely matched as two fighters can be, and this is perfectly reflected in their head-to-head record.
Both of the times Maynard failed to secure a victory against Edgar, he came ridiculously close but fell victim to the champion's outrageous grit and determination.
It is anyone's guess how a fourth fight between these two would pan out.
Will he have the chance in 2012?
Quite Possibly.
Fans may not be clamoring for another rematch, but it would be difficult to deny Maynard one if he strings together a couple wins over high-ranking opponents.
The best-case scenario for Maynard is Henderson defeating Edgar this weekend, which would make his campaign to challenge for the UFC Lightweight Championship seem less redundant.
1. Ben Henderson: Gets His Chance February 26, 2012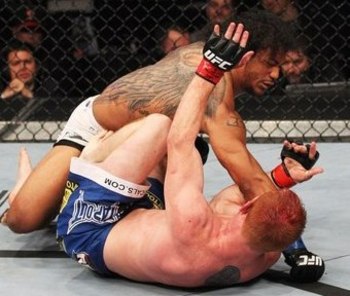 Why is he on the list?
Henderson has been a terror since joining the UFC. In the process of positioning himself as the No. 1 contender, "Smooth" has rattled off decisions against Mark Bocek, Jim Miller and Clay Guida.
Henderson in a high-motor wrestler that survives anywhere the fight takes him.
Does he Have a Chance?
Undoubtedly.
Henderson is a dangerous opponent for anyone, Edgar included. If he proves capable of taking the champion down and holding him there, he will leave the Land of the Rising Sun as the new UFC Lightweight Champion.
However, Henderson may find himself in trouble if he cannot take Edgar down. Though he is a capable striker and has yet to suffer a knockout loss, the advantage in standup decidedly rests with Edgar.
Henderson could pull this one out, but I predict Edgar prevails via late KO or unanimous decision.
Will he have the chance in 2012?
Yes.
Henderson will face Edgar this weekend—February 26, 2012.
Enjoy.
Keep Reading