Georgia Bulldogs Football: 2012 Spring Primer
February 21, 2012

Al Messerschmidt/Getty Images
Despite finishing the 2011 campaign with two straight disappointing losses to LSU (41-10) and Michigan State (33-30), the Georgia Bulldogs are entering the new year with high expectations thanks to a dominant defense that brings back nine starters and the return of Aaron Murray as the starting quarterback.
Georgia's record of 10-4, which included 10 straight wins in the middle of the season, albeit bypassing LSU, Alabama and Arkansas, pulled head coach Mark Richt off the proverbial hotseat.
Now, Richt, who brought in a star-studded recruiting class for the second year in a row, could be returning to the prime that put Georgia in the spotlight early in his coaching career.
Georgia is expected to rank anywhere from the top 15 to the top five in the preseason rankings and will be favored to take the SEC East crown for the second year in a row.
What will make Georgia's path to a championship even easier is the fact that the previously scheduled game against Alabama was scrapped in favor of a road trip to Missouri on Sept. 8, as decided by the SEC schedulers.
While fans might gripe that they wanted to see the Crimson Tide and Bulldogs collide, there's no doubt that a win in front of a national audience against the newest SEC member could catapult Georgia into the national championship conversation.
Georgia's schedule sets up perfectly, with additional road games at South Carolina, Kentucky and Auburn. The non-conference schedule should be a cakewalk as well, as athletic director Greg McGarity's scheduling tendencies from his days in Florida become apparent. 
Georgia Tech will be the lone quality opponent to face Georgia outside of the conference schedule, with the remaining out-of-league games being against Buffalo, Florida Atlantic and Georgia Southern.
While the wait for the fall will be long, spring practice is just weeks away. Aside from the two-game suspension of cornerback Sanders Commings and the dismissal of defensive backs Chris Sanders and Nick Marshall (neither started in 2011), Georgia's roster is looking solid.
Quarterback
Murray, who broke the school record for passing touchdowns last fall, with 35, is back for his third straight year as Georgia's starting quarterback. The junior from Tampa has not missed a start in 27 straight games and is projected to enter the fall as a preseason All-American.
Murray does receive criticism for being inconsistent with his accuracy, which was an issue in the Outback Bowl against Michigan State (where he threw two costly interceptions), but that didn't stop him from tossing for 3,149 yards and completing 60 percent of his pass attempts. 
Second on the depth chart for Georgia is incoming redshirt freshman Christian LeMay. LeMay, the heir apparent to Murray, has all of the athletic and mental tools that make up a dominant quarterback. He's been praised for incredible accuracy and decision making. The only thing that LeMay lacks, in contrast to Murray, is experience.
Hutson Mason, a returning junior, is an interesting piece of this puzzle. Mason, who backed up Murray in 2011, nearly decided to transfer from Georgia. Mason changed his mind, however, and will return to Georgia to battle for the second-string position.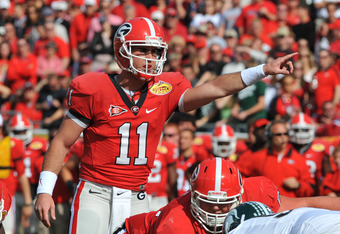 Al Messerschmidt/Getty Images
Freshman commit Faton Bauta, who has enrolled early, is an interesting addition to the quarterback position. Bauta, who has been described as a poor man's Tebow, was a 3-star recruit coming out of high school, but his talent is evident on tape. There has been speculation that the athletic quarterback could switch to tight end or fullback, two positions that lost starters from 2011.
Running Backs
Georgia struggled with a consistent running game in 2011, but fans are confident that enough talent will emerge to create a dominant rushing attack by fall.
Isaiah Crowell, who has been highly criticized for his attitude and injury proneness, returns as the team's leading rusher. Crowell still managed to rush for 850 yards in seven starts as a true freshman last year. His athleticism and tough running style has been undermined by a few, fixable off-field flaws.
Assuming Crowell returns healthy, he should see less pressure in the starting role. Keith Marshall, an early-enrolled freshman from North Carolina, was considered one of the top 10 players in the country coming out of high school.
Marshall brings straight line speed to Georgia's backfield and has been compared to Oregon's De'Anthony Thomas. Fans have already favored Marshall over Crowell. Not only did he beat the team's "fastest" player, Malcolm Mitchell, in a foot race, but he maintained a 4.3 GPA in high school.
That potentially dynamic duo doesn't even crack Georgia's tailback depth, however. Richard Samuel, one of the more likable players in Georgia's recent history, should return as a tailback. Samuel showed signs of finally coming into his own as a runner, after playing linebacker in 2010, in the Florida game this past October. But, a broken ankle halted Samuel's emergence.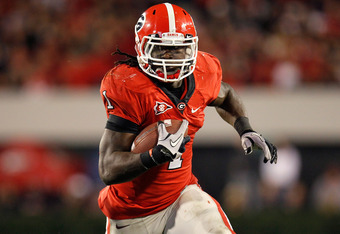 Kevin C. Cox/Getty Images
There is a chance that the physical Samuel moves to fullback to fill the void left by Bruce Figgins. Other candidates to take over that position are Bauta, as mentioned, or freshman Quayvon Hicks. The position is currently manned by rising junior Zander Ogletree. Ogletree isn't the physical specimen that is ideal for the position, and has been compared to Verron Haynes.
Other tailbacks in the mix include another freshman from North Carolina, Todd Gurley, who was ranked as one of the top 20 running backs in the country. Gurley is friends with Marshall and brings a tough, inside running style.
Carlton Thomas also returns. Thomas, as a backup, rushed for 4.9 yards a carry last year. His slight size prevents him from being a formidable starter, but he's a talented runner that should see the field a considerable amount in his senior season. Ken "Boo Malcome" also returns to the backfield.
Receivers and Tight Ends
Two springs later, and Georgia fans might have already forgotten about A.J. Green. There's likely not a surer group on this team than the receiving corps. 
Rising senior Tavarres King heads the group. King caught 47 passes for 705 yards and a team-leading eight touchdown receptions last year. He's a fundamentally sound and reliable target who has shown more and more flashes of brilliance as his career has progressed. 
On the other side, incoming sophomore Malcolm Mitchell brings NFL talent. Hampered by a hamstring injury for a significant portion of his freshman year, Mitchell still finished second in the team in receptions with 45 for 665 yards. Mitchell has the ability to stretch defenses and uses a long upper frame to bring in passes.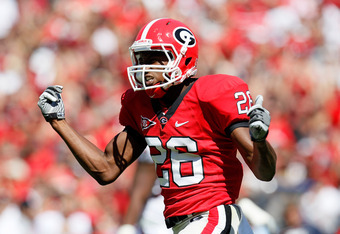 Kevin C. Cox/Getty Images
Michael Bennett is just as reliable, if not more, than the previously mentioned players. The incoming redshirt sophomore was one of Aaron Murray's favorite targets last year. He possesses sticky hands and the ability to position himself perfectly for any ball.
Georgia also returns Rantavious Wooten, a guy who was projected to be the second-leading receiver on Georgia's team last year, but missed nearly the entire season with concussion symptoms. 
Marlon Brown, arguably Georgia's fifth or sixth receiver and a former 5-star recruit, has still been quiet as a Bulldog thanks to intense competition at his position.
Rising sophomore Chris Conley could even push Brown and Wooten out of the starting lineup. And, fans might have forgotten about Under Armor All-American Justin Scott-Wesley, who redshirted last year. Its scary to think how deep this receiving corps really is. It explains why Georgia's only receiver commit for 2012 was Blake Tibbs, who will undoubtedly redshirt this year.
The bottom line is, there isn't a receiver on the three-deep that couldn't start and succeed. 
The tight end position might be a different story, despite being talented. With Orson Charles leaving early for the NFL draft, Jay Rome has become the sexy pick to fill the void. Rome was considered one of the nation's best players in last year's class.
Conventional wisdom suggests that Georgia will start the spring with redshirt junior Artie Lynch as the starter, but Rome will see plenty of playing time and should work his way into a starting role. Remember, also, that Bauta is a wildcard to see playing time at this position.
Lynch is the only Bulldog with in-game experience at the position.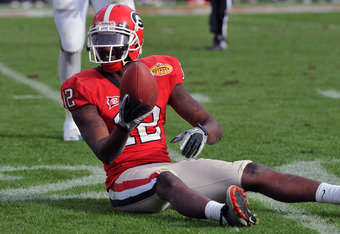 Al Messerschmidt/Getty Images
Offensive Line
This is the area that should give Georgia the biggest concerns. The Bulldogs will have to find a way to replace three starters from 2011 in tackles Cordy Glenn and Justin Anderson and center Ben Jones.
Returning to the lineup are guards Dallas Lee, Chris Burnette and Kenarious Gates. There's early speculation that Lee will move over to center. Burnette is also considered an option at center, as he's practiced at the position in the past.
The Bulldogs have three big time tackles to choose from, though they are all either redshirt or true freshman. John Theus was Georgia's best 2012 commit until Marshall and Josh Harvey-Clemsons put on the red and black hats.
Theus could very well start as a true freshman at tackle, but he could be pushed by redshirted returnee Watts Dantzler. Xzavier Ward and Dantzler stand at 6'7" and have been praised for talent and potential.
Defensive Line
Georgia's defensive line will be anchored by a rising senior in John Jenkins. Jenkins, at 351 lbs., is considered one of the best returning defensive linemen in the SEC. He's primed to have an All-SEC, or even an All-American, season.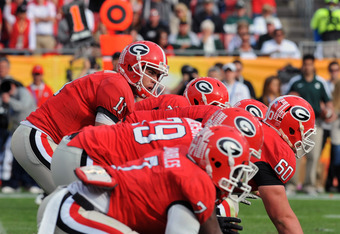 Al Messerschmidt/Getty Images
At defensive end, the Bulldogs will have to replace DeAngelo Tyson. The early candidate to fill the position was Garrison Smith, who performed well against Georgia Tech at the end of the fall. 
However, there's now reports circulating that Ray Drew, the former 5-star recruit and ordained minister, nicknamed the "Pastor of Disaster," will fill the void. 
Drew, who wears No. 47, will have plenty of pressure to perform somewhere near the greatness of David Pollack, who seemingly immortalized the number in 2003. Drew won't be Pollack, in reality, but he could go down as one of the best defensive ends (or linebackers) to ever play between the hedges.
The other end position will be manned by Abry Jones. The rising senior has been nothing but solid since he became a starter last year.
Don't forget about Kwame Geathers, either. Geathers, in a 3-4 scheme, found it difficult to see significant playing time behind Jenkins at nose tackle, but he's just one pound lighter than Jenkins and is without a doubt going to be a first or second-round draft pick when it's all said and done.
Georgia will add significant depth at either tackle or end with the arrival of Jonathan Taylor from Millen, Ga. Taylor was considered the fourth-best player in Georgia's recruiting class.
Linebackers
Linebacker is the other area where Georgia is incredibly stout. Jarvis Jones, an All-American, returns as the team's sack master. Jones recorded 13.5 sacks last year and finished second on the team in tackles. He's a relentless pass-rusher with great speed and athleticism and has been compared to Robert Mathis.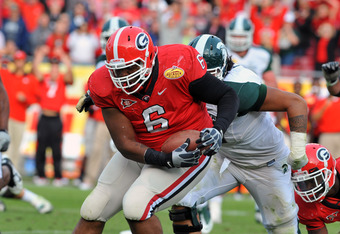 Al Messerschmidt/Getty Images
The other outside linebacker position will see the return of Cornelius Washington. Washington is one of the largest linebackers, at 6'4", 270 lbs., in the SEC. He's a great power rusher who also possesses NFL talent.
The middle linebackers should be Alec Ogletree and Michael Gilliard. Gilliard stepped on the heels of regular starter Christian Robinson through the course of last season thanks to his standout performances. He finished third on the team in tackles with 65. Robinson is not as talented and will likely share nearly half of his playing time with Gilliard if Gilliard can quarterback the defense, as well as his friendly counterpart.
Ogletree is another player with All-SEC written all over him. He was Georgia's prized recruit in 2009 as a safety, and he flourished in the middle of Georgia's defense last year. Unfortunately his rise to fame was halted by a broken foot. He's a slimmer, speedier linebacker, but he can hit like a train and play in pass defense.
Georgia should also see plenty of playing time from true freshman Jordan Jenkins, as well as returning sophomore Amarlo Herrera.
Josh Harvey-Clemons, who was Georgia's most publicized and hyped 2012 commit, could see plenty of time at outside linebacker, but there's serious speculation of him actually moving to safety.
Defensive Backs
The defensive back position might possess the best safety tandem in the country. All-American Bacarri Rambo returns, along with fellow senior and tackle leader from 2011, Shawn Williams.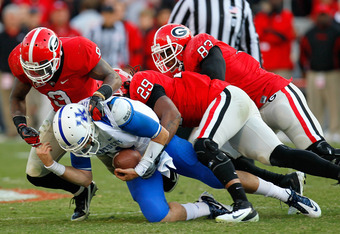 Kevin C. Cox/Getty Images
Williams recorded 72 tackles and four interceptions last season and is actually considered to be the better safety of the two. He's a very fast but big body who plays downhill like a linebacker. He's a ferocious hitter and is only improving his draft stock by returning to school.
Rambo, who wasn't the most highly-recruited player coming out of high school, comes in as Georgia's interception leader (he finished second in the nation in that category in 2011 with eight interceptions). 
The cornerback position has taken a hit with the departure of Paul Hornung Award winner Brandon Boykin and a two-game suspension of starter Sanders Commings. Commings is way too experienced to lose his starting status when he returns, but the suspension time will open up an opportunity for Georgia fans to get an early look at Damian Swann.
Swann was Georgia's top defensive back recruit from a year ago and is basically tabbed to be a starter and a big-time player before his career in Athens is over.
Branden Smith returns to start at the other cornerback position. Smith has never really gelled into a starting role, playing mostly in nickel packages and on special teams during the first part of his career.
Georgia will rely on Smith and Swann to pick up their roles quickly if they are going to have a dominant secondary again. There's also rumors spreading that Malcolm Mitchell could become a two-way player, but Richt insists he will primarily be a receiver.
Chris Sanders and Nick Marshall, along with transfer Jordan Love, are gone, which means Devin Bowman and Quintavious Harrow will be expected to grow into their respective positions quickly. Corey Moore could also see legitimate playing time, in relief of Rambo or Williams, in his second year.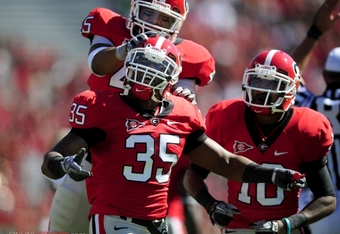 Georgia's only defensive back commitment in this year's class is Sheldon Dawson, a gadget-type athlete from Memphis, Tenn.
Special Teams
Special teams is definitely Georgia's biggest area of concern this year. Boykin leaves Georgia as the team's all-time leading returner. Georgia also loses All-American kicker Blair Walsh and All-American punter Drew Butler.
Branden Smith might be Georgia's best option to return kicks or punts. Other candidates include Scott-Wesley, Swann or Commings.
As far as kicking and punting go, Georgia will have to rely on two true freshmen in Collin Barber and Marshall Morgan.
Barber is listed as a punter, while Morgan is listed as a kicker. Georgia's special teams struggled mightily in 2012. They will need to see immediate solidarity from the freshman if the team is going to win more games.
Also, Georgia, like the end of last year, should start more first and second teamers on the coverage units. With all of the new and young depth, the coverage units could see significant improvement from a year ago.
With all of that said, here's a premature preview of Georgia's starting depth for the fall.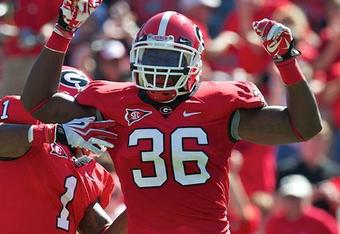 QB: Aaron Murray
TB: Isaiah Crowell, Keith Marshall
FB: Zander Ogletree
TE: Artie Lynch, Jay Rome
WR: Tavarres King
WR: Malcolm Mitchell
T: John Theus, Watts Danztler
G: Kenarious Gates, Chris Burnette
C: Dallas Lee, Chris Burnette
DE: Abry Jones
NT: John Jenkins, Kwame Geathers
DE: Garrison Smith, Ray Drew
OLB: Jarvis Jones, Josh Harvey-Clemons (?)
MLB: Alec Ogletree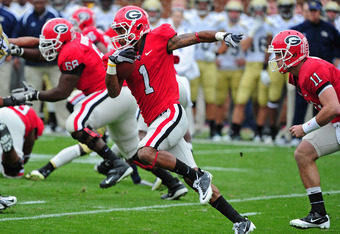 Scott Cunningham/Getty Images
MLB: Michael Gilliard, Christian Robinson
OLB: Cornelius Washington, Jordan Jenkins
CB: Branden Smith
CB: Sanders Commings, Damian Swann
S: Bacarri Rambo
S: Shawn Williams, Josh Harvey-Clemons (?)
KR: Branden Smith
PR: Branden Smith
K: Marshall Morgan
P: Collin Barber