NHL Trade Scenario: Bryan Allen Would Be a Great Addition to Detroit Red Wings
February 21, 2012

Bruce Bennett/Getty Images
The Detroit Red Wings are the best team in the NHL right now, they are literally unstoppable at home and they have a roster capable of making another Stanley Cup run.
However, it wouldn't hurt to add another veteran player to the squad before the February 27 trade deadline, and Carolina Hurricanes defenseman Bryan Allen would be a tremendous addition to the Red Wings' blue line.
MLive's Ansar Khan recently addressed the possibility of the Red Wings acquiring Allen before the deadline, noting, "They probably have kicked the tires, and might will be among several teams making a pitch, as it appears the buyers will outnumber the sellers at the trade deadline."
Detroit has more salary cap space to work with than most NHL teams right now, so they have a lot of flexibility if they feel a move is necessary.
Allen would bring great size to the Red Wings' defense, where he would likely team up with Jonathan Ericsson on the third pairing.
The Hurricanes' defenseman is 6'5" and weighs 226 pounds, and he's a huge presence in the defensive zone. His willingness to block shots is also something he would provide the Red Wings with.
In the playoffs, you need guys who can excel in their own zone and play a physical style of hockey. Allen is someone who can be reliable on the third defensive pairing and can also play a significant role on the Red Wings' penalty kill.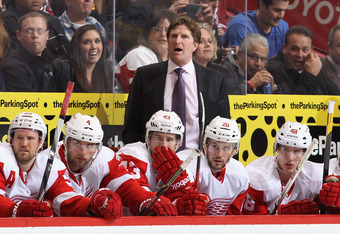 Christian Petersen/Getty Images
If Allen is traded to the Red Wings and for whatever reason it doesn't work out as well as planned, then the team can let him go in free agency this summer.
Allen is a strong defenseman who can add some toughness and depth to the Red Wings' blue line for the playoffs, and as an upcoming free agent, there is little risk in making this move.
If Detroit can acquire Allen for a draft pick, then general manager Ken Holland would be smart to make the deal happen.