NHL Trade Speculation: Should the Pittsburgh Penguins Look for a Backup Goalie?
February 21, 2012

Claus Andersen/Getty Images
It's clear that Marc-Andre Fleury is the Pittsburgh Penguins' franchise goaltender. Although he had growing pains early in his career and still has some weaknesses, he has developed into what the Penguins hoped he would be when he was drafted first overall in 2004.
However, when you look behind Fleury, things are sketchy at best. The Penguins have not come out saying they are looking for a backup goaltender, but it's something general manager Ray Shero should at least consider.
Brent Johnson, who has been Fleury's backup for the last three seasons, has hit a wall this year. After posting winning seasons in his first two years in Pittsburgh, he is just 3-8-2 in 13 games with a disappointing .882 save percentage and 3.17 GAA.
On Sunday against the Buffalo Sabres, he had one of his worst outings of the season, being pulled after allowing three goals on 12 shots. It was another setback in a stretch where he's won just one of his last five games, that being on Feb. 12 against the Tampa Bay Lightning. He stopped 21 of 23 shots in the win.
The 34-year-old Johnson is an unrestricted free agent this season, and his disappointing play combined with his age is not likely to earn him another contract. He is making $600,000, so in terms of salary, he would be easy to move. But when you look at the bigger picture, he probably wouldn't be attractive to even the most desperate of teams looking for a better goalie.
After Johnson, the next best option is in the farm system. But that option, which looked promising last season, doesn't inspire a lot of hope right now.
Prospect Brad Thiessen was named the AHL's Goaltender of the Year thanks to an outstanding sophomore campaign with the Wilkes-Barre/Scranton Penguins. Thiessen went 35-8-1 with a .922 save percentage and a 1.94 GAA.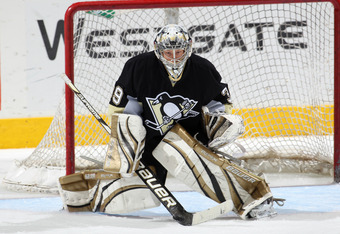 Claus Andersen/Getty Images
But this year, he has fallen back to earth. While it was expected he would not be able to keep playing at such a high level, no one thought he would struggle as much as he had. He is currently 20-14-2 with a 2.88 GAA and .885 save percentage. At times, he has been outplayed by AHL veteran Scott Munroe, who has a .903 save percentage and 2.65 GAA to go with an 11-4-3 record.
Thiessen was re-signed to a one-year deal this past offseason. He has an NHL salary of $525,000 and will be a restricted free agent this summer. He might get another chance to prove himself, as he has no NHL experience and could show that this year is just a down season. That chance could be coming soon, as he was recalled by Pittsburgh on Tuesday morning. Word is that Johnson is sick and the recall is only expected to be short-term.
Dan Bylsma acknowledges that while Johnson is slumping, he is still confident in him as a backup. Bylsma told the Pittsburgh Tribune-Review on Monday:
I'm confident this guy can win hockey games. He hasn't played particularly well and hasn't had a season like last year. He is going to be playing again. He's going to have to win us some games, and play better.
Even though Bylsma acknowledges Johnson's slump, this quote suggests that the Pens do not consider their goaltending situation a problem or a priority. However, they may want to at least entertain the idea of finding a backup.
If Johnson is indeed sent packing, it would be a bad move to go with Thiessen as the backup from here on out. His lack of NHL experience combined with a slump in Wilkes-Barre does not make him the best option. The Penguins are in contention for home-ice advantage and a high playoff seed, and if Fleury gets hurt, Thiessen may not be able to handle the pressure of an NHL playoff push.
At the same time, though, Johnson needs to get it together if he is not going anywhere. As bad as it would be for the Penguins to take an inexperienced backup, it would be even worse to have to turn to Johnson when he is lacking confidence and has had few solid games in goal.
As much as the Penguins may trust Johnson, it's best to see if they are any goaltenders available to have as a better insurance policy with playoffs just around the corner.