USA Olympic Basketball Team 2012 Uniforms: Breaking Down Team USA's New Jerseys
February 21, 2012

When you are beating the world and taking home the gold medal, it's best if you look like a world-class basketball team. Thankfully, Team USA has new threads that should dazzle us all summer long. 
A new trip to the Olympics definitely merits a new design. From the start, I have to say that I like where these things are going. I had some issues at first, but overall, they appear to have staying power. 
Let's take a look at the jerseys with the help of a picture from the Nike Basketball Twitter feed.
Our lightest bball jersey. Approx 96% recycled polyester. The @usabasketball Nike Hyper Elite Uniform: #innovate twitter.com/nikebasketball…

— Nike Basketball (@nikebasketball) February 21, 2012
Wow Factor: 9 out of 10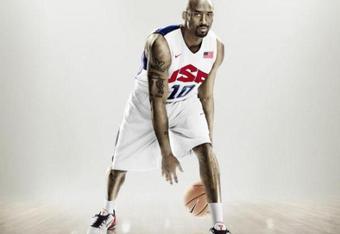 It's hard to grade this when you have four of the best athletes on the planet wearing them. When I look at this picture, all I can think of is Kobe Bryant lighting it up on the court. 
After sufficient time to digest, I am still captivated. I wasn't feeling the USA design on the front, but after a while it wore me down and now I rather like it.
It makes the rest of the uniform, which has a classic feel, stick out from other iterations. 

Design: 9 out of 10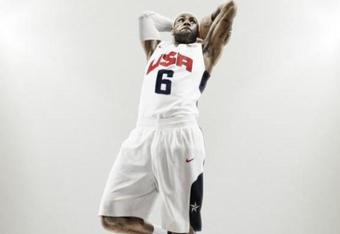 Simple with but a touch of forward thinking. We don't want our team to be in loud, overly flashy uniforms for the summer. 
This is the perfect blend of old and new with just enough pizazz to have us intrigued. I especially like the bar down the sides of the shorts with the team colors. 

Overall Swag Grade: 9 out of 10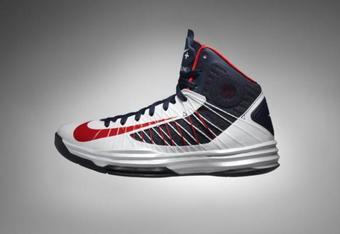 Above, we have the shoes that Nike tells us via their Twitter feed that LeBron James will rock. From head to toe, this team will look clean. 
We are well aware that it's better to play well than look good, but our culture demands some sense of style and swagger, even while you are beating other teams by 20 to 30 points. 
Team USA has had its failures in the past, but this is a squad with a "go big or go home" motto. It's gold or bust, and the jerseys exude that by blending some classic looks with a fashion-forward theme.
I love it, and I can't wait to see these uniforms adorn the podium later this year.