North Carolina vs North Carolina State: TV Schedule, Live Stream and Spread Info
February 21, 2012

Grant Halverson/Getty Images
North Carolina and North Carolina State will go head-to-head for the second time this season, and the Wolfpack are hoping they're able to spoil the fun for the Tar Heels. 
Earlier this year, North Carolina State feel to North Carolina, 74-55, but this time around, the Wolfpack get to play at home. 
The Tar Heels are looking to pick up their fourth straight victory and move into sole possession of first place in the ACC. With Duke set to face Florida State later this week, the Tar Heels have to beat their other in-state rival. 
North Carolina is also vying for its 12th consecutive win over North Carolina State. The Tar Heels are currently No. 7 in the country, whereas the Wolfpack are not ranked. 
With that said, let's take a look at some specifics of this ACC showdown. 
When: Tuesday, Feb. 21 at 8 p.m. ET 
Where: RBC Center, Raleigh, NC
Watch: ESPN3.com 
Betting Line: North Carolina (-6.5) according to VegasInsider.com
What's At Stake? 
The Tar Heels can't afford to drop a game to a lesser opponent. This game is a perfect chance for North Carolina to gain a leg up in the ACC over arch-rival Duke. A loss would be extremely detrimental to the team morale this late in the season. 
For the Wolfpack, they have absolutely nothing to lose here. They're currently in fourth place in the ACC, and this game is great practice for the conference tournament.
That is when North Carolina State really needs to get hot, so tonight will be used a learning experience for that. Plus, since there is no pressure, the Wolfpack just need to go out there and have fun. They've lost two games in a row now to ranked opponents, so a win against North Carolina would greatly lift their spirits. 
North Carolina Injury Report 
*According to the Chicago Tribune
No new injuries to report 
North Carolina State Injury Report 
*According to the Chicago Tribune
No injuries to report 
What They're Saying 
Andrew Carter covers the Tar Heels for the Charlotte Observer, and he tweeted a quote from North Carolina head coach Roy Williams.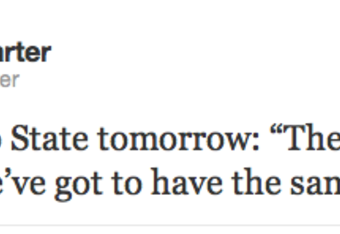 It's easy for the Tar Heel players to lose focus for this game, especially since they annihilated them earlier in the year. 
However, in doing that, North Carolina is just asking for trouble. It's a road game, so the atmosphere should be tough on them. By thinking they have this game easy, it could potentially backfire and cause North Carolina to come out slow. 
It's doubtful that this will occur, though, because the Tar Heels have been through this a month ago. Florida state absolutely demolished them, so I expect North Carolina to stay focused and keep a level head. 
Caulton Tudor writes for the Charlotte Observer as well, and he tweeted a stat that should bring a smile to fans of the Wolfpack.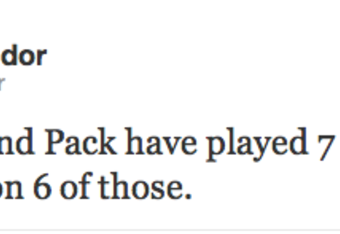 That would seem like good fortune is on the Wolfpack's side, but know that North Carolina State hasn't beaten North Carolina in its last 11 tries. 
Perhaps Feb. 21 is the Wolfpack's good-luck charm, though, and there is a miraculous upset on Tuesday night. It's doubtful, but stranger things have happened. 
North Carolina Player to Watch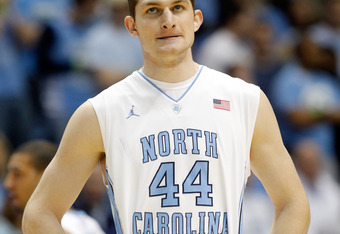 Streeter Lecka/Getty Images
Tyler Zeller stole the show in the first meeting, leading everyone in scoring and rebounding. He dropped 21 points and 17 rebounds, which, at the time, was a career high.
Two games later, Zeller brought down 18 rebounds against Wake Forest. Zeller should have no trouble thriving again for the Tar Heels, so expect big things from the senior forward.
In addition to Zeller, keep an eye on John Henson and his quest to lead the Tar Heels with the most blocks in school history. He's second right now, and should significantly add to his total Tuesday night. Last game against the Wolfpack, Henson had five blocked shots. 
North Carolina State Player to Watch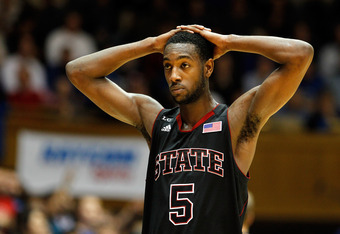 Streeter Lecka/Getty Images
C.J. Leslie is the Wolfpack's top player, averaging 13 points and six rebounds per game. He leads the team in scoring, and there is no doubt he looking for revenge against the Tar Heels.
The 6'8" sophomore forward had an off night against North Carolina back in January, shooting 3-of-12 from the field and only scoring nine points.
Look for Leslie to try and bounce back and prove that he can be the elite leader North Carolina State needs him to be.
Key Matchup 
Winning the battle down low is extremely crucial in this game. North Carolina out-rebounded the Wolfpack by 27 last time around, and that cannot happen again if North Carolina State wants to win. 
The Tar Heels are loaded with size and skill, meaning the Wolfpack have to make the most of each possession. Plus, they can't afford to let North Carolina get several second chance points. 
North Carolina had 15 offensive rebounds last time, which is something the Wolfpack must improve if they hope to pull off the upset. 
Prediction 
At home, the Wolfpack will put up a good fight in the early going. Unfortunately, the Tar Heels are just good, and they will pull away in the second half to win with ease. 
Tar Heels 71, Wolfpack 60