NHL Trade Rumors: Latest Trade Chatter From Around The League
February 21, 2012

John Grieshop/Getty Images
The NHL trade deadline is just six days away. That means action should start to pick up soon once teams fading away in the playoff race officially decide to declare themselves sellers in hopes of adding young talent for the future.
There is no shortage of rumors flying around as fans would expect at this time of the year. From superstars like Rick Nash to underrated players like Paul Gaustad, every type of player is available if the price is right.
Let's examine some of the latest trade talk from around the league.
Jeff Carter to the Los Angeles Kings?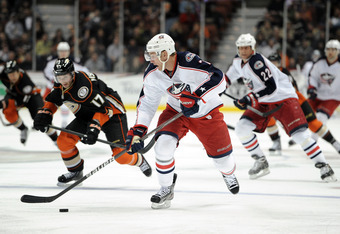 Harry How/Getty Images
Carter's first season with the Columbus Blue Jackets has been one both he and the team wish they could forget. He's scored just 22 points in 38 games and has lacked the nightly intensity that made him a superstar with the Philadelphia Flyers.
Now there's talk he could be teaming up with former Flyers pal Mike Richards with the Los Angeles Kings. CSN Philadelphia is reporting there is mutual interest between the two sides and Richards said acquiring him would benefit his new squad.
It's clear Carter already needs another change of scenery because things aren't working out in Columbus. The Blue Jackets will benefit from clearing cap space and the Kings need another center, so it seems like a perfect fit.
Rick Nash to Flyers Highly Unlikely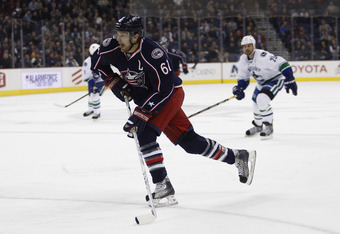 John Grieshop/Getty Images
Philadelphia filled its biggest need by acquiring blueliners Nicklas Grossman and Pavel Kubina within the last week, so it appears the team's pursuit of Nash could be on hold. The Blue Jackets sniper has been linked to numerous teams, including the Flyers recently.
Frank Seravalli of the Philadelphia Daily News reports general manager Paul Holmgren isn't in a rush to complete any more deals. That likely means the Flyers have backed out of the Nash sweepstakes since it would take an intense effort to snag him.
While acquiring a marquee player like Nash would grab the headlines, the Flyers are better off after upgrading their defense with two reliable veterans. They are a contender with or without Nash, so there's no reason to overpay for him.
Disappointing Buffalo Sabres to Move Derek Roy?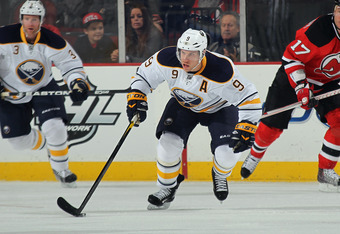 Bruce Bennett/Getty Images
The Sabres have failed to live up to sky-high expectations this season, which means the team will likely be sellers at the deadline. They have several players, including Roy, who could be attractive to teams hoping to make a Stanley Cup run.
Bucky Gleason of the Buffalo News reports Roy's days in Buffalo could be numbered. His track record of success combined with a reasonable cap number make him a better option than Nash or Carter for a team looking to wheel and deal.
It will be interesting to see if the Sabres are willing to break up their core group of players. There is plenty of talent on their roster, but things just haven't worked out this season. Trading Roy would leave an even bigger void up the middle than they already have, so his situation warrants watching.
Paul Stastny No Longer Untouchable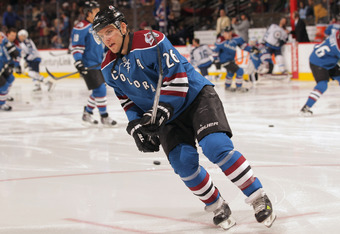 Doug Pensinger/Getty Images
Paul Stastny has long been viewed as one of the NHL's best young centers. He's scored at least 20 goals in all but one season, which was shortened by injuries, and is also a solid passer as well. So it's no surprise the Colorado Avalanche have kept him off the market.
Adrian Dater of the Denver Post reports that might be changing, however. He says Colorado would listen if a desperate team was willing to pay a heavy price for him at the deadline. His $6.6 million cap hit plays into that decision.
It's still a long shot at this point because of Stastny's talent, but it's a report that surely made a couple teams in need of centers to do a double take. He would provide an immediate boost to any team he was dealt to and wouldn't be a rental.