San Diego Chargers Offseason 2012: Part 6 Defensive Line
June 13, 2016
Donald Miralle/Getty Images
The following is the sixth installment in a nine-part series analyzing every position, from the front office to the defensive backfield on the San Diego Chargers. To access previous installments click here: http://bleacherreport.com/users/213082-justin-peniche/archives/newest?rel=nofollow
A great of deal of attention has been paid to the offensive line, but the elephants in the room are the big men who occupy the opposite side of scrimmage. The past few years have been a youth movement at the position and now it will be time to see if the youngsters are ready to step up and take the majority of the snaps, or if the Chargers will continue to have to use a rotation.
If the Chargers want to regain control of the AFC West they will need to improve against the run, where they ranked 20th in the league giving up more than 120 yards per game. 
The defensive line has to find a way to stop the likes of Darren McFadden, Jamaal Charles and Willis McGahee to keep their division foes' respective offenses off the field. 
The 2012 schedule also features match-ups against Chris Johnson, Ray Rice (assuming he remains with the Ravens), DeAngelo Williams and former Chargers Michael Turner and Darren Sproles.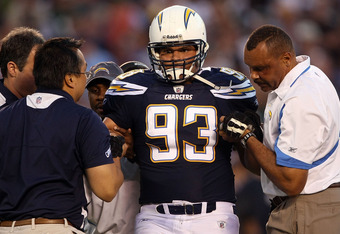 Stephen Dunn/Getty Images
Luis Castillo missed almost the entire 2011 season with a broken leg and has been highly criticized by fans for not living up to the hefty contract the Chargers bestowed upon him in 2008.  Castillo is due $4.9 million in 2012 including a $1 million roster bonus. 
The Chargers have to analyze how much he was missed last season and if that is enough to legitimize keeping him on the roster.
Steady veteran Jacques Cesaire and promising project Vaughn Martin will combine to make about $1.3 million in 2012, and with last year's first round pick Corey Liuget anchoring the other end position it's a tough sell that Castillo needs to be retained.
While defensive end is a position of relative stability, defensive tackle is very much in question.  Out of the three men who took snaps at nose tackle in 2011, only Cam Thomas is under contract and he is still considered pretty raw. 
Antonio Garay, who became the surprise replacement for Jamal Williams following his release after the 2009 season, is a free agent as is veteran Tommie Harris. 
Garay has been solid if not spectacular, but his 320 pound frame may be better suited for a 4-3 defensive scheme rather than a traditional nose tackle in a 3-4. I can't see the Chargers adding to the defensive line through the draft where they have recently selected Liuget, Thomas and Martin.
Rumor has it that the Miami Dolphins are likely to part ways with nose tackle Paul Soliai. At 6-4 and 355 pounds, Soliai would be a perfect fit in middle of the Chargers' young defensive line. 
Soliai was franchise tagged by Miami last year and with the Dolphins' coaching changes and moving to a 4-3 defense, Soliai should be available. 
If the Chargers intend to let Garay leave via free agency I would like to see them bring in a big man up the middle to push Cam Thomas and solidify the run defense.