UFC 144 Akiyama, Okami, Gomi: How Will the Japanese Fighters Do?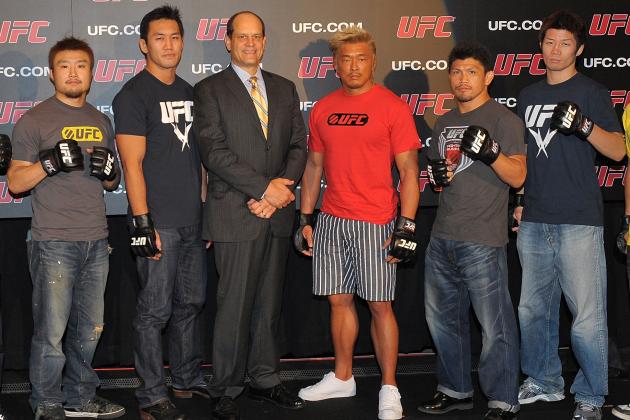 Koki Nagahama/Getty Images

The Ultimate Fighting Championship is making its long-awaited return to Japan this weekend, and the event promises to be a showcase for some of the best Japanese fighters in the world. Of the 12 fights scheduled to take place inside one of MMA's original shrines, the Saitama Superdome, eight will involve Japanese fighters.
The fighters are scattered throughout the preliminary and main card of the event and notables Takanori "The Fireball Kid" Gomi, Hatsu Hioki, Yushin "Thunder" Okami and superstar "Sexyama" Yoshihiro Akiyama will all be in tough fights on this night.
It is the time for the Rising Sun to shine in MMA, and the stage is set for an incredible night for the Japanese faithful. Will it be a showcase or a beat down for Japanese MMA?
Here are my predictions for the Japanese fighters.
Begin Slideshow

»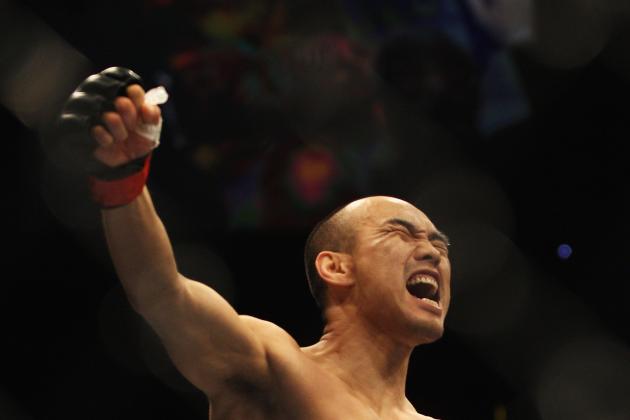 Mark Kolbe/Getty Images

Issei Tamura is a 27-year-old fighter who trains out of the Krazy Bee camp alongside Japanese star Norifumi "Kid" Yamamoto. Tamura holds a 6-2 record, and all his fights have been in the Shooto organization in Japan. He is making his UFC debut as a late replacement for the injured Leonard Garcia.
Tamura's first test in the UFC will be a tough one against China's Zhang Tiequan, and the bitter history between these two countries will provide a backdrop to open the card with fireworks.
Zhang is a much more experienced fighter than Tamura and was preparing for a war against Leonard Garcia. He is 15-2 in his career and has faced much tougher competition than Tamura. Combine that with the jitters of a debut on home soil, and I predict a very tight Tamura.
Prediction: Zhang Tiequan will be too much for the inexperienced Tamura and will win via submission in Round 2.

Japan 0-1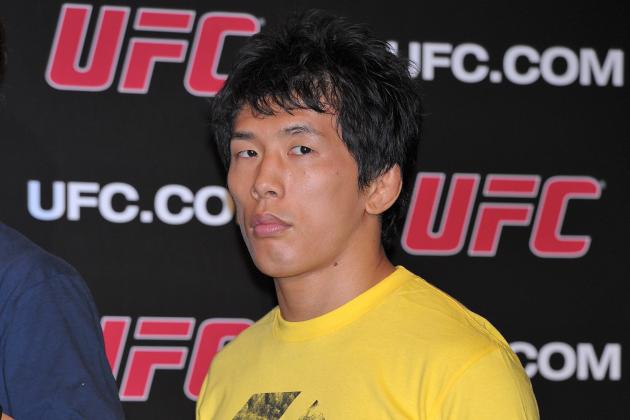 Koki Nagahama/Getty Images

Takeya Mizugaki is a 27-year-old fighter at or near the top of the world bantamweight food chain, and he is set to face Chris Cariaso. The former WEC fighter made his UFC debut early in 2011 and has gone 2-1 in his first three fights in the organization.
Mizugaki brings a formidable boxing game and a solid take down defense to the cage, and he has faced and lasted with some of the very best in the game in Miguel Torres, Brian Bowles and Urijah Faber.
Cariaso is a 30-year-old American and also a former WEC fighter who has taken a very similar path to get to this point in his career. He also debuted in the UFC in 2011, went 2-1 in his first three fights and is coming off a decision win over Vaughn Lee.
This fight will see who can remain in the top 10, contender conversation. The loser may find himself on the outside looking in on the best of the division in 2012.
Prediction: Mizugaki is one of a few Japanese fighters in the UFC who is not intimidated by the show and hype of the western fighter. He will stay in the face of Cariaso and use his crafty hands to win a hometown decision.
Japan 1-1
Steve Cantwell/UFC.com
Riki Fukuda is a 31-year-old veteran of Japanese MMA who made his start in professional wrestling in 2003. He then transitioned over to MMA in 2004 and fought in various small promotions such as Shooto, Pancrase and Deep before he made his UFC debut in 2011.
Fukuda fought Canadian TUF alum Nick Ring in his debut and lost an extremely controversial decision. Many people had Fukuda winning that fight with takedowns and control; the UFC itself gave Fukuda his win bonus following the fight despite the judges decision.
Fukuda will face Steve Cantwell, who is looking to redeem a career that has failed to deliver on the promise it showed three years ago. Cantwell is 0-4 since 2009 and only 1-4 in his UFC career, but sometimes records can be deceiving. Cantwell's losses have come against fighters that are at a much higher level than anyone Fukuda has faced.
Prediction: Even though he is only 25-years-old, this is Cantwell's last stand in the UFC. He must realize that if he can't beat Fukuda then it may be time to move on in his life. Cantwell will use that desperation to outwork and outmuscle Fukuda to a unanimous decision.
Japan 1-2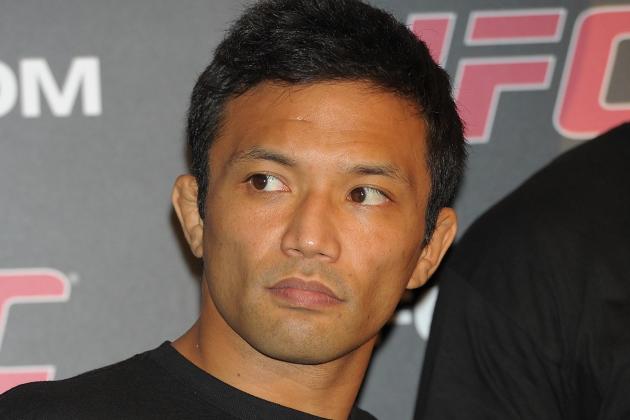 Koki Nagahama/Getty Images

"Kid" Yamamoto is one of the most popular Japanese fighters of all time and also one of the most accomplished. He is also one of the most controversial for his infamous run in with a Yakuza family in his youth. Yamamoto holds a record of 18-5 in his career, but he sits at 0-2 in the UFC after tough losses to Demetrius Johnson and Darren Uyenoyama.
Yamamoto is a powerful wrestler and striker for his frame, and it will be how he mixes it up that will be the key against Vaughn Lee.
Lee is a veteran Brit fighter with an 0-1 record in the UFC, as he lost his debut fight via decision to Chris Cariaso last November. Lee brings almost as much experience to the cage as Kid does, but the caliber of fighters he has faced is slightly below that of Yamamoto.
Prediction: Two men will be fighting for a roster spot in this one, and it is a very tight matchup to call. I believe that both fighters will mix it up aggressively for all three rounds with neither fighter getting hurt in the process. Hometown fighter gets the judges nod. Yamamoto via unanimous decision.
Japan 2-2
Koki Nagahama/Getty Images

"The Fireball Kid" Takanori Gomi is making his return to fight in the comforts of his home country, and I hope it makes for the best Gomi we have seen yet in the UFC. His aggressive and brawling style has thrilled Japanese fight fans over the years, and he just has to fine-tune it for success in the UFC.
Gomi has power in his hands, but he needs to work on his cardio, focus, grappling and submission defence to hang with the fighters he used to hang with in his earlier days.
The good thing for Gomi in this one is that his original opponent, grappling ace George Sotiropoulis, had to withdraw due to injury and has been replaced by veteran wrestler and grappler Eiji Mitsuoka.
Mitsuoka is a similar fighter to Sotiropoulis, but he is not quite as good, so Gomi did not have to adjust that much in camp. The 36-year-old Mitsuoka has been around the fight game for a while and has wins over Gleison Tibau, Brian Cobb and Joachim Hansen on his resume.
Prediction: Mitsuoka will battle hard and use his wrestling to try to smother the power of Gomi early. He will be doing this very effectively when one of Gomi's bombs will land and hurt him. That will be the beginning of the end. Gomi via TKO in the second round.

The only Japan vs. Japan fight
Japan 3-2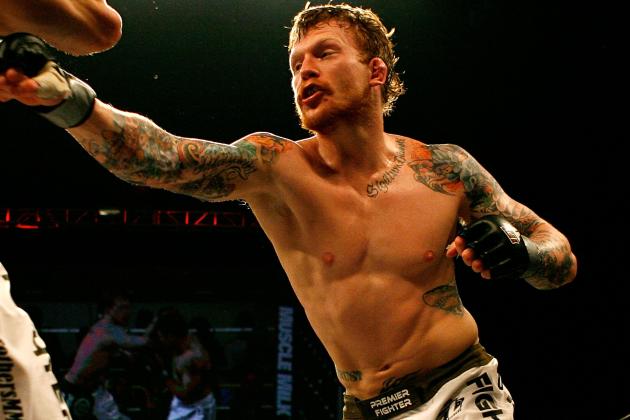 Jeff Zelevansky/Getty Images

Hatsu Hioki is just hitting his stride in his career, and he is one Japanese fighter who has had some success against Western competition. Hioki is 25-4 in his career and has fought mainly in Japan. He has also competed in Canada under the TKO organization where he has two title fight wins over Mark Hominick.
Hioki is a submission wizard with 12 of his wins coming via submission and nine via decision. He is a black belt in jiu-jitsu and will look to implement that game on his opponent, Bart Palaszewski. This fight has large implications on the featherweight title picture.
Hioki is on a five-fight win streak and is favoured to win.
Palaszewski is a seasoned veteran with 50 mixed martial arts fights under his belt in promotions big and small all around the United States. He is most known for his days in the IFL and WEC. This is his second fight under the UFC banner. Palaszewski defeated Tyson Griffin via TKO in his debut.
He has big power in his punches and holds 19 knockouts in his 36 victories. He wants to keep this one standing and land the power shot on Hioki.
Prediction: In this classic battle, Hioki has a submissions chance at winning. Palaszewski has only been submitted a few times in his 50 fights, and he has 11 submissions of his own. If he can land on and knockout Tyson Griffin he can sure do it to Hioki. Palaszewski via knockout in Round 2.

Japan 3-3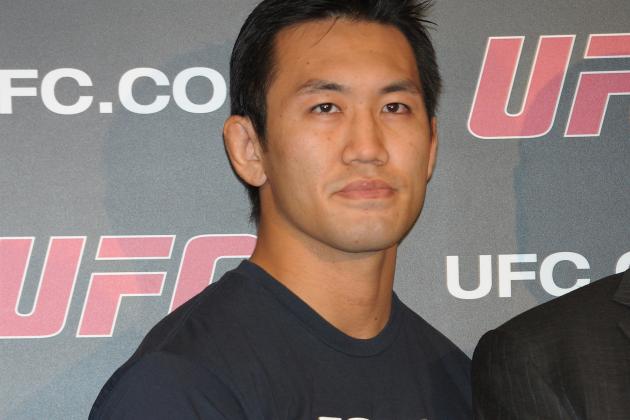 Koki Nagahama/Getty Images

Yushin Okami is the strongest and best fighter coming out of Japan today. He is currently ranked as a top-5 middleweight on most world rankings. Okami has strength not usually seen in an Asian fighter, and he blends it with technique to bully and control his opponents in the cage.
Okami has fought all the best in his weight class and has some notable recent wins over Mark Munoz and Nate Marquardt. He is coming off a loss to Anderson Silva in his last match and will look to bounce back in impressive fashion in Japan against Tim Boetsch.
Boetsch is enjoying a resurgence in his career since he dropped down to the middleweight division and has two straight wins over Kendall Grove and Nick Ring to show for it. Boetsch has never looked as impressive as he has at middleweight, but I don't think he can throw with Okami.
Prediction: This one is going to be fought in a very small radius as both men will lock up and look to prove their strength is superior. I believe Okami is the stronger and more technical of the two, and Boetsch will not be able to execute a plan-B attack. Okami wins via unanimous decision.
Japan 4-3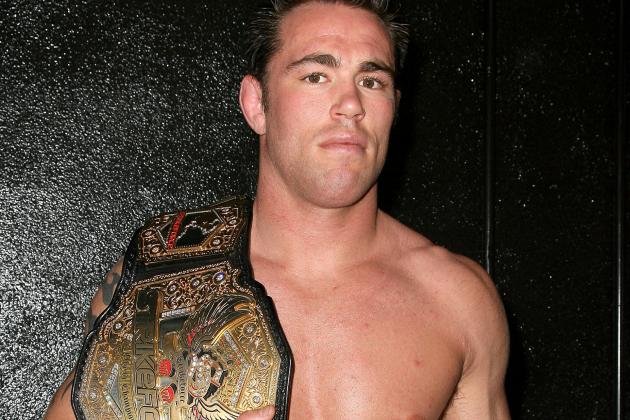 Valerie Macon/Getty Images

Yoshihiro Akiyama is a national hero in Japan due to his heroics representing the country on the world stage of judo. Akiyama is also the most popular Japanese fighter in the UFC. He has had a tough time of it in the UFC with some very tough matchups and holds a 1-3 record.
Akiyama was often over matched in his fights and decided to move down to the 170-pound division. This is his first fight at 170, and he goes up against the formidable Jake Shields
Shields is a former champion who is desperate for a win, and he will look to get in tight and throw Akiyama to the mat as soon as possible in this one. Shields should be able to get in on Akiyama pretty easily, and once he is on top of him it could be over pretty quickly.
Prediction: In my opinion, Akiyama continues to draw opponents that are a bit out of his league, and this fight will be no different. He is under a ton of pressure to perform and win in front of his adoring fans and that, combined with a new weight cut and Shields' desperation, will be the end of him. Shields via TKO in the third round.

Japan 4-4
Dwight Wakabayashi is a Featured Columnist for Bleacher Report MMA and guest blogger for Sportsnet.ca
Catch him on Facebook and Twitter at wakafightermma.