Golden State Warriors: 5 Bold Predictions for the Warriors' Second Half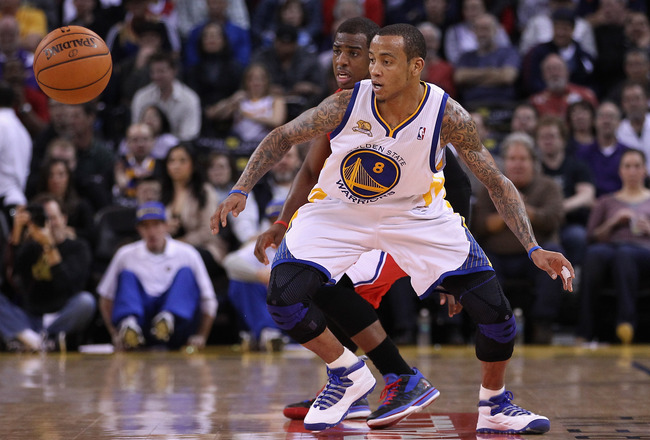 Golden State doesn't look like they will be making the playoffs this season. What will happen in the second half?
Ezra Shaw/Getty Images
Mark Jackson's rookie campaign as the Warriors head coach has been a dud so far this season. The Dubs are nowhere near playoff contention in the West, and it appears as if the team is en-route to another disappointing season for Golden State, failing to qualify for the postseason for the 19th time in 21 years.
So what will the second half hold for the struggling team by the Bay? Here are a few predictions.
1. Small Roster Moves at Trade Deadline, If Any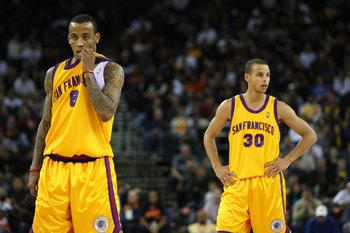 Mark Jackson has advocated for an Ellis/Curry backcourt.
Jed Jacobsohn/Getty Images
While the Warriors' play thus far can be described as inconsistent at best, the team has shown glimpses of its potential. David Lee appears to have found his groove in Oakland, putting up numbers that rival his All-Star season with the Knicks two years ago.
Klay Thompson and Ekpe Udoh appear to be on their way to living up to their draft day expectations. Monta Ellis, while his numbers are slightly down, is playing more efficient minutes than he was a year ago, and the cornerstone of the franchise, Stephen Curry, has made significant strides in his third year in the NBA (specifically in the passing game) and appears to be en-route to becoming the league's next elite floor general.
At this point in the season, Golden State would be foolish to part with their core personnel. Jackson is adamant that Curry and Ellis can be successful together, so it's unlikely that either will be moved prior to the March 9th trade deadline.

The Warriors might consider exploring options for moving Andris Biedrins' hefty contact, but Jackson has praised Biedrins for his defense in the post. While it would be viable to get Biedrins' $9 million salary cap hit off the books, it is unlikely the Warriors will trade him before the summer.
2. End the Season with Same Winning Percentage as Last Year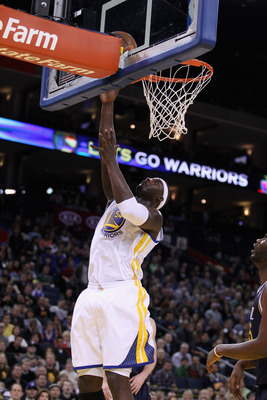 Losing Kwame Brown was a crushing blow to the Warriors, but the team will likely pursue another free agent center in July.
Ezra Shaw/Getty Images
While the Golden State nucleus has preformed adequately in 2011-2012, it is largely the same cast as the Warriors team that finished 36-46 a year ago.
The Warriors made significant moves this offseason to give the team depth, but a season-ending shoulder injury to reserve big-man Kwame Brown and sub-par production by Biedrins left a gaping hole at the center position.
Golden State has failed to develop into the defensive team Jackson had hoped for, and it has shown in the standings. The Warriors are allowing 100.7 points per contest (27th in the league) and are getting out-rebounded with a -4.5 differential. (29th).
The team will likely wait until the summer to upgrade at the center position, and until the team can find a viable solution at the five, they are likely to be no better than a sub-.500 non-contender in the competitive Western Conference.
3. Mark Jackson on the Hot Seat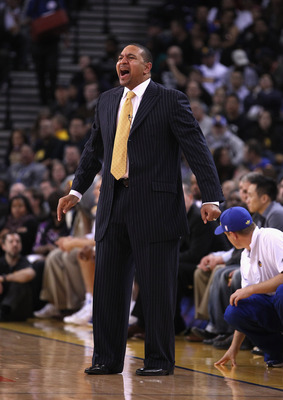 Mark Jackson made big promises to Warriors fans when he was hired. He has failed to live up to many.
Ezra Shaw/Getty Images
Quick coaching changes are the norm for losing teams in professional sports, especially in the NBA. Jackson has failed to uphold many of his preseason statements, specifically his promise of qualifying for the 2012 playoffs and desire for the Warriors to become a defensive stalwart, which might put his job in jeopardy.
Granted, Jackson doesn't have the personnel to run the system he wants. This is a moot issue in the NBA, however, as all that matters to fans and executives alike are wins and losses.
While Jackson might not get fired immediately, he will certainly be one of the coaches on the hot seat in 2012 should the sinking ship not start to sail right.
4. Dorell Wright's Numbers Will Come Close to His 2010-11 Totals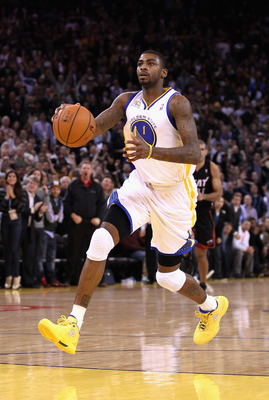 After a breakout season last year with the Warriors, Wright has had a bit of a relapse in 2011-12.
Ezra Shaw/Getty Images
Wright might not lead the league in three-point field goals made like he did in 2011, but his numbers are sure to level out as the season progresses. His scoring is down to 10.6 points per game to last season's 16.4 and he's playing considerably less minutes this season than he was a year ago. His decreased roll can be attributed to both lack of production and strong seasons by defensive stopper Dominic McGuire and sharpshooting Brandon Rush at forward.
However, Wright should eventually find his stroke again as the season rolls on. His field-goal percentage is starting to creep back up to his .440 percent career average, but he will need to make up for his early-season woes.
Wright looked considerably better out of the triple threat in the first half of the season and appears to have worked on penetrating the lane in the offseason. He's becoming more of a complete scorer, and with an improving range of skill, the numbers will come.
5. Thompson, Udoh, Jenkins Will See Increased Playing Time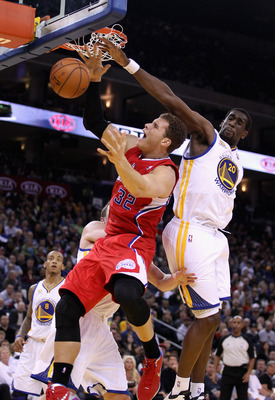 Ekpe Udoh appear as if he's almost ready for the starting reigns.
Ezra Shaw/Getty Images
A continuing losing trend could find Jackson and his Dub squad assessing the team's young talent for the future. Udoh is logging substantial court minutes and is a regular in the Warriors rotation, but he could bump Biedrins for the starting job as the season wears on. Udoh, while a superb defender, will need to improve his rebounding numbers if he wants to be a legitimate starting big man in the NBA
Thompson is also a solid contributor off the Warriors bench but has demonstrated that his is still a work in progress in the first half of the season. While he is logged behind Ellis and Wright, his playing time should continue to increase as Thompson becomes a more consistent scoring threat. While Thompson is one of the best catch-and-shoot swing-men in the league, he needs to develop his penetration to the basket and finishing around the rim.
The team found a solid backup point guard in Nate Robinson earlier this season, but his one-year deal will likely not be renewed come July. The team will need to decide whether seldom-used rookie point guard Charles Jenkins is the right man for the backup job. Jenkins is a scoring point guard who will need to work on passing out of the pick and roll if he wants to earn playing time in Jackson's system.
Keep Reading

Golden State Warriors: Like this team?