Fantasy Football 2012: Why You Should Draft TEs Rob Gronkowski, Jimmy Graham
March 25, 2017
Jeff Gross/Getty Images
You could definitely call 2011 the year of the tight end.
In standard fantasy football leagues, there were 10 tight ends that scored more than 100 points.
Highlighted by the extraordinary exploits of Rob Gronkowski and Jimmy Graham, the tight end position is becoming a more focal point in teams' offenses these days. This past year, Gronkowski and Graham combined for a whopping 189 receptions, 2,637 yards receiving and 28 touchdowns. They both finished in the top 10 in scoring for the majority of fantasy football leagues last year.
Those are beastly numbers and more in line of what wide receivers post. With the seasons that Gronkowski and Graham just had, they have to be viewed like wide receivers and worthy of being selected in the first two to three rounds of drafts.
Gronkowski and Graham are game-changers and go-to guys in their team's offenses. Both Tom Brady and Drew Brees often look to Gronkowski and Graham above anyone else on their team, especially in the red zone. Until defenses can figure them out (which is not likely to occur any time soon), they will prove invaluable. Gronkowski and Graham are physical, athletic and nearly impossible to defend. They are too quick for linebackers to cover them, and they are too strong for cornerbacks to cover them.
If you play in a PPR league, Gronkowski and Graham are slam-dunk selections within the first few rounds. Consider this. In 2011, Gronkowski would have ranked as the second-best scorer amongst wide receivers (trailing only Calvin Johnson), while Graham would have ranked fourth.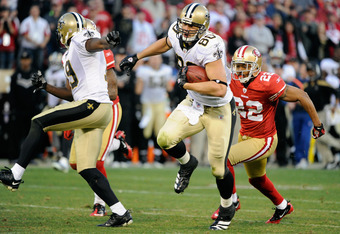 Thearon W. Henderson/Getty Images
Let's just say Gronkowski and Graham were only allowed to play wide receiver (or if your league has no tight end necessary to field a lineup), where would they rank on your list?
Calvin Johnson, Andre Johnson and perhaps Gronkowski's teammate Wes Welker are the only wide receiving options you may consider before taking Gronkowski and Graham—at least based on numbers.
There are few other receivers who you may consider drafting before Gronkowski and Graham, like Roddy White, Larry Fitzgerald, Hakeem Nicks and Greg Jennings. However, the mere fact that I'm lumping these guys into the same breath with Gronkowski and Graham is just more of an indictment of why you should treat this elite tight end duo as if they were wide receivers.
Considering how Gronkowski and Graham match up with the great receivers, and with the relative lack of depth of elite wide receivers available, this is even more proof you should go into next year's draft with them high on your draft board.
So, in summary, Gronkowski and Graham are not your average tight ends. Guys like Aaron Hernandez, Fred Davis, Jermichael Finley, Antonio Gate and Vernon Davis are solid options. However, Gronkowski and Graham are on a different level, while the latter tight ends mentioned should be targeted in Round 5 or later.
Gronkowski, 22, and Graham, 25, are just scratching the surface of their potential and both looked primed for stardom for years to come. Draft these two freaks with supreme confidence.
Follow me on Twitter @Stacdemon.