NHL Trade Speculation: Does Hal Gill to Nashville Set Up a Ryan Suter Trade?
February 23, 2012

Ronald Martinez/Getty Images
As the NHL Trade Deadline draws closer, the Nashville Predators have made pretty big waves as far as trades are concerned by picking up Hal Gill and a conditional fifth-round pick in 2013 in exchange for Blake Geoffrion, a second-round pick, and a prospect.
With the two-thirds of the Predators "Big Three" of Pekka Rinne, Shea Weber and Ryan Suter remaining unsigned (save for Rinne, who signed a seven year, $49 million extension) and the possibility of a reduced salary cap, signing Weber and Suter to contract extensions could prove to be unwise financially, both in terms of the salary cap and in terms of the Predators' actual finances.
With the NHL's Collective Bargaining Agreement scheduled to end during this offseason, many questions remain about monetary issues.
One such issue is the salary cap.
In the 2010-11 season, 18 out of the 30 NHL teams lost money in their operating income.
The Nashville Predators were one of those teams, losing $7.5 million, according to Forbes Magazine.
Now, even though Nashville's fanbase is growing, their operating losses might prevent them from signing Shea Weber and Ryan Suter to contracts next year.
The focus for the Nashville Predators right now should be re-signing franchise defenseman, Shea Weber, to a long-term contract.
Weber is going to be a restricted free agent once again this summer, so the Predators will have negotiation rights, but he currently makes $7.5 million (per CapGeek.com) and will likely have to receive a substantial raise for Nashville to sign him to a long-term deal.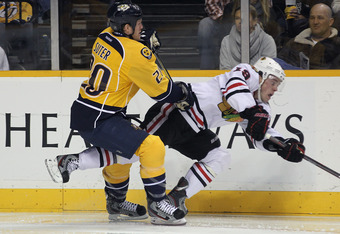 Bruce Bennett/Getty Images
But Suter (per CapGeek.com) makes $3.5 million this year, and Weber makes $7.5 million, meaning that Suter's raise on his new contract could end up being a bigger raise than Shea Weber would get on his potential contract.
So with both Suter and Weber scheduled to be free agents this year and Suter's contract value likely to rise closer to the $5 million to $6 million dollar range (and as I stated previously, a higher raise than Weber), Suter could be on his way out the door following this season.
Suter's impending exit following this season as been made more bearable with the Predators picking up Hal Gill from the Montreal Canadians last week.
Hal Gill carries a much more reasonable cap hit this season of $2.25 million. If Gill were to get a raise, as Gill's contract expires this free agency period as well, it would still be equal or less than the $3.5 million cap hit that Ryan Suter carries.
So does Nashville keep its pending unrestricted free agent in Ryan Suter, or do they trade him before the July 1 free agency deadline?
After Suter's comments at the NHL All-Star Game this season, I would have to believe that they will trade him before the start of the free agency period if they have not reached a deal with him by then.
For more article updates, Follow @isaacesmith91