NBA Rumors: Denver Nuggets Won't Let Wilson Chandler Get Away
February 21, 2012

Marc Serota/Getty Images
Any team hoping to add restricted free-agent Wilson Chandler should forget about it. There is no way the Denver Nuggets are going to let him get away. 
The 24-year-old small forward has spent the first part of this year flashing his hoop skills in China. His Chinese team made the playoffs, but he has been allowed to return to the NBA.
And his first stop upon return was with Denver. 
Benjamin Hochman from the Denver Post has the news:
Just got word that Wilson Chandler will be in Denver tomorrow to meet with the team about a possible signing.

— Benjamin Hochman (@nuggetsnews) February 20, 2012
This is excellent timing for the Nuggets, and it makes complete sense that they lock him up to a contract.
Why This Moves Makes Sense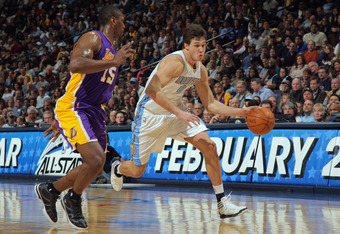 Doug Pensinger/Getty Images
One of the Nuggets greatest strengths is their amazing depth. This depth has quickly thinned due to a barrage of injuries. 
Currently they will be without Danilo Gallinari at least until early March and Nene until later this month. 
Chandler will instantly help ease the pain of these frontcourt injuries. 
He is a versatile small forward, and was a big piece to Denver's success last season after landing there in the trade that sent Carmelo Anthony to the Knicks. 
In 21 games with the Nuggets he averaged 30.6 minutes, 12.5 points and 5.0 rebounds per game. 
Prior to these injuries, Chandler may have been considered a luxury to the Nuggets. That is clearly not the case now. They are not going to let another team sign him away.