Philadelphia Phillies: 25 Storylines to Watch in Spring Training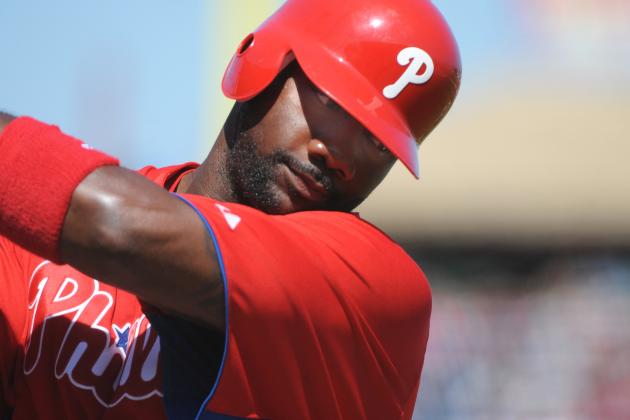 Al Messerschmidt/Getty Images

It's finally here.
The smell of freshly cut grass. The warmth of sunshine on our faces. The sound of wooden baseball bats making contact with a baseball, like the sound of a metronome beating against either side of its container.
All of the things that make a baseball fan tick, well, they're back, and though not all of us are feeling the warmth of the sun or smelling the freshly cut grass just yet, we can't help but realize that all of these pleasures are just around the bend.
That's because it's finally here: Spring Training.
Nothing quite foreshadows the coming baseball season like watching all of the players workout in their respective camps, and nothing signals the coming of spring quite like the arrival of the Philadelphia Phillies in Clearwater, Florida for the club's faithful followers.
As is the case with every season and every team, there will be plenty of news to keep an eye on this spring, particularly out of the Phillies' camp. This slide show will serve as a primer to make sure that you don't miss a beat.
For up to the minute Phillies' information, check out Greg's blog: The Phillies Phactor.
Begin Slideshow

»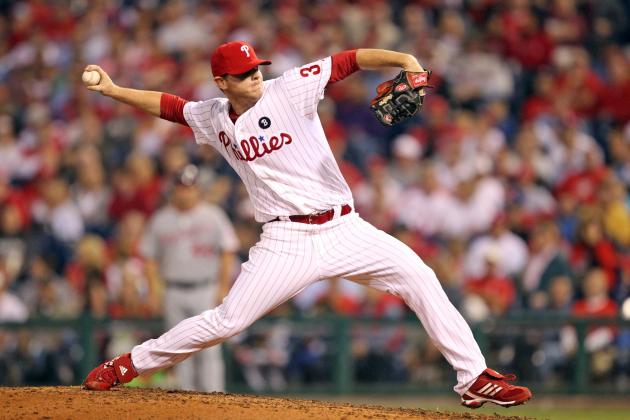 Hunter Martin/Getty Images

A day before pitchers and catchers were even supposed to report to camp, numerous news outlets reported that Justin De Fratus had experienced some tightness in his throwing arm, and that his Spring Training would start a few days late.
In the long run, it shouldn't be something to worry about. Pitchers experience tightness at this time of year after working on throwing regiments throughout the winter.
However, it should be something to keep an eye on moving forward, as injuries always are. If operating at 100%, De Fratus has a legitimate shot at making the MLB club. Tightness in his pitching elbow won't help his cause.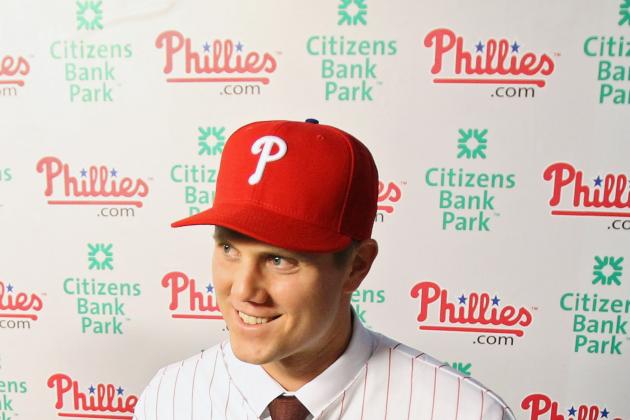 Len Redkoles/Getty Images

There's really not much of an explanation here.
After making Jonathan Papelbon the highest paid closer in baseball this winter, all eyes will be on the Phillies' new closer as he enters his first Spring Training as a member of the club's bullpen.
After just a pair of press conferences, the buzz around the city of Philadelphia has been simple: This guy is going to fit right in. With a passion for winning and a track record of success, Papelbon is just as eager to get started as the fans.
His first season in the National League should be fun to watch, and it all starts in Spring Training.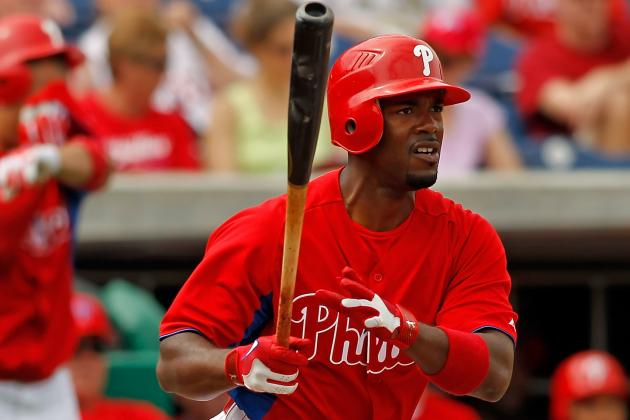 J. Meric/Getty Images

While Charlie Manuel has directly come out and said that he would limit the workload of infielders Chase Utley and Placido Polanco this spring, he left a little room for speculation with his new, limited workload plan.
Does that plan include 33-year-old shortstop Jimmy Rollins?
After missing time during the last couple of seasons with numerous injuries to the lower half of his body, Rollins put together a very solid season in 2012, and it's no secret that he was able to do so by staying healthy and staying on the field.
Implementing a yoga routine into his daily workout seemed to make a world of difference for Rollins, keeping his muscles loose throughout the regular season and off of the disabled list.
With little to prove in Spring Training, expect Rollins to get the same treatment as the rest of the Phillies' aging core. There is little reason for him to take an abundance of at-bats this spring, and could give the Phillies a chance to look at one of their top prospects, Freddy Galvis, at his natural position.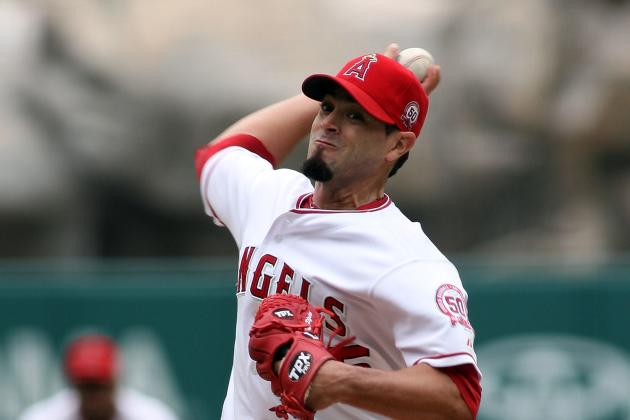 Jeff Golden/Getty Images

The Phillies are a team that don't have many open spots on their roster heading into Spring Training, but that isn't going to stop players from giving it all they've got to prove that they deserve a spot on the MLB roster. Every spring, players step up and surprise us. Who will it be this spring?
From a pitching perspective, any number of relievers could win a job. Along with their slew of prospects, the Phillies have a few relievers in camp with big league experience, including Brian Sanches and Raul Valdes.
Though the rotation is full, Joel Pineiro, Scott Elarton, and Dave Bush are a few veteran starters in Phillies camp.
Position players may have the best chance of jumping out and surprising us. Though many have written him off, Domonic Brown could hypothetically win a job this spring. Juan Pierre and Scott Podsednik will duke it out for a spot on the bench and in the infield, Pete Orr hopes you haven't forgotten about him. Could Freddy Galvis win a job?
That's what makes this an exciting time of year.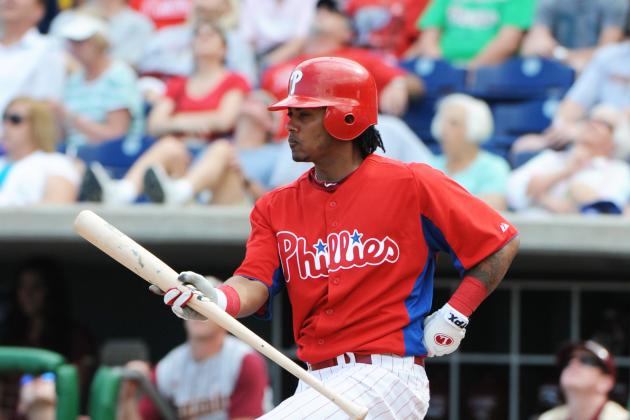 Al Messerschmidt/Getty Images

When the Phillies traded Wilson Valdez to the Cincinnati Reds earlier this winter, Michael Martinez's role with the Phillies became all the clearer.
After experimenting with his role off the bench last season, Phillies' officials liked Martinez's ability to play several positions defensively, and play them well. That will be working in his favor this spring, along with the fact that he is one of the few legitimate shortstops the club will bring to camp.
Martinez will be an interesting player to watch this spring, and though there are no guarantees that he will make the club, someone will have to really outplay him to make the roster.
There just aren't many utility players in camp.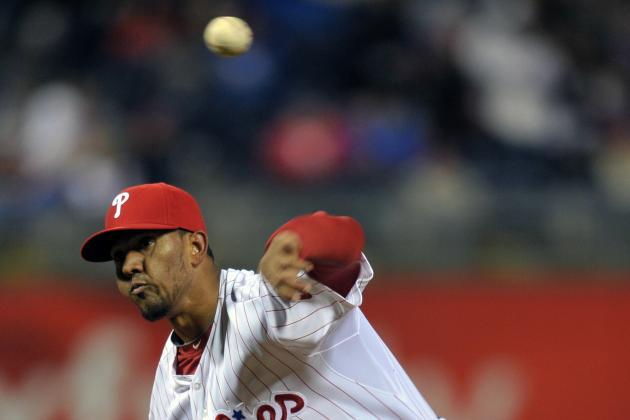 Drew Hallowell/Getty Images

Spring Training has become an interesting event for Antonio Bastardo.
Heading into last season, there was no guarantee that he was going to make the roster. He was an interesting lefty, but that's about all he had going for him at the time. Heading into this camp, no one really knows what they're going to get out of him.
After experimenting with him as a starting pitcher a few seasons ago, Bastardo's lack of a change-up made him an easy choice for the bullpen, but no one knew that he was going to be as good as he was in 2012 after stepping up when relievers started to go down like flies.
Throughout most of the season, the Phillies thought they had their set-up man for years to come. Then September happened.
Bastardo struggled mightily, failing to locate his pitches and getting knocked around a bit. Though he seemed to be coming around again, the season ended before we got a definitive answer.
Keep an eye on Bastardo this spring. The dominant lefty could change the entire landscape of the Phillies' bullpen. The shaky lefty could mean trouble.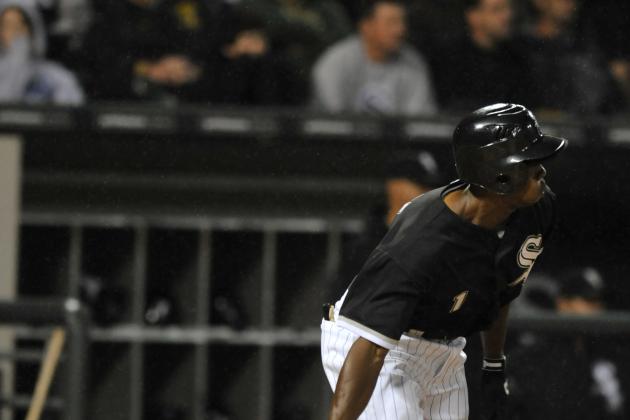 David Banks/Getty Images

With all of the signs pointing towards Ryan Howard opening the season on the disabled list, there could be an interesting battle brewing for that final spot on the roster, especially if the Phillies like Michael Martinez's versatility enough to give him a spot.
The Phillies have a pair of speed demons in camp in Juan Pierre and Scott Podsednik, both of whom agreed to new minor league deals during the winter. Both would be able to provide that extra spark of speed the Phillies lacked on the bench last season, but both come with their flaws.
Neither is an exceptional defender. For a guy who predicates his game on speed, Pierre has a terrible stolen base percentage, and Podsednik is coming off of a foot injury that really slowed him down in 2011.
There are other guys in camp that could win that final bench job, like Pete Orr, for example, but look for a battle to develop between these two outfielders.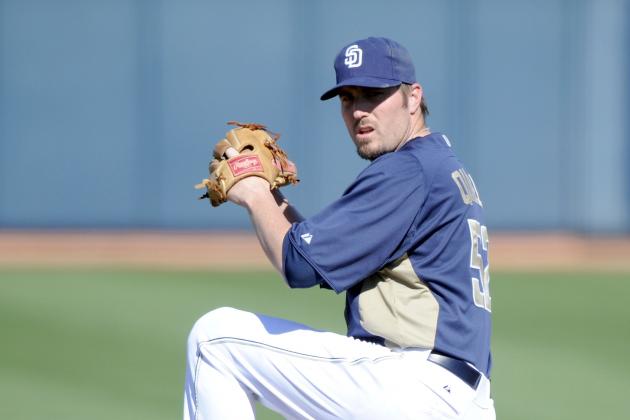 Harry How/Getty Images

Heading into the off-season, the bullpen was a bit of a relative uncertainty for the Phillies. The obvious need was for a closer, and they addressed that early in the winter. The rest of the bullpen had its question marks.
Will Antonio Bastardo struggle?
Is Jose Contreras healthy?
That's why the Phillies felt the need to pursue a veteran arm for the bullpen, and by waiting out the market, they got a solid right-handed reliever at a great price in Chad Qualls. (Which is also a bit ironic, because they jumped the gun and got a terrible deal on Jonathan Papelbon, but that's neither here nor there.)
Qualls has been consistent throughout his career, and that's something that the Phillies like. He's made the most appearances for a reliever over the last five seasons and brings a certain amount of health certainty (although, there are a lot of miles on that arm) to a bullpen that has been unhealthy in recent seasons.
At the very least, Qualls is a decent middle reliever who can fill the role voided by Chad Durbin a few seasons ago, letting the Phillies move on from the whole David Herndon debacle.
At most, he's a good, eighth inning set-up man.
The price the Phillies paid for Qualls makes this a very low-risk move, but if he's as good as they believe he can be, Qualls could be an under-the-radar steal from this off-season.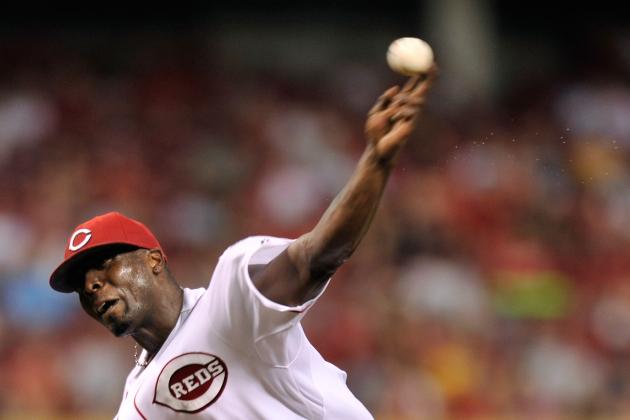 Jamie Sabau/Getty Images

Dontrelle Willis is easily one of the most intriguing signings of the winter, a "low-risk, high-reward" type of deal if there ever was one. The Phillies signed him to a one-year, $850,000 deal with various incentives to be their left-handed specialist. The intriguing part?
Willis has never pitched as a reliever before.
The Phillies are taking a shot on him because of his impressive numbers against left-handed hitters throughout his career. Though he's struggled in the MLB in general, getting out lefties has been a cakewalk. They've hit just .196 against him in his career while Willis has punched out more than three batters per every walk issued against lefties.
So there's the intrigue. Can Willis adjust to his new role, and how much of a certainty is it that he will be on the roster on Opening Day?
I'd say his chances are good. Not only is Willis good friends with Jimmy Rollins (which may actually have little impact on his chances) but few lefties in camp have the same upside.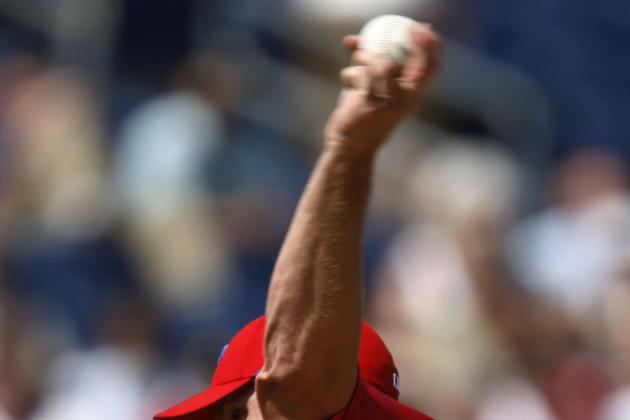 Eliot J. Schechter/Getty Images

There could be a little bit of a battle brewing in the Phillies' bullpen this spring, and we'll get to that in just a bit. One thing we have to talk about first is whether or not the Phillies would consider carrying three left-handed relievers in their bullpen.
With Antonio Bastardo guaranteed a job and Dontrelle Willis a likely addition, the Phillies will have one bullpen spot remaining and a slew of right-handed relievers ready to step in, but they have their fair share of lefties as well.
Joe Savery made his debut with the Phillies last September, and he could get a few looks this spring. Jake Diekman managed to open a few eyes in the Arizona Fall League, and was rewarded with a spot on the 40-man roster. Raul Valdes, a lefty with big league experience, is also in camp.
So this will be something to keep an eye on. Which relievers are getting the most work? How many lefties are the Phillies comfortable carrying?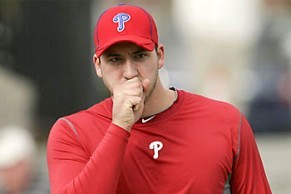 Photo courtesy of www.phillygameday.com
There is no doubt that Phillippe Aumont's transition into the bullpen full-time once again put him back on the map as one of the Phillies' top prospects. After struggling as a starter, he dominated the opposition as a reliever, drawing praise as a future closer.
The Phillies don't need Aumont to be a closer right now. First and foremost, they need him to work on his command and control. Locating his explosive fastball was a problem throughout most of the 2011 campaign, and truthfully, one of the only portions of his game that was lacking.
What if he shows he can locate his fastball in Spring Training?
Aumont is on the cusp of the MLB after dominating in AAA last season. Would the Phillies consider adding him to the 25-man roster if he proves that he can locate his fastball? Can he beat out guys like Mike Stutes, Mike Schwimer, and Justin De Fratus?
Only time will tell.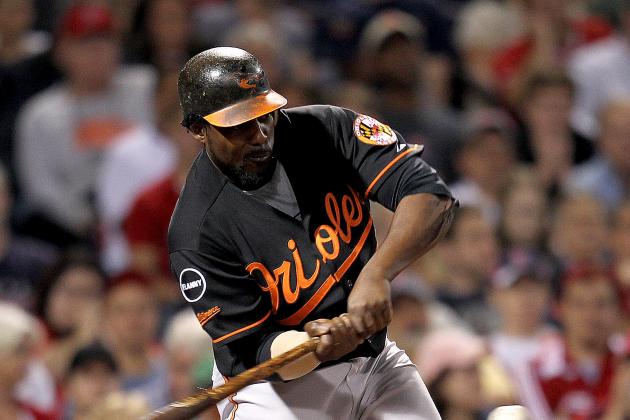 Jim Rogash/Getty Images

Normally, teams like to head into Spring Training finished with their off-season moves, but it's also a time where a team can snag a great deal on a free agent still without work. Not too long ago, Nick Cafardo of the Boston Globe reported that the Phillies had some interest in right-handed bats.
Though the Phillies' bench is seemingly full, could we see the club add a guy like Vladimir Guerrero, Magglio Ordonez, or Xavier Nady on the cheap?
Maybe they'll make a few more minor league signings?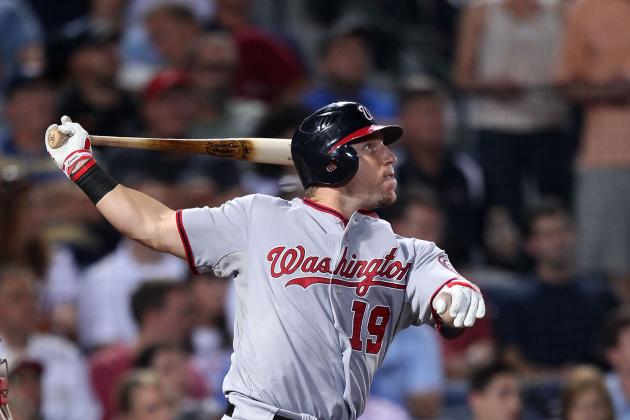 Mike Zarrilli/Getty Images

Laynce Nix has been a topic of conversation throughout most of the winter. The Phillies offered him the first Major League deal of his career and the outfielder was glad to accept. While most speculate that he could be the second half of a strong platoon, could the Phillies have other ideas?
The strongest portion of Nix's game is obviously his power against right-handed pitching. With the Washington Nationals in 2011, Nix hit 16 home runs against them.
The biggest downfall of his game could be expressed by the same statistic. He hit a grand total of zero home runs against lefties.
So while many expect Nix to platoon with John Mayberry Jr. in left field, that may not be the intention in the least bit. With Mayberry's game having taken an obvious step forward during the 2011 season, Nix may be nothing more than insurance in the event that he struggles, and serve as a valuable weapon off of the bench late in games.
Signing pinch hitters to multi-year deals wouldn't be something new for the Phillies. Just ask Gregg Dobbs and Ross Gload.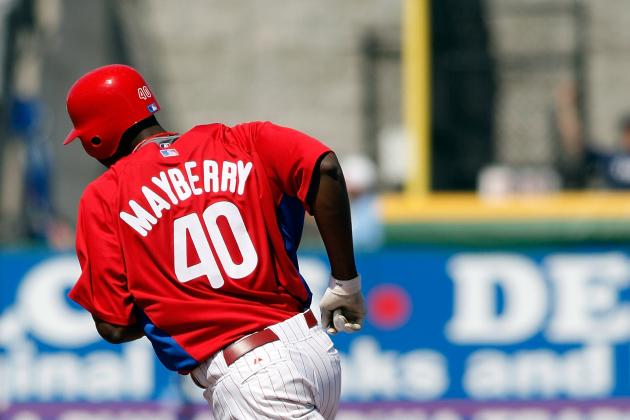 J. Meric/Getty Images

With Raul Ibanez now donning pinstripes for the New York Yankees, the realization has finally sunken in that the Phillies will have a new left fielder in 2012, but just who that man (or men) will be has been a relatively murky issue.
For most of the winter, we've been led to believe that John Mayberry Jr., with strong statistics against left-handed pitching, will team up with newly-signed outfielder Laynce Nix, who has strong statistics against right-handed pitching, to form a formidable platoon.
But can Mayberry actually win the job for himself?
Mayberry's numbers against left-handed pitchers speak for themselves, but he was more than solid against right-handed pitching as well, posting an OPS of .785 and hitting seven home runs.
Over the winter, general manager Ruben Amaro Jr. suggested that the job was Mayberry's to lose, and that will be something to keep an eye on this spring. With a strong stint in Clearwater, he may be the regular left fielder, sending Nix to the bench.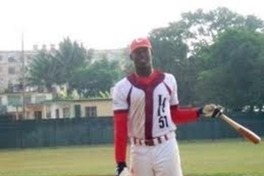 Jorge Soler hasn't even become a free agent to date, and yet, there have been conflicting reports about the Phillies' interest in the Cuban phenom. Some reports say they are at the top of a list of potential destinations, others say that they aren't confident about their chances.
One thing is certain, when Soler becomes a free agent, he'll receive his fair share of coverage in the media. His power was recently compared to that of Miami Marlins' slugger Mike Stanton, so you know the interest will be there across the MLB.
Just how interested will the Phillies be?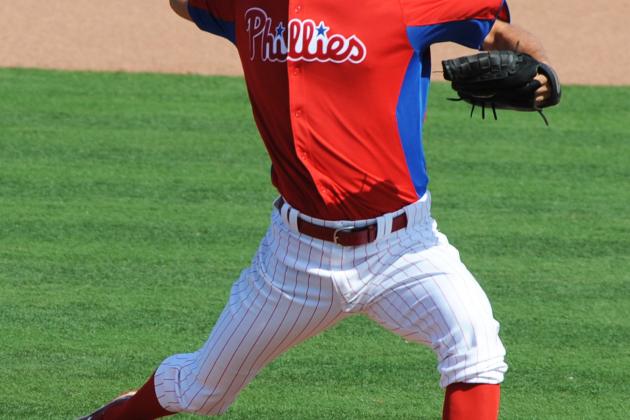 Al Messerschmidt/Getty Images

There are certain players that we know, if healthy, are going to be in the Phillies' bullpen on Opening Day: Jonathan Papelbon, Jose Contreras, Antonio Bastardo, Chad Qualls, and Kyle Kendrick.
More likely than not, Dontrelle Willis will be there as well.
That leaves just one spot in the bullpen, and there could be a wild battle in Spring Training for it. Among the players that could realistically earn a shot at the job are Mike Stutes, Michael Schwimer, David Herndon, Justin De Fratus, Phillippe Aumont, Joel Pineiro, Brian Sanches, and Jake Diekman.
It's more like a Royal Rumble than a position battle.
Assuming that Aumont still needs some seasoning in AAA and Pineiro works primarily as a starting pitcher, there could be at least six guys battling over one spot. Now that's what I call competition!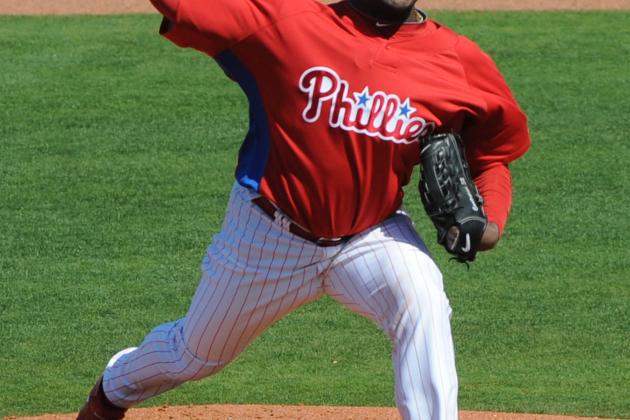 Al Messerschmidt/Getty Images

Jose Contreras missed almost all of the 2011 season with arm issues, and when the answer for the injury is something dubbed "exploratory surgery," you can't help but be concerned. At that point, you have to wonder what the big right-handed reliever has left in the tank.
Contreras has helped to quell some of those concerns early in the spring, throwing in front of the mound on the first day of workouts and just a few days later, throwing his first bullpen session, which by all accounts, seems to have gone well.
The Phillies expect Contreras to play a huge role in their bullpen this season, setting up for new closer Jonathan Papelbon, but the "Big Truck" can only do that if he's healthy, and that will be something to keep an eye on this spring.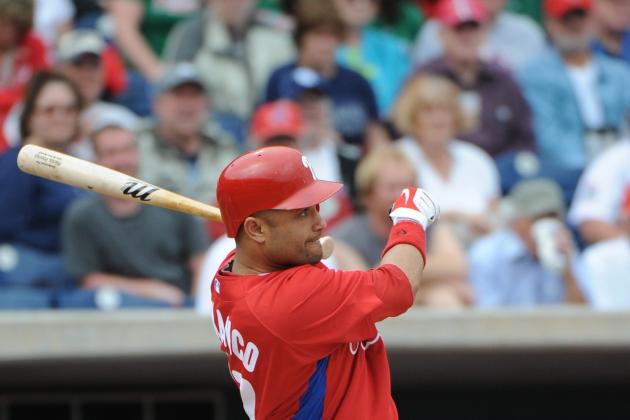 Al Messerschmidt/Getty Images

We already know that Placido Polanco won't be getting too much work this spring. Charlie Manuel plans to limit his workload to keep him healthy heading into the regular season, but what can the third baseman contribute once he gets there?
After experiencing several injuries over the last couple of seasons, including to his back and elbow, as well as a diagnosis of a double sports hernia, Polanco reported that he was arriving at camp feeling good and completely healthy.
In Philadelphia, we've learned to take those comments with a grain of salt.
When he's on the field, Polanco can play third base with the best of them. There's no doubt about that. What we must question is just how often he can take the field and what he can do at the plate. Were his declining statistics a result of his injury plagued campaign or a foreboding message that the end may be near?
Al Messerschmidt/Getty Images

Joe Blanton is yet another uncertainty for the Phillies.
After missing nearly all of the 2011 season while dealing with arm issues, Blanton spent his time on the disabled list and most of the winter working on his physical conditioning and showed up to camp in arguably the best shape of his career.
Add to that the fact that his new repertoire of pitches (more sinkers, fewer four-seam fastballs) produced promising results at the end of last season, and there is certainly reason to be optimistic.
Then again, there have been several indications that the Phillies are actively shopping Blanton to unload his salary.
For that reason alone, one of the biggest stories this spring will be whether or not Blanton remains with the Phillies for the 2012 season. If so, what can we expect out of (Not-So) "Big Joe?"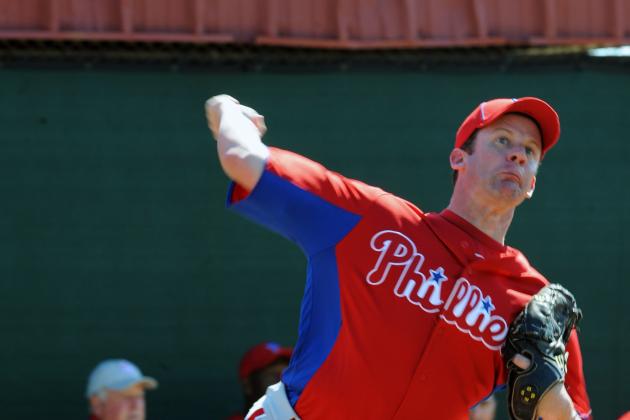 Al Messerschmidt/Getty Images

The Phillies have all but come out and said that they can't add Roy Oswalt to their payroll, but as the right-handed starter sits at home as Spring Training begins, I can't help but wonder if they're secretly planning a coup of their fourth ace from a year ago.
Several times over, the Phillies have tried to move Joe Blanton's salary. Moreover, I think it is safe to say that they are not entirely comfortable with the back end of their starting rotation, given Blanton's health status and Vance Worley's potential for regression.
What happens if one of the "big three" goes down?
Oswalt doesn't come without his question marks. Is he healthy? Can he stay healthy? He is committed to playing?
However, even after a disappointing year in 2011, Oswalt is one of the better pitchers in all of baseball. He took a gamble by limiting his choices in teams this winter, and now, he's waiting for one of his top choices to blink.
Oswalt is going to pitch in 2012, but where?
With the St. Louis Cardinals and Texas Rangers downplaying interest, Ruben Amaro Jr. must be licking his chops at the opportunity of getting Oswalt at a good price, and to say the door is "closed" may be a bit premature.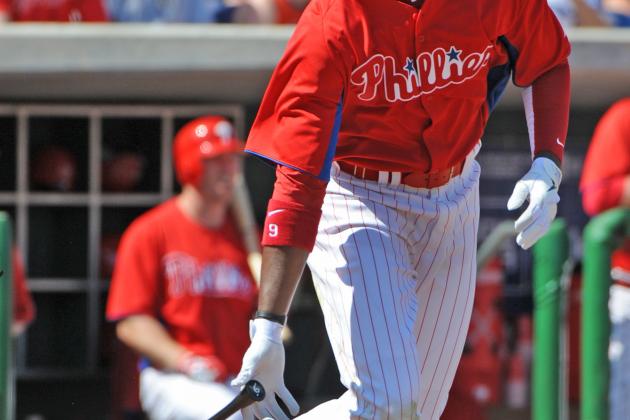 Al Messerschmidt/Getty Images

Domonic Brown wasn't happy to hear that general manager Ruben Amaro Jr. wanted him to spend a full season in AAA.
Instead of sulking around at home, Brown spent the winter training rigorously, getting into tip-top shape as Spring Training rolled around, his sights set on impressing all of the right people and winning the left field job. He even trained with former slugger Gary Sheffield to improve his chances, according to Todd Zolecki of MLB.com.
Of course, he'll need the perfect storm of events for that to actually happen.
First and foremost, John Mayberry Jr. will have to have had an incredibly disappointing spring. Amaro said earlier this winter that it was his job to lose. Laynce Nix is also in camp and could have a shot at playing time, as well as a few dark horse candidates like Scott Podsednik and Juan Pierre.
Brown, on the other hand, is going to have to play like his pants are on fire. He'll need to prove not only that he can hit, but that he can play an adequate defensive left field as well—something that didn't seem realistic just a couple of months ago.
Could it happen? Sure, it could happen. I think we all expect Brown to start the season playing left field for the Lehigh Valley IronPigs, however.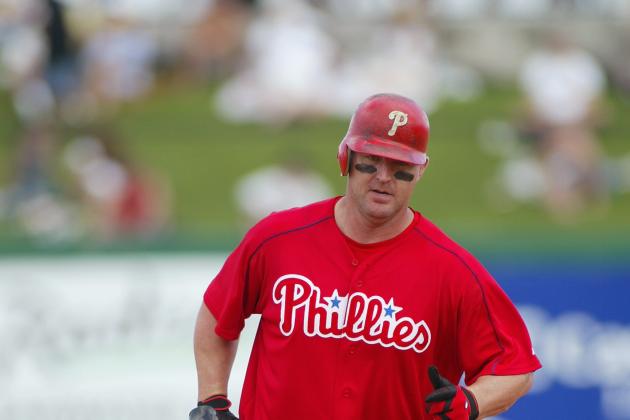 Rick Stewart/Getty Images

Jim Thome certainly isn't getting any younger, and he was never really a great defender at first base anyway, but one of the common themes through the first couple days of Spring Training has been just how good of shape the slugger showed up to camp in. His secret?
Pilates.
Taking a page out of Jimmy Rollins' playbook, Thome found that the various stretches done in Pilates helped him stay limber throughout the winter, and he's come into shape having trained harder than ever. The goal is simple: Win that elusive World Series.
In order to do so, he'll have to play some first base for the Phillies as Ryan Howard recovers from injury. If Howard is ahead of schedule, Thome may not have to play all that much on the infield, something that he wasn't going to do much anyway, but just how much will he play?
The truth is that there is no answer right now. One of the big story-lines to keep an eye on this spring is just how much first base Thome can play, and also, whether or not he can adjust to his primary role of providing some thunder off of the Phillies' bench.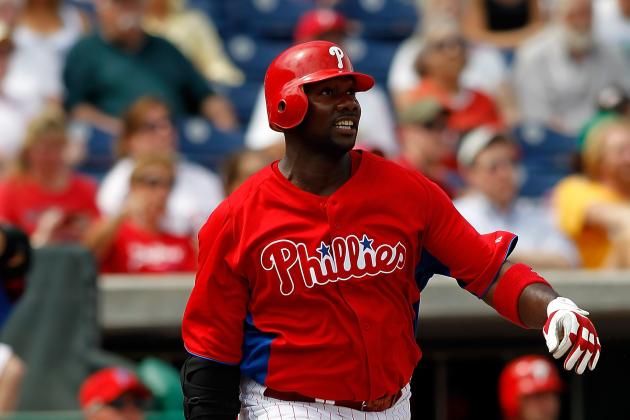 J. Meric/Getty Images

It seems like just yesterday that Ryan Howard had stumbled down the first baseline, becoming the final out of yet another postseason. The loss to the St. Louis Cardinals left a bitter taste in the figurative mouth of the Phillies, but none more sour than Howard.
On that final out, Howard had torn his left Achilles tendon, and at the time, his future seemed to be in serious question. Though all knew he would eventually return, people questioned: Would he ever be the same? How much time will he miss?
A tentative four to six month recovery period was assigned to Howard, who spent most of the winter in a walking boot, recovering from the surgery to repair one of the leg's most crucial tendons.
Howard seems to be well ahead of that schedule, having already arrived in Clearwater to do some light baseball drills, such as jogging and fielding ground balls. Manager Charlie Manuel seems to believe that his first baseman is well ahead of schedule, and its hard to argue with that.
Howard will be a player to keep an eye on this winter, as we attempt to figure out just how much time he will miss. Will he truly be out until at least the month of May, as general manager Ruben Amaro Jr. speculated earlier in the winter, or could we see "The Big Piece" in full uniform much sooner than that?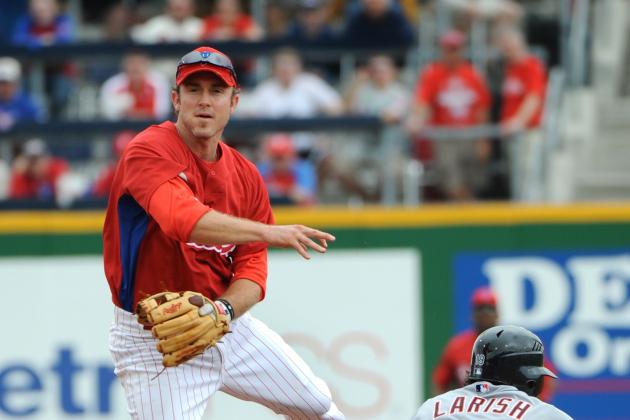 Al Messerschmidt/Getty Images

Realistically, Chase Utley may never operate at "100%" again, but that doesn't mean that his story is all doom and gloom for the Phillies. As long as Utley is feeling good, he's still better than most second basemen in the game of baseball.
What we really must consider this spring is just how healthy Utley actually is.
Finally seeming to have gotten with the program, Charlie Manuel plans to limit Utley's activities this spring, resting him regularly and making sure that he gets just enough at-bats to be sharp for the regular season.
Even in that limited amount of playing time, we should be able to see just how good Utley can be in 2012. Is a resurgence upon us, or are Utley's best days a thing of the past?
Utley's limited playing time should also give us an opportunity to see a few interesting faces playing some second base, like Ty Wigginton, Harold Garcia, and perhaps even Freddy Galvis.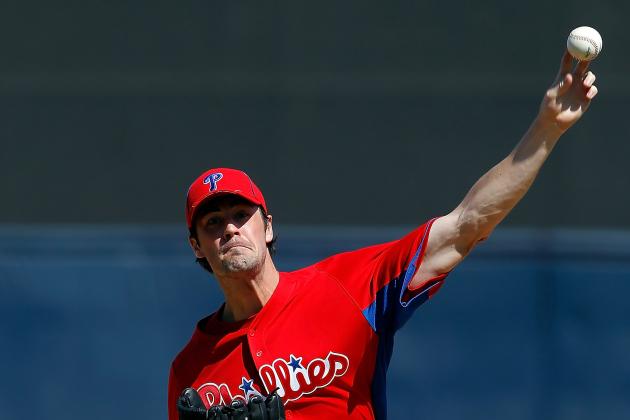 J. Meric/Getty Images

The conspiracy theorist part of me believes that Cole Hamels and the Phillies have agreed to a contract extension and are waiting for the opportune moment to announce it, but I try to keep the conspiracy theorist locked away for obvious reasons.
All joking aside, it wouldn't be all that surprising to see the Phillies and Hamels negotiate throughout the spring. After holding court with the media after arriving for workouts, Hamels made it clear that he wants to remain with the Phillies, and the Phillies have made it clear that they want to keep him.
So what's the hold up?
Well, money, for one thing. Years, for another. Both sides know that Hamels isn't going to come cheap, but both sides also know what it is going to take to get a deal done. Even if the Phillies have to back-load most of the money, there is no way that they can let Hamels walk. He's too valuable to the franchise.
I wouldn't be all that surprised to see the Phillies announce a contract extension shortly after Opening Day (to avoid luxury tax ramifications) but that's just that conspiracy theorist guy speaking again.