NHL Trade Rumors: Evgeni Nabokov and Stars Who Won't Move at Deadline
February 21, 2012

Jim McIsaac/Getty Images
As fun as it is to talk about stars switching teams ahead of the NHL trade deadline, chances are, most of the big names will stay put.
Sure, the Columbus Blue Jackets may let go of Rick Nash and Jeff Carter (for the right price, of course), though these three big names won't be going anywhere, try as the rumor mill might to suggest otherwise.
Evgeni Nabokov
The Philadelphia Flyers and the Chicago Blackhawks have been scouring the market for quality goaltending and will continue to do so right up to the deadline on February 27th.
Just don't expect Evgeni Nabokov to be the man in the plan. According to Arthur Staple of New York Newsday, the New York Islanders are preparing for contract negotiations with representatives of the 36-year-old backstop, who's resurrected his once-failing career in Long Island this season.
It should come as no surprise, then, that GM Garth Snow has insisted he won't send Nabokov away by Monday, seeing as how he's trying to keep him around to serve as Kevin Poulin's tutor. 
Bobby Ryan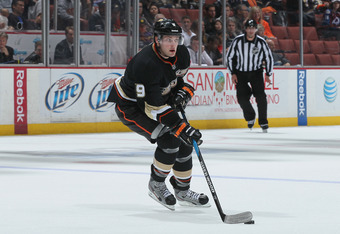 Victor Decolongon/Getty Images
The Anaheim Ducks could conceivably make a killing at the deadline with all the high-powered assets they have, though it's looking more and more as though GM Bob Murray will stand pat until the summer.
That's not to say he won't eventually look to move a star like Bobby Ryan at some point in the future. Rather, as Eric Stephens of the Orange County Register points out, the club is content to hang onto its young players amidst its current run into playoff contention, though that won't necessarily prevent the Ducks from fielding offers for Teemu Selanne and Saku Koivu.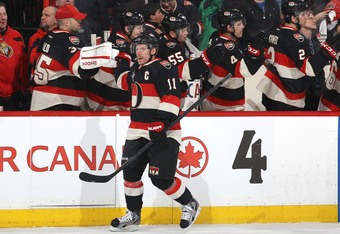 Jana Chytilova/Freestyle Photo/Getty Images
Thanks to a recent surge on the ice, the Ottawa Senators now find themselves in the seventh spot in the Eastern Conference playoff picture and, in turn, no pressing need or desire to move Sergei Gonchar. The 37-year-old defenceman has played a key role in the Sens' improvement and, according to Bruce Garrioch of the Ottawa Sun, has no desire to leave Canada's capital city.
So unless Gonchar has a sudden change of heart and decides to waive his no-movement clause, he'll be in Ottawa for the long haul to help the Sens pursue a spot in the postseason.