NFL Free Agency: Top Value Players on the Market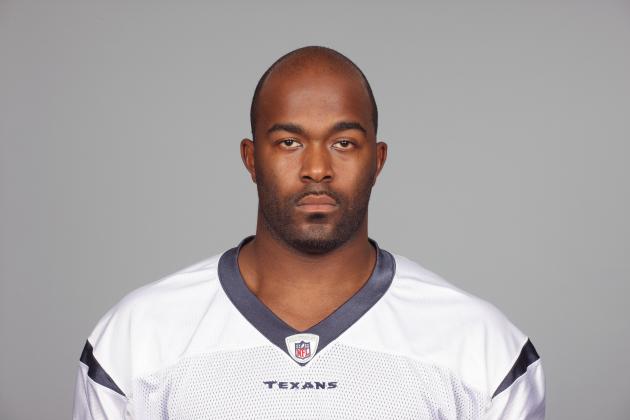 Handout/Getty Images
Houston Texans linebacker Mario Williams
With NFL free agency scheduled to begin on March 13, NFL fans and media alike are keenly debating and speculating on where the key players will be calling home this time next month.
Mario Williams headlines a very talented group of players which may available to the highest bidder. Teams can begin designating their franchise tag to one of their free agents starting from Feb. 20.
Hundreds of millions of dollars will be dished across the NFL as each team looks to put itself in the best position possible to succeed in 2012. However, it is not always the biggest spenders that tend to reap the big rewards in free agency. It is important for teams to spend their money wisely and find value in the market.
Every year there are examples of players who switch teams and suddenly their performance improves dramatically. This can happen for any number of reasons from players needing a fresh start to refocus themselves to moving to a system that better utilises their strengths.
Some players hitting the free agency market have sustained serious injuries in the past 12 months which will inevitably lower their price tags.
Brandon Lloyd exploded to lead the league in receiving yards in 2010 after doing his best impression of an NFL journeyman for the first seven years of his career. There was not a lot of interest in Carlos Rogers when he hit the market last offseason. After a Pro Bowl season for the 49ers, that will not be the case this time.
Andre Carter was considered by many to be washed up after leaving Washington but produced 10 sacks and was voted to the Pro Bowl also, for the New England Patriots.
These are examples of the type of value signings teams need to make to truly come out as winners in free agency. Here are some of the players that, for different reasons, teams may not have to break the bank to sign but have the potential to have big impacts in 2012.
Begin Slideshow

»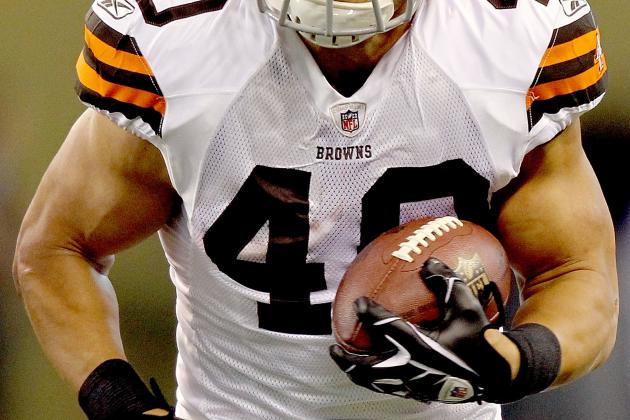 Matthew Stockman/Getty Images

Peyton Hillis came out of nowhere in 2010 to put up massive numbers with the Cleveland Browns and land himself on the cover of the 2011 Madden game. He rushed for 1,177 yards and caught 61 passes for a further 477 yards.
However, a combination of injuries (he missed six games), a contract dispute and the dreaded Madden curse combined to render last season a definite disappointment for both Hillis and the Cleveland Browns organisation. He rushed 161 times for 587 yards and a very unimpressive 3.6 yards per carry.
At 6'2", 250 lbs, Hillis is one of the most physical running backs in the NFL and has the ability to pound a defense like few others. Last season hurt Hillis in terms of the money he will be able to command on the open market, but if he rediscovers his 2010 form, he has the ability to make a massive impact for any team that takes a chance on him.
Hillis' bruising style makes it unlikely that his shelf-life as an NFL feature back will be long one. This is a fact I am sure Hillis and his agent will be aware of, so they will look to sign a one-year deal somewhere so that Hillis can get back to the negotiating table this time next year in a much stronger position.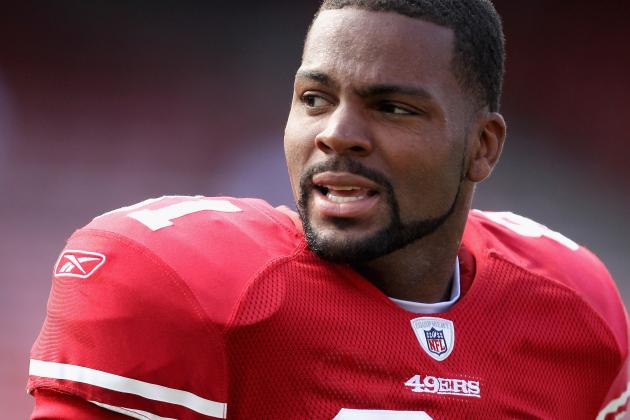 Ezra Shaw/Getty Images

During seven professional seasons in the NFL, Braylon Edwards has failed to fully capitalise on the talent which led to the former Michigan star being the third overall selection in the 2005 NFL draft. 2007 was the exception to this when he caught 80 passes for 1,289 yards and 16 touchdowns. Unfortunately, he has failed to maintain that level of performance.
Last offseason, his services failed to generate the interest he expected on the free agent market, and he ended up signing a one-year, low-level deal in San Francisco. His time with the 49ers was a disaster as he ended up catching only 15 passes for 181yards, by far his worst season in the NFL.
With a large number of big name receivers scheduled to hit the market, interest in Edwards promises to be limited. This might enable some team to get an excellent bargain with Edwards. Still only 28 years of age, it is not too late for Edwards to turn his career around.
His work ethic, off-field behaviour and ability to be a good teammate have all been questioned in the past, but the events of the past 12 months are bound to have been humbling and may force Edwards to re-evaluate himself.
If he chooses to dedicate himself to the game of football, he has the natural talent and is still young enough to make a big impact in the NFL.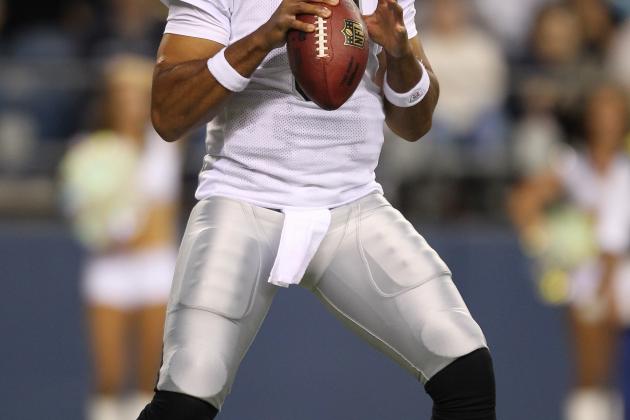 Otto Greule Jr/Getty Images

Jason Campbell finds himself out in the cold in Oakland. The Raiders acquired Carson Palmer from the Cincinnati Bengals after Campbell broke his collarbone six games into the 2011 season. The injury occurred at the worst possible time for Campbell, who had been doing a solid job as Oakland's starting quarterback and seemed to be in a position to merit the role going forward.
At 30 years of age, Campbell's next move is very important. He has so far proved to be a good but not great player, and this distinction has led to his departure from both Washington and Oakland. Although both teams had aspirations of receiving better play from the quarterback position, they have arguably done far worse since they pushed him through the exit doors.
Campbell has thrown for 14,417 yards, 74 touchdowns and 50 interceptions so far in his career. He will look to sign for a franchise where he has the opportunity to at least compete for a starting role. His introduction would help improve a lot of quarterback situations around the NFL.
Although he has considerable experience, he still gives the impression that he is a player capable of improving if he could find himself in a settled situation. He is an excellent teammate, and his introduction would not unsettle a locker room.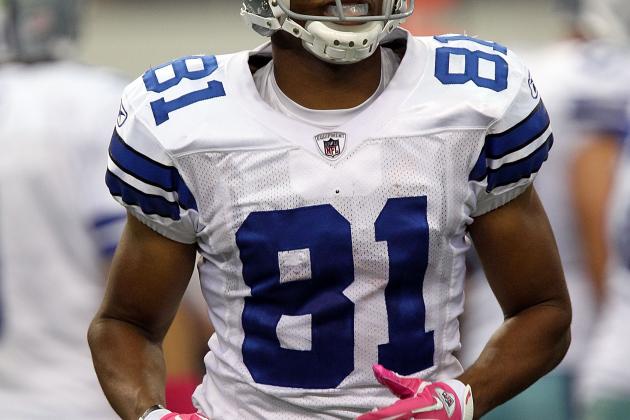 Ronald Martinez/Getty Images

Laurent Robinson was a big surprise in Dallas last season catching 54 passes for 858 yards. This was an even more impressive feat when you can consider he was often quarterback Tony Romo's fourth option behind fellow receivers Miles Austin and Dez Bryant and tight end Jason Witten.
Robinson has impressive size at 6'2", 194 lbs and displayed excellent speed on the field for the Cowboys as evidenced by his impressive yards per catch figure of 15.9.
Although Robinson was not much a factor in his previous four seasons in the league (two each with Atlanta Falcons and St. Louis Rams), he showed enough on the field in Dallas last season to ensure there should be a market for his services.
The Cowboys are somewhat limited in what they can pay him due to the fact they already have Witten, Bryant and Austin on the books and have needs elsewhere on the team. However, there should be plenty of other teams interested in the 26-year-old receiver who looks as though his best football is ahead of him.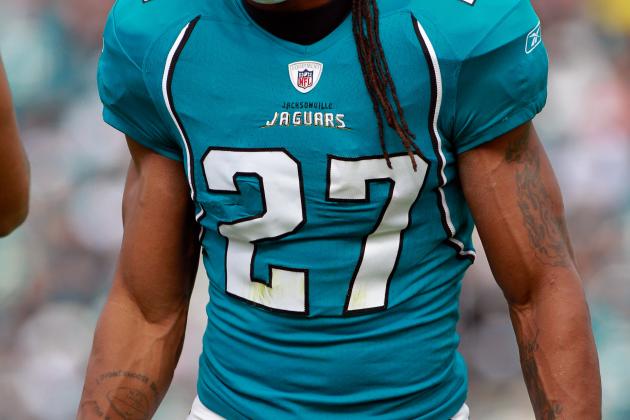 Sam Greenwood/Getty Images

Rashean Mathis is one of the NFL's more underrated cornerbacks. He has been a staple of the defensive backfield in Jacksonville for nine seasons. Mathis has excellent size (6'1", 193 lbs) and good ball skills as evidenced by his 30 career interceptions.
Mathis is a key cog in the Jaguars backfield, and the Jaguars will be interested in retaining his services. They are a rebuilding team, however, and Mathis may want to test free agency to see what teams are interested in him.
Even though he is entering his tenth NFL season, he is still only 31 years old. He struggled with injuries last season and only played in nine games, but should be fully healthy for the start of the 2012 season. He could be a very useful addition for any contenders looking to add a solid veteran presence to their locker room.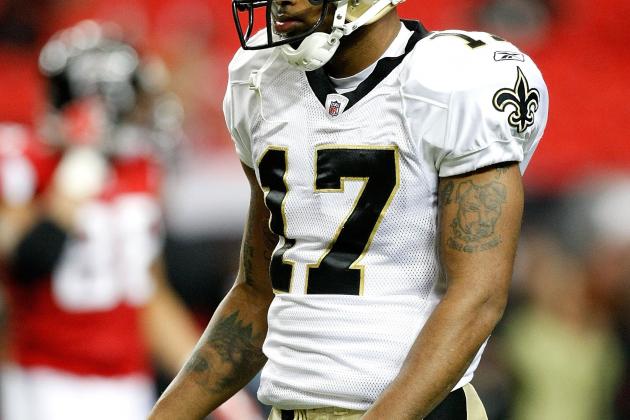 Kevin C. Cox/Getty Images

Robert Meachem has not quite lived up to expectations since being selected by the New Orleans Saints in the first round of the 2008 NFL draft. He has intriguing physical tools and has flashed big-play potential, but has failed maintain the consistency needed to establish himself as a dominant player.
To be fair to Meachem, minutes on the field were sometimes difficult to come by in New Orleans with the Saints offense also boasting receiving targets like Jimmy Graham, Marques Colston, Devery Henderson and Lance Moore.
To date, Meachem has caught 23 touchdowns and amassed 2,269 receiving yards at an average of 16.1 yards per catch in his four seasons in the NFL. His size (6'2", 210 lbs) and speed make him a very potent deep threat.
He has the potential to break out if he goes to the right system, and he can become a bigger feature of the offense. He could be an excellent value pick-up for a team because his best football is still ahead of him.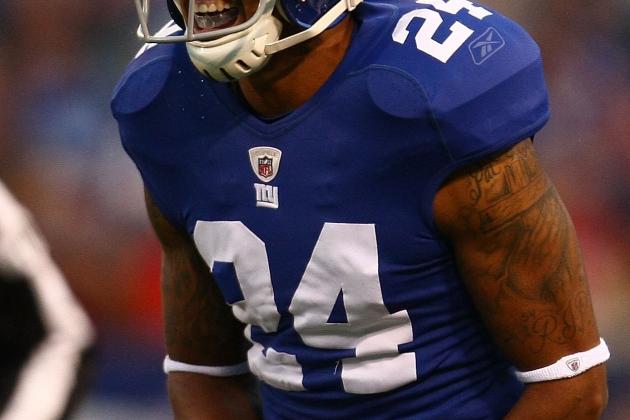 Chris McGrath/Getty Images

New York Giants cornerback Terrell Thomas missed the entire 2011 season through injury. This was a blow to the Giants because he was a player they were very high on entering the season. He was entrenched as the starting cornerback opposite Corey Webster after two very solid seasons in 2009 and 2010. He recorded five interceptions in each for the Giants.
His return to New York is uncertain. Aaron Ross took over Thomas' starting role last season and performed reasonably well. The Giants invested a first-round draft selection in Prince Amukamara last season, and he is poised to assume a bigger role in 2012.
After missing all of 2011 due to injury, Thomas is unlikely to be able to command the type of contract his play prior to that warranted. If he does not resign with New York, he may look to sign a short-term deal somewhere where he can look to regain his fitness. He can subsequently look for a bigger contract. If he can regain his form quickly he could be a very useful addition to a lot of NFL teams in 2012.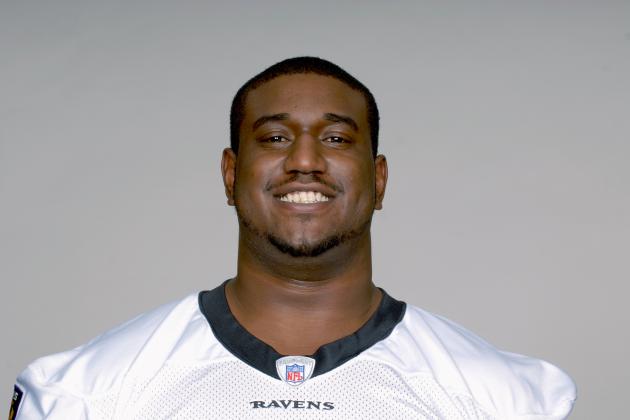 Handout/Getty Images

It is highly unusual for a player of Jared Gaither's natural ability to be on the free agent market at the age of 25. He was once regarded as a potential cornerstone left tackle in Baltimore but was cut after missing the entire 2010 due to a back injury. He clashed with coaching staff over his playing position and weight, and this ultimately helped speed up his departure from the Ravens.
After a brief stay in Kansas City, Gaither was picked up by the San Diego Chargers to replace their injured left tackle Marcus McNeill. He played well for the Chargers, and this should help him as he searches for a new team.
Despite Gaither's injury concerns, the fact remains that players with his natural ability and dimensions are rare. He has the ability to not only play left tackle in the NFL, but to excel in the role if he dedicates himself to maximising his talent.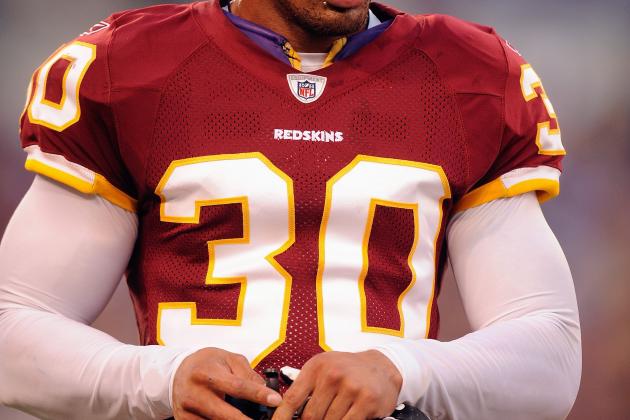 Mitchell Layton/Getty Images

LaRon Landry has been an impact player for the Washington Redskins since they selected him sixth overall in the 2007 draft, ahead of players like Adrian Peterson, Patrick Willis and Darrelle Revis. He has, however, struggled with injuries. He was limited to playing in nine games in 2010 and eight in 2011 due a troublesome Achilles injury.
Injury concerns aside Landry is an imposing physical presence in the secondary. He is a rare athlete for his size and a very explosive hitter. If he can return to fitness, there are not many better strong safeties in the NFL.
The Redskins appear to be willing to let Landry test the market. They have would like him back but are unwilling to overpay for his services. His recent injury history will prevent him from cashing in on his free agency status. He is likely to look to sign a one-year deal so he can back to the negotiating table next season in a stronger position.