Philadelphia Phillies: Predicting Leader in Every Major Statistical Category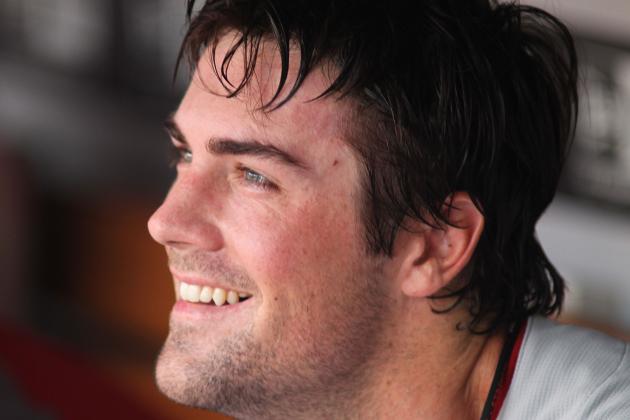 Marc Serota/Getty Images

If the arrival of pitchers and catchers reporting for spring training in Clearwater, Florida doesn't get you excited, then maybe Roy Halladay arriving in a 1932 Roadster will. Phillies Nation will instinctively flock south in a few weeks to watch the five-time defending NL East champions.
Over 3.1 million tickets have already been sold for the 2012 season, including 70,000 single-game tickets which were sold on February 17, 2012 (the first day single games were available) at Citizens Bank Park. While there are many questions that we will look to have answered before Opening Day, there is no question that the Phillies still are the favorites in the National League.
After all, Roy Halladay, Cliff Lee and Cole Hamels (Nos. 1, 2, 3) are as good as it gets. Philadelphia, enjoy the ride of a 162-game season. Let's try to not look ahead to the postseason.
We will worry about the postseason later, so here is a prediction of the Philadelphia Phillies leaders in every major statistical category.
Begin Slideshow

»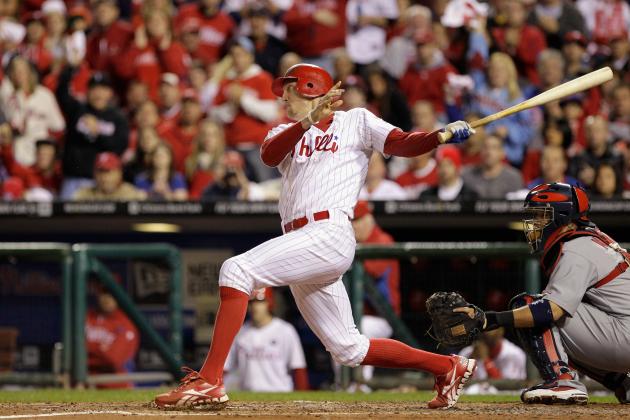 Rob Carr/Getty Images

Ryan Howard would've been the easy choice to win the HR crown for the Philadelphia Phillies, but I believe that honor will go to Hunter Pence and I'll explain why.
Pence hit 22 HR in 2011, 11 with the Houston Astros and 11 with the Phillies. He hit as many homers (11) with the Astros as he did in just 54 games with the Phightins.
A full season playing in front of a capacity crowd (and a hitter-friendly ball-park) will do wonders for fan-favorite Pence. He is already in Clearwater early working his tail off to become the next "Big Piece" in the Phillies lineup.
Pence hit 25 HR from 2008-2010, but don't be surprised if he smacks 30 in 2012. Take your time coming back from injury, Howard; Hunter's got your back.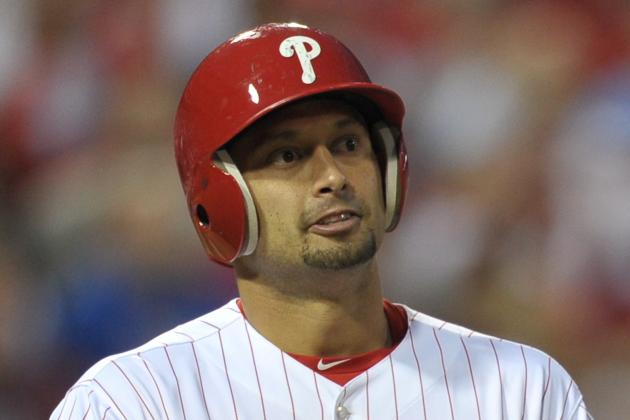 Drew Hallowell/Getty Images

The talk of the offseason has been about Cole Hamels and his impeding free agency, but 2012 may be Shane Victorino's last with the Philadelphia Phillies as well. The "Flyin' Hawaiian" is set to become a free agent after this season, and he's looking to make things difficult for GM Ruben Amaro with a monster season.
Victorino was arguably the Phillies' best position player during the regular season and he plays a terrific CF. He was second on the team in hits with 145 (J-Roll had 152) despite more than 40 fewer AB's.
Charlie Manuel and Ruben Amaro have spoken at length about a "change of approach" to the team's hitting and that begins and ends with Jimmy Rollins hitting lead-off. Victorino led the team with a .355 OBP and rarely gets caught stealing.
With Ryan Howard on the mend, it would be smart to bat Jimmy (and his HR-hitting mindset) lower in the order where he can drive in runs. Rollins got his new contract and should help the team in whatever capacity asked of him.
In a dream world, anyway...
Patrick McDermott/Getty Images

When you think of RBI and the Philadelphia Phillies, you think of big No. 6 Ryan Howard. The cleanup hitter for the Phillies will not be ready for Opening Day and it will now be up to Hunter Pence to drive in runs.
Pence has knocked in 90-plus runs the past two seasons, the majority coming with the lowly Houston Astros. Jimmy Rollins, Shane Victorino and Chase Utley all have a ton to prove in 2012 (albeit for different reasons) and look for them to get on base early and often.
It's worth mentioning again that Pence has everything to play for in 2012 (in a smaller park) and will put up huge offensive numbers.
Pence will topple 100 RBI for the first time in his career.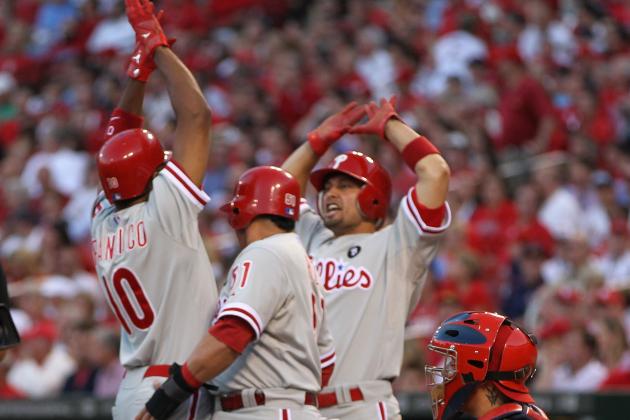 Jamie Squire/Getty Images

Shane Victorino is a run-scoring machine. He led the Philadelphia Phillies in 2011 with 95 runs and look for him to become the Phillies' leadoff hitter at some point this season.
Victorino, Utley, Pence, Howard, Mayberry, Rollins, Polanco and Ruiz is a lineup that I would go to battle with in a playoff series. Victorino is a free swinger (like everyone on the team besides Polanco) but he is willing to hit the ball on the ground and even bunt when needed.
With Chase Utley, Hunter Pence, Ryan Howard and John Mayberry Jr. hitting behind him, there is a good chance that Victorino will be scoring a lot of runs.
As long as Chris Carpenter isn't pitching.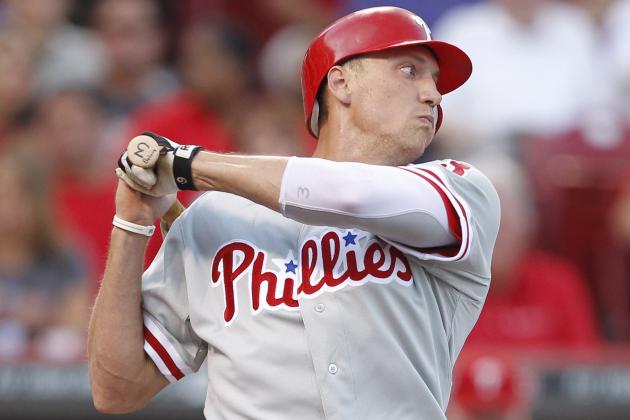 Joe Robbins/Getty Images

Hunter Pence hit a ridiculous .324 (compared to the next closest Phillie at .283) during his 54 games in Philadelphia. Pence is big and strong and has incredible plate coverage.
His OBP of .394 (as a Phillie) is exactly what this team has been lacking for years. Pence has the ability to drive the ball to all fields and good enough speed to take the extra base. A full season in front of the most loyal and raucous fans in the country will do wonders for Pence.
He was dynamite with the team during his short tenure here in 2011. Expect much more of the same in 2012.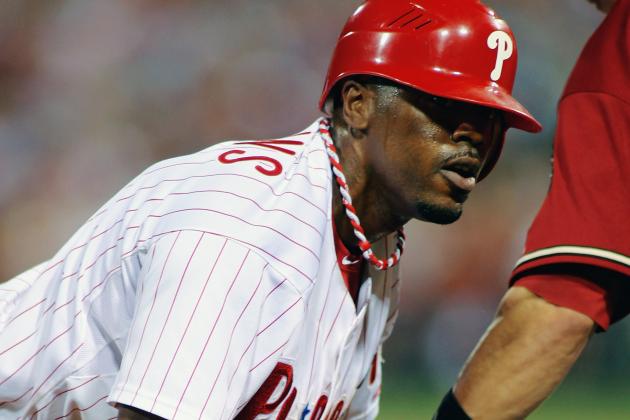 Len Redkoles/Getty Images

Jimmy Rollins may not have the blazing speed that he used to, but he is a much smarter base-stealer who picks his spots brilliantly. Rollins swiped 30 bags in 2011 and showed that he still has plenty of get up left in the tank.
It doesn't matter if J-Roll hits leadoff or towards the bottom of the order; when he is on base he likes to wreak havoc on the opposition. With Ryan Howard missing the early part of the season (potentially), it is even more critical that Rollins is aggressive on base.
Jimmy Rollins will lead the Philadelphia Phillies again in steals. Jot that down.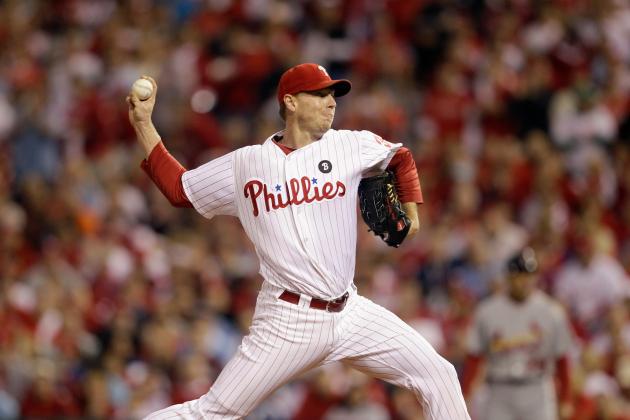 Rob Carr/Getty Images

How can you go against a guy that has won at least 15 games in eight of the last 10 seasons? "Ridiculous" and "insane" are words that come to mind when you ponder Roy Halladay's resume.
For example, Cole Hamels was brilliant in 2011, but he only had 14 wins due to poor run support. Halladay pitched for the lowly Toronto Blue Jays in the toughest division in baseball (AL East) and still was able to put together win totals of 19, 22, eight, 12, 16, 16, 20 and 17 from 2002-2009.
Pundits across the country continue to put out that the Phillies are getting older, but what in the hell is giving anyone any idea that the "Doctor" will be anything but brilliant in 2012?
The best pitcher in baseball will continue to get his 30-plus starts, 200-plus K's, 200-plus IP and push for 20 wins. That's what he does.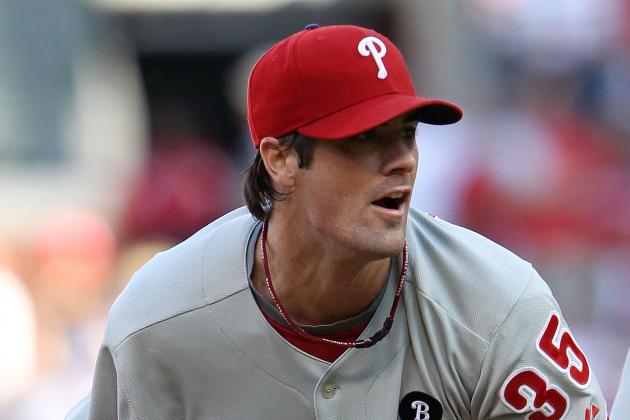 Jamie Squire/Getty Images

The youngest and brightest ace of the Philadelphia Phillies shed some light on his impeding free agency. The general tone of his press conference was that he has been extremely happy in Philadelphia for the past 10 years, his charity is here, his home is here and he thinks the team will continue to contend for years.
So that should make Philadelphia feel a little better.
Hamels is set to have a monster year as he is admittedly in the best shape of his career. Learning from the legendary work ethic of Roy Halladay and Cliff Lee has given Cole Hamels that killer instinct and mental toughness it takes to pitch in one of the toughest media markets in the country.
Just ask Ilya Bryzgalov how easy it is to make big bucks in this town.
It's probably never a good idea to pick against Doc for any major pitching statistical category, but Hamels is just entering his prime and hopefully that continues with the Philadelphia Phillies.
Monster year for the former World Series MVP.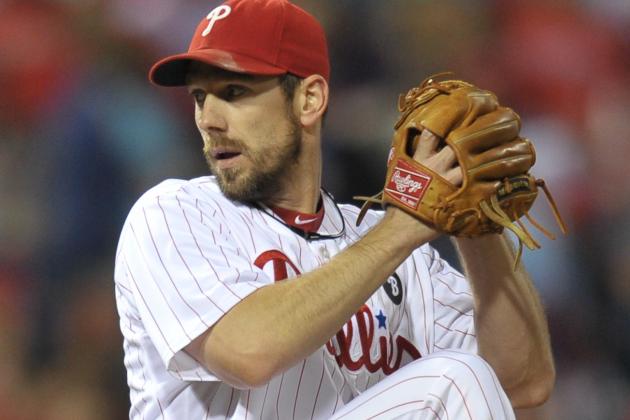 Drew Hallowell/Getty Images

Cliff Lee is a magical, mystical creature that shunned the entire city of New York (and their seven-year contract) for the City of Brotherly Love. Lee loves to pitch in front of the most raucous crowd in the country and his numbers certainly back up that claim.
Lee could've easily won his second Cy Young last year after posting a 17-8 record with a 2.40 ERA. Even more impressive was Lee's ability to miss the opposition's bat on a regular basis.
He ate up 232.2 innings and struck out an amazing 238 hitters. That's a K/9 rate of 9.21.
Say what you want about the Phillies lineup, but GM Ruben Amaro knew what he was doing when he signed Lee. He was putting more of the team's money into a guy that will dominate the opposition every fifth day.
Lee has continued to pile up the strikeouts like the noble steed that he is in Philadelphia (only partly joking). Could he be even better in 2012?
The rest of MLB certainly hopes not.