New York Yankees: The Top 10 Commercials Starring Yankees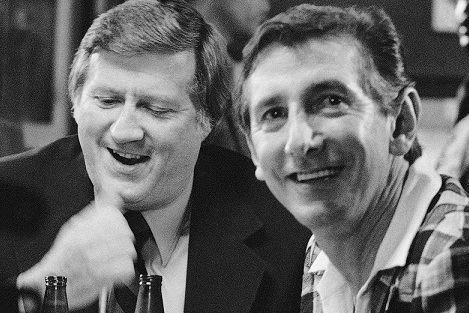 Yankees are very "commercial"
One of the many "perks" or "burdens" of being associated with a team that has won more world championships than any other—in the largest media market—is that you are asked to share your name or image to endorse products. As such, throughout their history many New York Yankee players, managers and even owners have taken part in commercials endorsing everything from hair products to beer.
This article looks at 10 of those commercials and ranks them from least entertaining to most entertaining.
All comments and opinions are welcome.
Begin Slideshow

»
A generation after he retired, Joe DiMaggio became nearly as famous for his endorsements of Mr. Coffee as he had been for his achievements as a Yankee.
His Mr. Coffee commercials are more informative than they are entertaining and that is why he lands at No. 10 on our list. Grab a cup of "hot joe" and take in this 30-second gig for the Yankee Clipper.
Mickey Mantle was known for playing hard on the field and off. As one of Major League Baseball's all-time greats, he was asked to endorse numerous products.
One of the products he is best known for, of course, is Natural Light beer from Anheuser-Busch. Ironically, later in life he would admit that drinking and partying was one of his great regrets—having possibly robbed him (and Yankee fans) of some years from his career.
His Natural Light beer commercials are not as "dry" as Joe DiMaggio's and that puts him at No. 9 on our list.
Reggie Jackson's three home runs off three different pitchers—on three pitches—in the 1977 World Series will forever go down as one of the greatest moments in Yankee history.
Reggie always knew how to make the most of any moment in the spotlight and being on the most famous team in the largest media market would be no different.
The advent of the "Reggie!" bar gave Jackson an avenue to increase his "Q" rating, and Mr. October took full advantage of it with our eighth-most entertaining Yankee commercial.
Derek Jeter will go down in New York Yankee history as the Bronx Bombers' greatest shortstop. For 16 years he has been the "face of the franchise" and is known for doing things the right way.
Apparently his talents aren't just on the field. As this commercial (and others) shows, he could have a bright future in the entertainment industry.
At No. 7 on our list of commercials starring New York Yankees it is our captain, Derek Jeter.
One is the manager who guided the New York Yankees to their 27th World Championship. The other is the closer for that team and arguably the greatest reliever in the history of Major League Baseball. What do you get when you put them together for a Taco Bell commercial?
Answer: an entertaining 32 seconds.
As you will see, both manager Joe Girardi and reliever Mariano Rivera show that they can entertain us outside of the field in this sixth-most entertaining commercial starring New York Yankees.
George Steinbrenner was always known for an over-the-top, hands-on approach with his managers and players. Derek Jeter throughout his career has been known for his brilliance on the field as well as a thorough enjoyment of nightlife in the Big Apple.
This Visa commercial plays to both personalities and appears at No. 5 on our list of New York Yankee commercials.
The volatile relationship between Billy Martin and George Steinbrenner is well-documented. They couldn't live with each other and they couldn't live without each other.
It took the brilliance of Miller to use that to promote its Lite beer brand. Playing off the notoriety of the owner/manager relationship, Miller produced the fourth-best commercial starring New York Yankees.
Having been the man behind the plate for one of the New York Yankees' greatest eras, Jorge Posada certainly has had his share of moments in front of the camera.
This past decade has seen some of the most entertaining commercial spots come from ESPN, the premier cable sports network of our time. They produced this one, featuring the Yankees' Posada, which has come in as the third-best commercial starring a New York Yankee.
For the third time on this list we find the Yankee captain, Derek Jeter. Clearly his persona plays well to lighthearted moments on camera and, once again, ESPN uses it to their advantage.
While he is No. 1 in Q-rating of current New York Yankees, his commercial for SportsCenter is runner-up on our list.
The greatest rivalry in Major League Baseball is that of the New York Yankees and Boston Red Sox. It is rooted in a bitter history dating back to the day that the Yankees purchased Babe Ruth from Boston.
The brilliant staff that creates the ESPN SportsCenter commercials seizes on the rivalry to produce one of their best spots.
Starring two of the most recognizable players of the Yankees and Red Sox, this commercial featuring Jorge Posada and David Ortiz goes down as the best commercial starring a New York Yankee. Enjoy.