UFC on FOX 3: Is Nate Diaz Destined for Gatekeeper Status?
February 20, 2012

Nate Diaz is his own worst enemy and a tougher opponent than Jim Miller, who he will face when he steps into the cage at UFC on FOX 3.
While Miller may be an accomplished wrestler who knows how to win decisions and submit his competition, it is his patience that will help him win in the end.
Diaz is a great fighter. He has all the ability of a top mixed martial artist and none of the patience. He could easily win against Miller if he decides to use his boxing to keep Miller on the outside and stop the talented wrestler from getting takedowns.
Diaz has a 76" wingspan that extends well beyond Miller's 71". With that room, he could outbox him enough to get a decision win. The only problem is that Diaz would have to take a step back and make a fight without trying to finish his opponent.
That isn't Nate Diaz.
In 15 victories, only two of them have been by decision. In seven losses, six have gone the distance.
Diaz is an impatient man, and to him an MMA bout is a fight that should have both men trying to knock out or submit their opponent.
While this is an admirable quality to have as a martial artist and something that is true in a fight, this is a sport. In a sport, there are rules and fighters get paid to be the best at adhering to the rules while beating their competition.
Diaz doesn't accept that. He just wants to fight to the finish.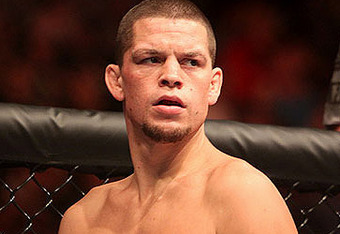 That may have worked 10 to 15 years ago when the sport was in its infancy, but now there are more and more competitors who are focused on being professional athletes instead of being fighters. They want to use MMA to make money and be successful instead of aiming to be called the best in the world.
If Diaz wants to make more money then he is going to have to deal with reality—but he won't.
Nate Diaz has been a professional since 2004, and even if he is just 26 years old, it means his habits are now ingrained. He is his own character and doesn't want to change for anyone.
The thing that has kept him relevant and winning in the UFC is the same thing that stops him from reaching the upper echelon. He is going to fight his style and with his demeanor, and there is nothing anyone can do about it.
Diaz has all the talent in the world, and in bouts like the one he had with Donald Cerrone, fans get to catch a glimpse of it. If Diaz would be willing to play by the rules, fans would see more than that, but since he won't, we can't.
That is a shame, because for all of his faults, Nick Diaz is one of the best fighters in the sport today. He just doesn't show it, and on UFC on FOX 3 his unwillingness to adapt will cost him his shot at the top once more.
And as long as he continues to think the way he does, it always will.
Matthew Hemphill writes for the MMA and professional wrestling portion of Bleacher Report.  He also hosts a blog elbaexiled.blogspot.com that focuses on books, music, comic books, video games, film and generally anything that could be related to the realms of nerdom.