Cleveland Indians: What to Expect out of the Tribe in 2012
February 20, 2012

Leon Halip/Getty Images
Brief 2011 Recap
I couldn't have been more wrong about the Indians last season. I had it pegged for the cellar, and instead the club made a run for the division crown. For having a pitching staff as allergic to strikeouts as the Twins', the Indians did well to get career-type years out of Justin Masterson, Josh Tomlin and even Carlos Carrasco. This is especially true when considering that the Tribe employed the glacial Orlando Cabrera at second base for a good chunk of the season before Jason Kipnis proved ready.
A good portion of the Tribe's success can be attributed to luck (80-82 real record, 75-87 Pythagorean record), but this is a good young club and almost all of its prospects have matured right around the same time, which means the club's winning window is about to burst open.

Brief 2012 Prediction
I have Cleveland pegged to finish third, but the Tribe could easily sneak into second. I still don't entirely trust the starting rotation, and Chris Perez appears to be on the brink of implosion.
The lineup should easily top the 704 runs scored last season, but for the team to win 85 games and contend for the AL Central crown, it'll need the infield defense to be better than last season—by virtue of jettisoning O-Cab, not such a huge stretch—and it'll need the pitching staff to be the primary beneficiary, as it's unlikely the staff will benefit from a .295 collective BABIP again.
Casey Kotchman could be the key there, though, as he's regarded as a superior defensive first baseman. Finally, Ubaldo Jimenez has to be better, as well. It won't look good if Drew Pomeranz has a better '12 in Denver than Jimenez does in Cleveland. Sort of a Daniel Hudson/Edwin Jackson vibe there, I think.  

Projected Starting Lineup
C- Carlos Santana
1B- Casey Kotchman
2B- Jason Kipnis
3B- Lonnie Chisenhall
SS- Asdrubal Cabrera
LF- Michael Brantley
CF- Grady Sizemore
RF- Shin-Soo Choo
DH- Travis Hafner

Top Bench Options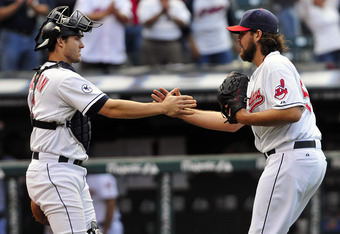 Jason Miller/Getty Images
C- Lou Marson
IF - Jason Donald
IF - Matt LaPorta
IF - Jack Hannahan
UTIL- Shelley Duncan

Projection Rotation

Ubaldo Jimenez
Justin Masterson
Derek Lowe
Josh Tomlin
Kevin Slowey

Projected Bullpen
Chris Perez
Tony Sipp
Vinnie Pestano
Joe Smith
Rafael Perez
Frank Herrmann
Dan Wheeler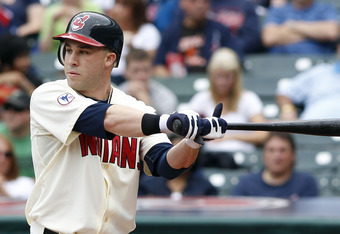 David Maxwell/Getty Images

Top 101 Prospects (According to Kevin Goldstein, Baseball Prospectus)
IF Francisco Lindor (17th)

Why the Indians Will Contend in '12
Every single one of the young hitters adapts amiably to big league pitching, Jimenez takes a step forward and returns to form and Cabrera shows that his growth was a part of the maturation process and not an aberration. In short, a lot of things need to go well for the team to contend, but not a lot of things need to go well for this to be a good club.
Cleveland has good young hitting, a solid if unspectacular bullpen and a steady rotation with or without the artist formerly known as Fausto Carmona. In a division with one super power and a bunch of up-and-comers chasing, the Indians are probably best positioned for the near future to put a dent in the Tigers' collective armor in seasons to come.

Why the Indians Will Not Contend in '12
There's a good chance the pitching staff won't be nearly as good as in '11, and if that happens, this club is in trouble. The offense was outscored by nearly 60 runs last season, and if that was in a 'lucky' season for the pitchers, the hitters have some real work to do. A good portion of the offensive future is heading into its first full big league season (Kipnis/Chisenhall), so the growing pains may be there and may not be kind.
They're top prospects to be sure, but will have to earn their stripes by adjusting to the league a second and third time around. In the end, I like this club a lot, but like it a lot more in '13 and forward.

Final Prediction:  Third, AL Central (out of five)
O/U Wins: 82.5