Purdue Basketball: Ryne Smith with Some Strong Words About Kelsey Barlow
February 20, 2012

Otto Greule Jr/Getty Images
On Sunday, the Purdue Boilermakers faced No. 8 Michigan State in Mackey Arena, two men down.
Early Friday morning in an incident that is still rather unclear, D.J. Byrd was arrested on suspicion of public intoxication.
The incident stemmed from a celebration of Barlow's birthday, and Kelsey Barlow was thrown out of the Where Else (bar) and was trying to get back in when Byrd was involved.
There was an altercation with the bouncer and Byrd's arrest, all of which led to the suspension of D.J. Byrd for Michigan State, and the end of Kelsey Barlow's career as a Boilermaker.
Barlow had been on a hot streak since the Ohio State game and the same could be said for Byrd.
This season, Barlow was averaging 8.3 points, 3.4 rebounds and a bit over a steal per game with Purdue, but that is just an afterthought.
After the Boilermakers blew a lead and lost to the Spartan's in Mackey Arena due to 24 percent shooting in the second half, senior Ryne Smith had a statement for everyone on the teams recent troubles.
When asked what he thought about the Kelsey Barlow situation, Smith responded, "It's addition by subtraction and D.J. is coming back, when he comes back Wednesday night he's going to be ready to go."
I guess it's now officially clear what Smith thought of Barlow, and it's not surprising. There has always been a divide to some degree on this team.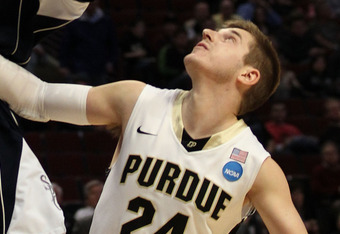 Jonathan Daniel/Getty Images
When you see the team in public, they are often in two groups, but maybe this will bring them together.
A team that has struggled so much to win big games this year, it has two more shots to win a big one against what could be a ranked team. They have a big game next Sunday against Michigan, followed by another against Indiana.
With two teams that should be wins in Mackey Arena left on the schedule, it looks like Boilermakers fans are going to be left without a special win in Mackey this season, but the season isn't lost.
D.J. Byrd made a mistake, a big mistake that might have cost the team a victory against Michigan State, but he can redeem himself.
It's time for him to take control of this team. As a senior next season, he is going to be expected to be the leader and why not step up now.
Against MSU, Byrd looked almost scared as he came out for the first time during warm-ups, but he wasn't met with any discontent, only support. Most Purdue fans are behind Byrd and behind this team.
With Kelsey Barlow, who many believe was a cancer to this team, off the squad, Purdue needs to respond.
With Nebraska coming into Mackey on Wednesday night, the Cornhuskers are set to get all of the frustration this team has built up inside.