Philadelphia Flyers: 7 Players Who Are Crucial to the Flyers' Stanley Cup Hopes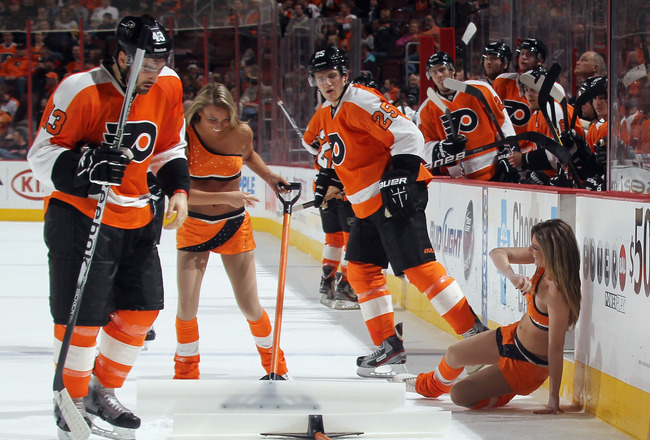 Bruce Bennett/Getty Images
The Philadelphia Flyers front office was busy last week making two big trades to land Nicklas Grossman and Pavel Kubina. Even before these trades, to round out a defensive corps maligned by the absence of Chris Pronger, there was a corps of players that made this team a contender.
Heavy contributions from a unit starting almost 10 rookies on any given night have provided the Flyers top line with secondary scoring. But make no mistake: This team can't be carried by a group of rookies if it wants to win a Cup.
Allow me to present the seven players most crucial to the Flyers' Stanley Cup hopes.
Wayne Simmonds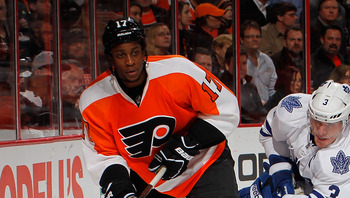 Paul Bereswill/Getty Images
Wayne Simmonds is a power forward who is having a career season.
Acquired in a blockbuster trade that sent former captain Mike Richards to the Los Angeles Kings, Simmonds has been everything the Flyers hoped for.
Simmonds provides size, speed, grit and a scoring touch. His 21 goals are a career high and a big shot in the arm for the Flyers.
Sean Couturier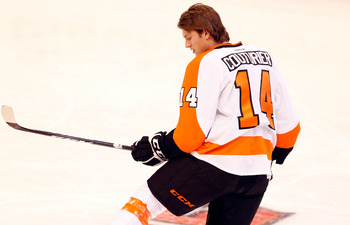 Gregory Shamus/Getty Images
Sean Couturier is a 19-year-old rookie who has been a huge piece in the Flyers' machine this season. He currently centers their fourth line but has been able to step up into a top-two-line role due to injury.
Couturier might be inexperienced in his role, but going forward, the Flyers absolutely need him to keep doing his job, winning faceoffs and checking opposing lines when needed.
His plus-14 is an impressive stat for a rookie centering a checking line with a team that has so many problems keeping the puck out of its net.
Max Talbot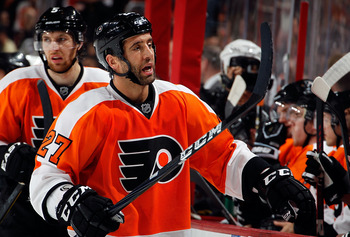 Paul Bereswill/Getty Images
Maxime Talbot averages about 15 minutes a night, but his 16 goals on the year would make you think otherwise.
Talbot is a rock for the Flyers. He scores goals, checks, kills penalties and wins faceoffs when needed.
Also, he is a presence in the locker room and on a team that has faced so much adversity this season—that attribute alone might prove his worth.
Scott Hartnell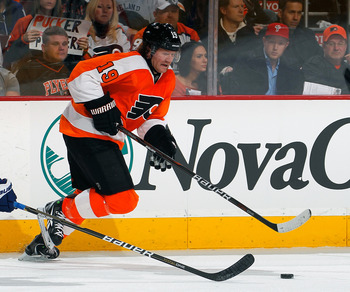 Paul Bereswill/Getty Images
Scott Hartnell is a huge reason why the Flyers are where they are. His goals-scored is the most of any Flyer this season.
He provides a physical presence and a body-guard type role for his linemates. Hartnell also makes an effort in the defensive zone on the back-check—his plus-15 is a testament to this.
Wayne Simmonds and possibly Brayden Schenn could step into this role, but Hartnell is the best at what he does for the Orange and Black.
Ilya Bryzgalov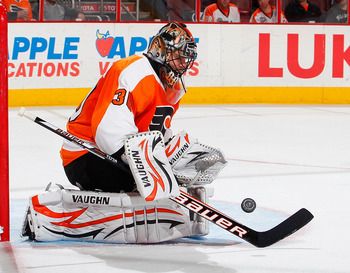 Paul Bereswill/Getty Images
Despite a Chernobyl-like meltdown last Saturday, Ilya Bryzgalov did just put together a solid string of games—more like what the Flyers expected when they signed him in the offseason.
His season has been a disappointment, but it's still possible he'll finish strong with a 2.79 goals-against and a .900 save percentage.
It really is a glass half-full or half-empty scenario for the Flyers universe here.
If the Flyers start playing a tighter defensive game with newly acquired defensemen Nick Grossman and Pavel Kubina, Bryzgalov should be playing better down the stretch.
His backup, Sergei Bobrovsky, has done nothing to show he deserves the job, either.
Without improved goaltending from Bryzgalov, the Flyers won't get too far. But this is a team that got within two games of a Cup, juggling Michael Leighton and Brian Boucher, too.
Kimmo Timonen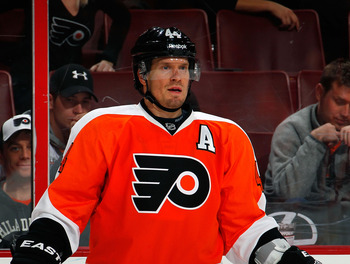 Paul Bereswill/Getty Images
Without Kimmo Timonen, you might as well forget it.
Yes, Pavel Kubina and Nick Grossman are nice additions, but they are nothing like what Timonen and Pronger bring to the table. Given that Pronger has been lost for the foreseeable future, don't hold your breath if the Flyers lose Kimmo.
Kimmo logs huge amounts of ice time, makes the all-important first pass with the most accuracy, kills penalties; you name it, he does it. Well, maybe he doesn't lay people out, but you get my point.
Furthermore, he is the Flyers' obvious leader despite not wearing the C. The team could survive for a while without him, but any extended amount of time would kill its chances.
Claude Giroux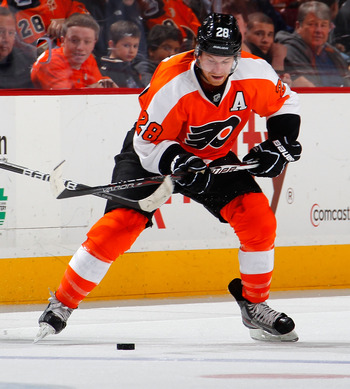 Paul Bereswill/Getty Images
Without Claude Giroux, the Flyers aren't even in the playoffs, let alone winning a Cup this year. He is a likely Hart Trophy finalist and the unquestionable team MVP.
The hockey world thought the Flyers lost their minds when they traded their cornerstones last summer. However, it didn't know what the Flyers brass saw in Claude Giroux, and boy, were they right.
If there is any knock on Giroux's game, it's that he is too generous with the puck at times, and he gets overly aggressive in the defensive zone.
Once Giroux polishes his weak spots, he will be the single best player in the league. Without him, this team is in trouble.
Thanks for reading!
Please leave questions, comments and complaints below.
Follow me on Twitter @jriding4evr for comments, complaints and a practical spin on things!
Keep Reading

Philadelphia Flyers: Like this team?