NCAA Referee's Ejection of Fans Belies a Greater Problem with Sports Culture
February 20, 2012

Doug Benc/Getty Images
NCAA basketball official Karl Hess has quite the legacy, both as an official and as a player at Liberty University—in 2006, Hess' No. 11 jersey was retired by the Flames during a halftime ceremony that included Hess, his wife and Liberty Director of Athletics Jeff Barber.
Hess is Liberty's all-time career top scorer with 2,373 points and is also the program's leader in field goals (951), free throws (471), free-throw percentage (89.9 percent), assists (648) and is tied for first in games played (120). His 1980 Flames team won the NCCAA National Championship, as Hess earned All-Tournament and MVP awards for his efforts.
Hess was crew chief for the 2007 NCAA Men's National Championship game between Florida and Ohio State and worked college hoops' Final Four in 2008 and 2009, with a Sweet 16 matchup in 2010. He has been invited to work the NCAA Tournament annually since 1996.
With such success comes a bounty of naysayers and hecklers; taunting and harassment.
On Saturday, Hess had finally had enough and used the powers vested in him by the NCAA Rules Book to take care of a problem situation.
In Raleigh, North Carolina to work the Florida State vs. NC State, Hess began receiving the traditional heckles that fans often bestow upon officials—only the source of this verbal barrage wasn't quite what one might expect.
Former NC State Wolfpack star players Tom Gugliotta and Chris Corchiani—who, like Hess, have had their jerseys retired by their alma mater—had taken their seats behind the scorer's table and were allegedly hurling insult after insult toward the officiating crew and Hess in particular.
When traditional heckling gave way to petty insults and abuse that crossed the line, Hess called for the disrespectful fans' removal from the facility. Moments later, stadium security arrived and escorted Gugliotta and Corchiani out of the RBC Center.
Corchiani admitted he and Gugliotta abused the referee, though clearly, he believes a fan is allowed virtually unimpeded freedom of speech at a sporting event: "Karl 'rabbit ears' Hess didn't like the fact Googs and I told him he was having a bad day, inconsistent, and telling the truth," Corchiani tweeted.
"We're not denying we were all over him, but I've been doing that every game I've been at since I retired," said Corchiani, who said he attends just about every NC State game. "That's homecourt advantage."
In that regard, kudos to Hess for taking care of business and throwing out a former player-turned spectator who admits his true joy in attending sporting events is yelling at referees.
Corchiani's belief that heckling and hurling personal insults is part of the daily fan experience is misguided and just plain wrong, though Hess was also incorrect in directly engaging the fans himself. Corchiani laid the bait and Hess took it.
Per Rule 10, Section 2, Article 8 of the NCAA Basketball Rules Book, team followers such as fans and guests shall not commit unsportsmanlike acts, such as using "language that is abusive vulgar or obscene."
For those who have ever attended a sporting event, Rule 10-2-8—the fan sportsmanship rule—is quite clearly a case of wishful thinking.
Many fans would agree with Corchiani's assessment—a ticket is a "get of out jail free card," an excuse to act without regard for any semblance of the slightest sense of decorum. 
Ideally, the penalty for such misconduct as observed by a game official is the consultation of home management to request the removal of the team follower(s) from the premises.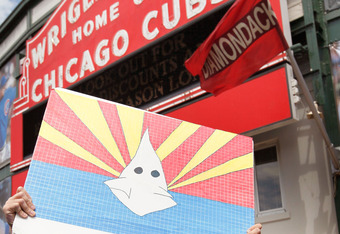 Scott Olson/Getty Images
Corchiani's inappropriate conduct reflects the present sorry state of sports culture: With nothing to lose—and often drunk off their gourd—some fans express frustration with their team by yelling quite ugly phrases toward officials, opponents and even their own players.
As if to ensure this downward-spiraling custom will continue, many fans—including Corchiani and Gugliotta—squeal their inappropriate remarks loud enough for all to hear.
Inconsiderately, many of these fans don't seem to notice the children nearby.
Tragically, others do and just don't care.
Video indicates Corchiani and Gugliotta were sitting directly next to a group of young children when they were ejected for inappropriate remarks on Saturday.
Some of the vulgarities rowdy fans employ are of the same variety as various high-profile comments that have gotten journalists fired, students suspended and politicians mired in scandal.
Though despite the comprehensive extent of some of these aspersions, officials at every level from high school to the NBA are instructed to consult home game management personnel to address issues with fans that extend beyond the playing court.
The reasoning behind this protocol might be summarized as the "Separation of Viewing and Playing Area" doctrine, a can of worms best epitomized by the NBA's famous malice at the Palace fiasco, an incident that featured then-Indiana Pacer Ron Artest charging into the stands to attack a fan he believed threw a projectile onto the scorer's table (where Artest was lying down).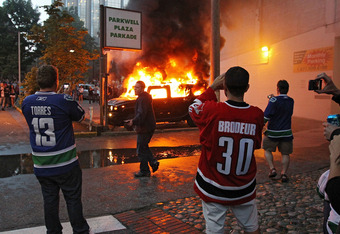 Bruce Bennett/Getty Images
The repercussions for such a spectator-player or spectator-referee interaction are fairly destructive and ultimately counterproductive.
A game can always continue unaltered by the removal of a rowdy fan; however, the same game stands to be adversely impacted by the removal of a player, coach or official and each of these game participants only stands to suffer by turning any attention away from the task at hand—the game on the floor, court or field.
With such unequal importance attributed to one fan vs. one player or one official, such interactions are foolish at best, catastrophic at worst.
Executed properly, Hess would have spoken privately with the NC State game operations manager (or another representative at the scorer's table) and left the situation to that person. Instead, Hess bypassed that all-important step and created a perception issue that paints ACC officials in a negative light.
Accordingly, ACC supervisor of officials John Clougherty released the following statement:
Under Rule 10, when circumstances warrant, an official has the authority to request home game management to eject fans when the behavior, in the officials' judgement, is extreme or excessive. It's unfortunate in this instance that ACC protocol of communicating directly with the home game management was not followed, and instead, a building security officer was solicited. We will re-communicate this policy with all officials to ensure proper protocol is followed.
Put bluntly, fans need to realize that simply attending a game doesn't give them the right to make derogatory comments toward game participants. Similarly, players, coaches and officials must refrain from negative direct interaction with fans.
For spectators, values of common decency should never be suspended when one passes through the turnstiles.
Unfortunately, these days, it often is.
Gil Imber is Bleacher Report's Rules Featured Columnist and owner of Close Call Sports, a website dedicated to the objective and fair analysis of close or controversial calls in sports.