Mike Cameron Retires: Chicago Cubs Marlon Byrd Now Perfect Fit for Nationals
February 20, 2012

Jonathan Daniel/Getty Images
Mike Cameron, who had been slated to at least share center field duties for the Washington Nationals in 2012, retired Sunday after 17 MLB seasons. Somewhere in a hotel or condo near the Chicago Cubs' spring training complex, Theo Epstein and Jed Hoyer sat bolt upright.
Marlon Byrd, the Cubs' incumbent center fielder, drew scarce mention in trade rumors this winter. He ought to have drawn more, though, and it's easy to speculate (given that his contract is up after this 2012 season) that the Cubs would like to deal Byrd at some point. The timetable for such a move just condensed considerably.
The Nationals make more sense for Byrd than any other team in baseball, and Byrd makes more sense for them than any other available outfielder. Under absolutely no circumstances will bitter Baltimore Orioles owner Peter Angelos authorize trading Adam Jones to his regional rival, and the Tampa Bay Rays intend to hold onto B.J. Upton in order to make another run at the World Series in 2012.
Byrd is the best center fielder on the market, and better, he bats right-handed. With Rick Ankiel and Roger Bernadina already set to come to camp, the Nationals have left-handed help out there if they need it. Byrd would provide a solid defensive presence and a solid bat for the bottom half of the batting order in Washington.
Since signing a three-year, $15 million contract with the Cubs in December 2009, Byrd has enjoyed two solid seasons as a top-10 center fielder. He possesses good contact skills and some power, but his swing is designed mostly to generate line drives and collect hits. He does it well. Over the last three seasons, he has a .320 batting average on balls in play.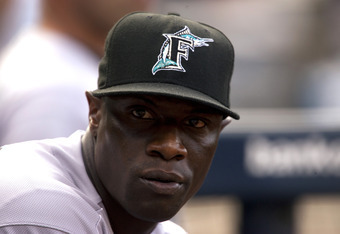 Kent Horner/Getty Images
He will provide average offense and above-average defense, but for the Nationals, the best thing he will bring to the clubhouse is his attitude. He is fiery, but persistently positive and a good potential influence if the team decides to call up top prospect Bryce Harper during the season. His presence would also make that less likely, though, which is a good thing. Harper is not ready for big-league pitching yet.
The biggest sticking point for Washington might be convincing the fans and any remaining members of the organization who were around when Byrd played two miserable seasons there that this is a different man. Byrd in 2012 is in much better shape than the Byrds of 2005 and 2006, and he has benefited hugely from the tutelage of Cubs hitting coach Rudy Jaramillo.
Ultimately, if the Nats intend to contend in 2012 (and they must, or signing Edwin Jackson was a silly move), they should want Byrd badly enough to pay up for him. The only remaining question would be what the Cubs would get in return.
Obviously, 2012 is not important to the Cubs. If it were, Byrd would not be on the block. They don't need a player like John Lannan or Adam LaRoche, though both are expendable for Washington, because both are also a year from free agency. Byrd is not so talented as to command one of the team's top prospects.
The happy medium exists. Washington can easily send a throw-in of the Cubs' choosing, a guy the Cubs have liked from their system but who doesn't have much chance of being a useful MLB player. The two sides merely need to settle on one of two names to round out the deal: Steve Lombardozzi or Ian Desmond. Which is a better fit?
Steve Lombardozzi
A 23-year-old second baseman with MLB bloodlines, Lombardozzi is very close to MLB-ready, but is currently blocked by Danny Espinosa. Lombardozzi can run (30 stolen bases at the top two levels of the minors in 2011); make contact and draw walks. He also has gap-to-gap power.
He's not special, but he's a high-floor guy, one more likely to hit near the top of a good big-league lineup than incumbent Cubs second baseman Darwin Barney. After unloading many of the prospects ranked ahead of him in their system, though, the Nationals will be loathe to give up Lombardozzi.
Ian Desmond
Desmond, 26, is more expendable for Washington. Espinosa can play shortstop. In fact, he's better there defensively than is Desmond anyway. In the meantime, Desmond has managed a meager .303 OBP in two years of full-time duty. He has struck out roughly four times as often as he has walked.
Tools remain for him, so the Cubs might be willing to take a chance on him. To get that deal done, though, Washington would need to include a better complementary piece than the one they would throw in to complete a Lombardozzi deal. 
It Comes Down to...
Money and motivation. The Cubs will trade Byrd, and even eat most of the $6.5 million they owe him this season, but only for the right kind of talent in return.
The Nationals will be willing to talk, but having already dealt four top prospects for Gio Gonzalez, might be reticent to give up the right players for the deal to come together. If, however, the team feels it can win the NL East with Byrd as the final bump, the equation changes. It's far from inevitable, but this pairing makes sense.