NHL Trade Deadline: Power Ranking the Top Oldies on the Market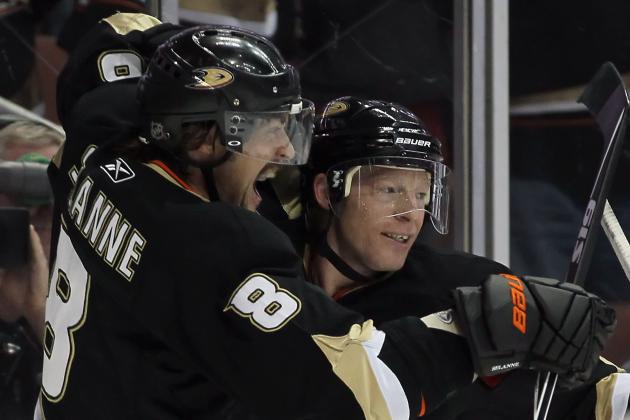 Jeff Gross/Getty Images

Trade deadline day in the NHL always brings with it important opportunities.
The teams leading the standings obviously want to upgrade their rosters in time for the playoffs. Whether it be adding a piece to the top six, a checking forward for the long grind ahead or a depth defenseman in case of injury, there's always a deal to be made.
Bubble teams are also often looking to make a move. Making the playoffs means big dollars, and adding some firepower on deadline day could make the difference between eighth and ninth place.
Finally, there are those teams that have been wallowing near the bottom of the standings all season. Their playoff hopes were likely dashed before Christmas. Their fans are unhappy, their owners are unhappy, and most of the players are unhappy.
These teams are often looking to unload players with the hopes of rebuilding the roster for the future. More often than not, the players being moved are well north of 30. They don't fit in the plans, and their veteran experience is an asset that's highly coveted this time of year.
These are the 10 best oldies that could get moved next Monday.
Begin Slideshow

»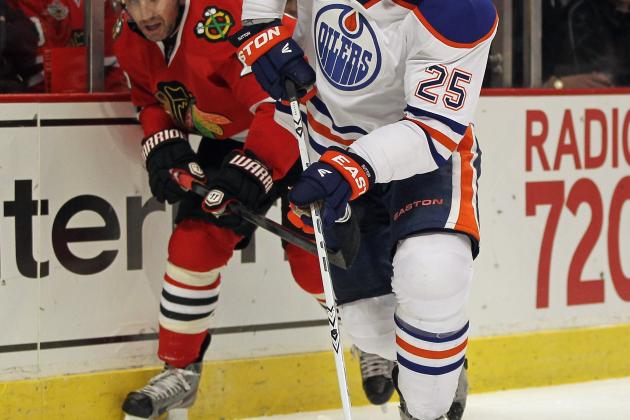 Jonathan Daniel/Getty Images

Andy Sutton is a monster of a man on a bad Edmonton Oilers team.
No, he isn't the fleetest of foot. He also doesn't have much going for him in the way of an offensive game. His grit and physical play simply can't be overlooked, however, especially come playoff time.
Sutton is a solid shot-blocker, averaging roughly two per game in under 17 minutes of ice time this season. He's also dishing about about two hits per game.
Sutton could be a valuable sixth or seventh D-man on a team looking to add grit and experience. His cap hit of $2.1 million shouldn't be too hard to digest, either.
Possible destination: New York Rangers
The Rangers' defense corps is deep, but also young. They don't have anyone over 28 years old and are likely looking for some veteran help in a year when they'll likely compete for the Cup.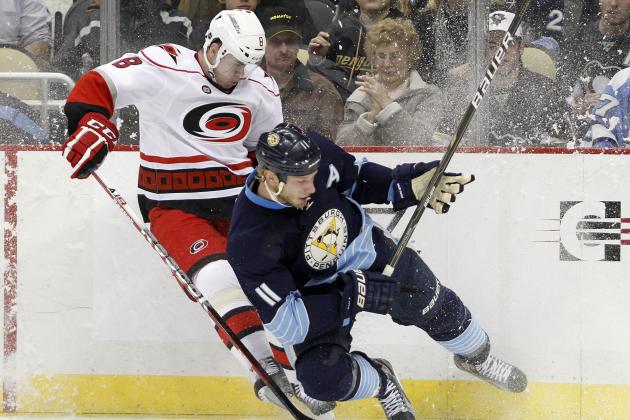 Justin K. Aller/Getty Images

Don't be surprised if Jaroslav Spacek is moved for the second time this season.
The Hurricanes' playoff hopes are non-existent, and they should only be looking toward the future. Also, the only reason the Canes acquired Spacek in the first place was to unload Tomas Kaberle.
Spacek has been decent this season, maintaining a plus-one rating while playing just over 16 minutes of ice time. He's a reliable defenseman and could provide a stabilizing presence.
His $3.8 million cap hit could be a bit on the heavy side for a fifth or sixth defenseman, but it isn't totally unmanageable.
Possible destination: New Jersey Devils
The Devils have a very young group of defensemen and could use a veteran presence. Also, with Henrik Tallinder's health situation uncertain, Spacek could serve as a useful replacement.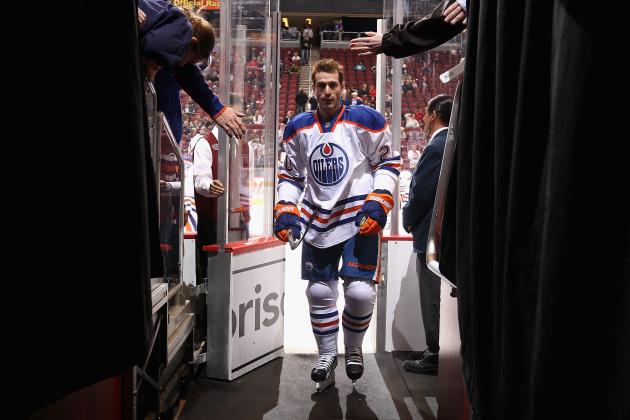 Christian Petersen/Getty Images

Eric Belanger isn't having a great year in Edmonton. He has a minus-14 rating and has only managed 11 points in 55 games.
Although those stats paint a picture of a player on his way out of the league, Belanger still may have something to offer a potential playoff team.
He's only a year removed from a 40-point season in which he played third-line minutes. Also, he's still one of the top faceoff men in the league, winning over 55 percent of his draws.
Possible destination: New Jersey Devils
Outside of Zajac, the Devils don't have anyone capable of winning faceoffs. Belanger could provide some solid checking-line minutes and take some key defensive-zone draws down the stretch.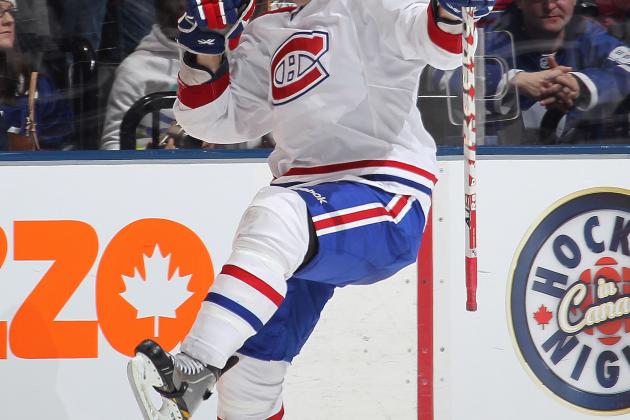 Claus Andersen/Getty Images

Mathieu Darche is quietly having a sold year in Montreal.
Alongside Tomas Plekanec, he's part of the best penalty killing duo in the league. He's on pace for over 100 hits and 100 blocked shots. He's a very good skater and could help just about any team's penalty killing unit.
His $700,000 cap hit is small enough to fit on any team's budget, and given the Habs' playoff chances, he should be available for the right price.
Possible destination: San Jose Sharks
The Sharks' penalty killing has been atrocious all season. Ranked 27th in the league, the Sharks will have to improve if they want to make it out of the West.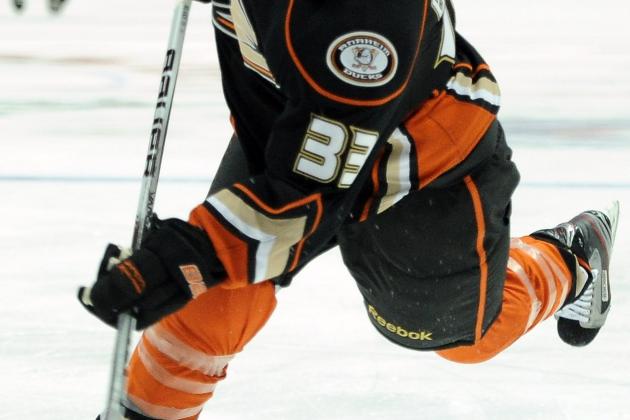 Harry How/Getty Images

Jason Blake is a proven goal scorer, capable of playing on a second line.
Of course, being six years removed from his career-best 40-goal season, his best years are behind him. It's also clear that at this point, he shouldn't be counted on to carry the load offensively. He could be an interesting option for teams looking for some cheap scoring depth.
At his age and current production level, Blake likely won't command more than a third-round pick. His 10 points in 22 games this season is decent, and he's shown that he can produce with relative consistency when used as the third option on a line (he's currently playing with Getzlaf and Perry).
The only thing that stands in the way of Blake getting traded is his salary. With a $4 million cap hit, it might be difficult for teams to make room for him.
Possible destination: Pittsburgh Penguins
Outside of James Neal and Chris Kunitz, the Penguins don't have much depth on the wing. Blake could be an interesting option, especially if put next to someone like Sidney Crosby (if healthy) or Jordan Staal.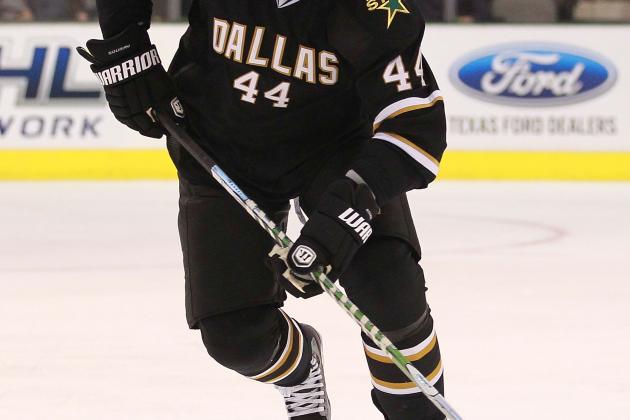 Ronald Martinez/Getty Images

Sheldon Souray is having a bounce-back year. After being banished to the minors by the Oilers, the Stars gave him a chance and were rewarded.
Souray has been decent defensively, posting a plus-11 on the year, and has a respectable 18 points on the season. He's gritty and won't shy away from sticking up for his teammates.
He also still has an absolute cannon for a slap shot and could help boost a playoff team's power play.
Finally, his $1.65 million cap hit should be pretty easy to digest.
Possible destination: Boston Bruins
The Bruins' power play has been terrible this season. They're currently ranked 21st in the league and could benefit from Souray's shot on their second unit.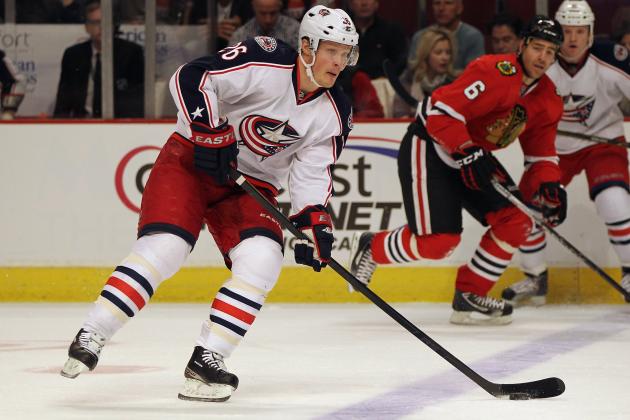 Jonathan Daniel/Getty Images

Not too long ago, Samuel Pahlsson was considered the best defensive center in the world. His line completely shut down the Ottawa Senators en route to a Stanley Cup win for the Ducks.
Then, he went to Columbus, and everyone pretty much forgot he existed.
Pahlsson is still a very solid checking center. He wins over 50 percent of his faceoffs and is an agile skater. In the right situation, Pahlsson could very well still anchor a championship third line.
Possible Destination: Ottawa Senators
Jason Spezza is still probably haunted by images of Sammy Pahlsson.
The Sens are thin at center, after Jason Spezza, and could use some help on the defensive side of the game. With a playoff berth looking more and more likely, Pahlsson could help make the Senators an interesting dark horse.
In his 30 games with the Islanders this season, Evgeni Nabokov has proven that he still has the stuff to be a No. 1 goalie in this league.
His .925 save percentage and 2.24 goals-against average put him near the top of the league, and he's done it with one of the worst defenses in the East.
What really stands out, however, is his salary. Nabokov is making a paltry $570,000 this season. He can easily fit within just about any team's cap. At that price, he could even be a very attractive backup option for teams looking to secure themselves in case of injury.
Possible destination: Chicago Blackhawks
Corey Crawford has been average all season. His .901 save percentage and GAA just under three simply isn't the stuff of a high-end, No. 1 goaltender.
He was also the focus of severe criticism during Chicago's recent losing streak. Nabokov could be a very cheap upgrade for the Hawks.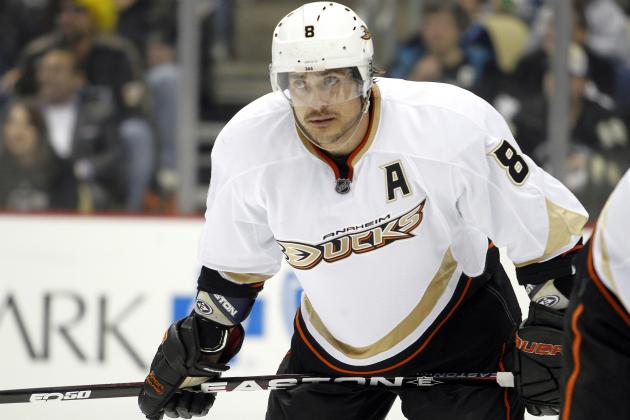 Justin K. Aller/Getty Images

In any other year, Teemu Selanne would be untouchable. He's an established All-Star, an important piece of Anaheim's hockey history, and one of the greatest goal scorers of all time.
Unfortunately, this season has been catastrophic for the Ducks.
Despite having one of the most potent forward groups in the league, the Ducks have simply failed to deliver. They're out of a playoff spot and should be thinking about the future.
Selanne has hinted at retirement in recent years, so it might be prudent for the Ducks to make the most of their aging asset.
Selanne is currently on pace for nearly 30 goals and could be perfect for any team looking for some top-line offence. Also, at $4.5 million, he's reasonably priced for top-line talent.
The only thing that could stand in the way of a Selanne move is emotion. The Ducks may not want to move a guy who means so much to the franchise. Also, Selanne has a no-movement clause, so any potential move would need his approval.
Possible Destination: Detroit Red Wings
The Wings are blazing hot and are primed for a deep run in the playoffs. They have the cap space (currently over $5 million) and could be in the market for a top-six forward to flank Zetterberg.
Also, Selanne could be tempted to waive his no-movement clause for such a strong chance at a second Cup.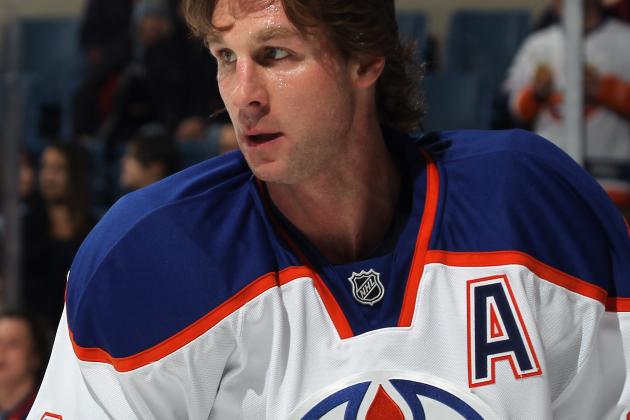 Bruce Bennett/Getty Images

Every team in the league could use a Ryan Smyth.
He's a warrior. He goes to the net with reckless abandon and scores the type of dirty goals that can win a playoff series.
He continues to provide steady offence, despite his age; he's currently on pace for his fourth straight 20-goal season. He can provide leadership and has the experience needed to guide a team deep into the playoffs.
Unfortunately, his cap hit could get in the way of a trade. At $6.25 million, teams would need to send some salary the other way if they'd want to acquire him.
Possible destination: St. Louis Blues
The Blues are primed for a big playoff run. The only thing they seem to be missing is that little extra scoring punch.
With Chris Stewart having a down year, a guy like Smyth could help put them over the top. They also have plenty of cap space to absorb that hefty contract.