MLB Fan Cave's 'Tattoo Guy' and the 10 Craziest MLB Fans Ever
The MLB Fan Cave generated plenty of buzz in 2011, so the league brought it back for 2012. They may have bitten off more than they can chew.
The volume and vociferousness of this year's entries have been huge, and though the weeding-out process is already well underway, there are some real kooks still in contention. At the head of that class is Benjamin Christensen, who got his sides tattooed from ribs to hips to incorporate a logo or mascot from all 30 teams.
If nothing else, this contest has given the world a glimpse at the balance MLB fans can strike between being wild, crazy, passionate and maintaining a sense of reason. One shudders to imagine how a similar contest for the NFL would look.
Still, Christensen is among those not at all few whom we find in society, who make us queasy with unease and split our sides with laughter through their histrionics and over-the-top displays of...well, really, it's sometimes hard to tell what.
Here are 10 fans who, like Christensen, have contributed to the history of the game through sheer entertainment, or else through dire reminders of the danger inherent to taking this game too seriously.
Begin Slideshow

»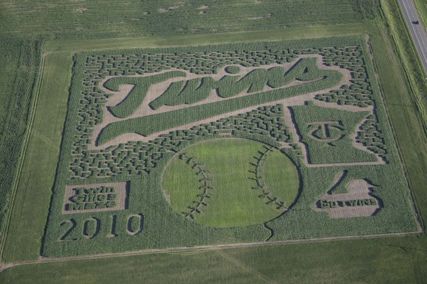 For two years running, Bert Bouwman has put hours into the design and construction of Minnesota Twins-based corn mazes. As you can see, that doesn't mean a corn maze inside which one can read trivia about the Twins or play Twins-based games; it's carved into (rather elaborate) shapes that evoke the Twins from above.
It is, in effect, a maze made to be flown over. It can't be captured or appreciated from ground level. It is open to the public, however, with different designs each year thus far, and though Bouwman estimated he spent $100,000 and six months doing it, it may yet be a profitable idea.
h/t Minneapolis Star-Tribune
" };

This one isn't so much about true, fanatical passion.

Steve Consalvi is probably a crummy baseball fan. At least it seems that way. But he did leave a lasting mark on the game-interruption industry when he ran onto the field at Citizens Bank Park in May 2010. Consalvi became the first known, non-violent fan to be Tased while running inappropriately onto the field.

Sheer stupidity, of course, but then, sports fandom is sometimes about letting go and going crazy. Consalvi certainly did that.
"Whoever wants to know the hearts and minds of Americans had better learn baseball."
-Jacques Barzun, 1954
I'm not convinced Barzun was right about that even in 1954, though it was maybe as true then as ever. Today, it's certainly an exaggeration.
Baseball is a wonderful game, though, and its ties to the patriotism and national sentiment of the United States is one reason. Certain things just happen on baseball diamonds that so neatly and offhandedly encapsulate what we want from our nation that they are not to be missed or dismissed.
That's the feeling one gets after watching this clip from April 25, 1976. It was the year of the Bicentennial; the Vietnam War was over. A great many felt the nation was past its greatest hurt for a while. That day, two young men in Dodger Stadium tried to shake the nation into remembering all the conflict they still hadn't confronted.
The two streaked into left-center field, relatively unaccosted. The ease of their approach and the lack of urgency they display is a quaint reminder of just how awful security at sporting events once was. They poured gasoline on the American flag they had brought with them, and were at the point of lighting it when Cubs center fielder Rick Monday streaked across and grabbed the flag, untarnished but for grass stains.
It was the perfect moment. The men got their chance to make a public demonstration, but Monday played hero. Most players then—and virtually all of them now—would either have let the men do their thing or gone for the tackle/fisticuffs. Monday's reaction was eloquently smooth. He didn't direct violence or anger toward the pair; he just matched their exercise of free speech with his own.
How can you not be romantic about baseball? Eh, Brad?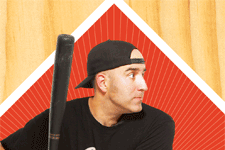 Gar Ryness was once just a fan of the game who couldn't sit still. He began copying players' batting stances as he watched games because, well, who among us hasn't, with the score tight and our chairs a bit too itchy for a two-out, two-on situation?
Only Ryness never sat down. He started doing his impressions for friends, then for the camera in his backyard. Those videos made their way to YouTube, then to Bill Simmons at ESPN, then to the world.
Ryness has now written a book, does all manner of scatter-shot contract work and appears frequently in media outlets, too. He's actually very knowledgeable and very funny, on top of having what he dubbed "the least marketable skill in America." A clever ruse.
It's far from universal truth, but to speak generally, one does not want to be remembered primarily for their fandom. I find wedding gowns and coffins fashioned to reflect a person's team allegiance rather unsavory; our lives ought to be defined by something more than our taste in sports teams.
For William Ligue and his son, though, their immortality will always be their stupidity and violent, overindulgent passion. In 2000, they ran onto the field bare-chested at U.S. Cellular Field in Chicago and ruthlessly attacked Royals first base coach Tom Gamboa.
Gamboa's life was probably in danger, however briefly, but the Royals flooded onto the field with such force and violence themselves that the shirtless cowards were overcome quickly and rudely. Gamboa continues to do good work in the game.
Again, we see a player intruding on the business of an attention-starved, rather pathetic fan. It was far less sinister a stunt pulled by the man in the Phillies-red Root Suit than the one planned by the men in Dodger Stadium 35 years earlier, but Braves outfielder Matt Diaz stepped up and did his part to discourage foolhardy fans by putting a solid (but not vicious) knee into the back of the fleeing Red Man's legs.
Some of the best footage surrounding this story is of the fan being escorted to a police car hours later—still wearing his suit.
Zack Hample has traveled to MLB games across the country and knows the sweet spot in every park. It's not the power alley where home runs fly out best; it's where players always seem to land foul balls there.
He's collected nearly 6,000 baseballs at games over the past two decades or so, using everything from good old-fashioned hustle and persistence to smart positioning and clever cajoling.
He also has a fine blog in the MLB.com family.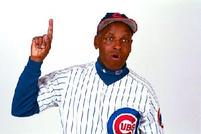 How Ronnie Woo-Woo became part of the fabric of Cubs culture is no longer clear to anyone. He's a one-trick pony, a really quick study, and his gimmick isn't much fun after the first few times.
Yet, years and years (there are wide disputes about his age and his tenure in this gig) after he came to Wrigley Field and began annoying people, Woo-Woo is still at it.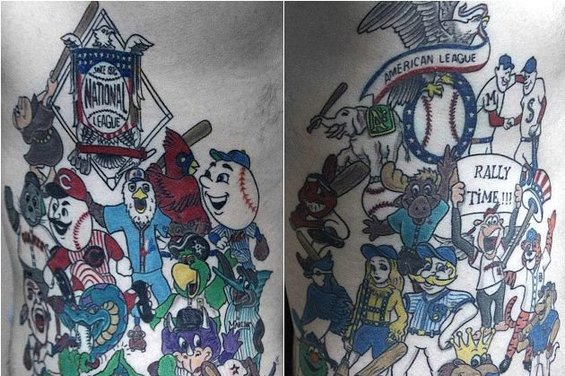 What Christensen did with this project is actually a lot of fun. Check out the Yahoo! Sports story for the full rundown of his little homages and alterations to time-honored mascots and logos.
Note that Christensen worked in Gary Carter's old Expos uniform, Doc Ellis' acid-fueled no-hitter and (sardonically, one hopes) the old, horrendously racist logo for the Braves. He knows baseball, and it shows up in this ink.
Too rarely is the game represented well artistically, but this might just count as an exception.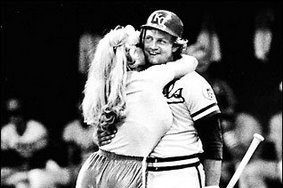 For over 20 years, Morganna Roberts made a name for herself by being one of those idiots who runs onto the field at sporting events. Along the way, though, she became famous, booked acts in other arenas across the nation and proved that—dumb or not—attractive women can get away with about anything.
Heck, by the end of it all, she was basically just proving that women get away with a lot.
She kissed Pete Rose, George Brett (twice, to what can only be his eternal chagrin), Mike Schmidt and plenty of others during her heyday. One wonders how many security guards had chances to take her down, but didn't know what technique to use or hadn't the guts.
At any rate, while hardly productive, Morganna was an infusion of fun and a relatively harmless rule-breaker.