Los Angeles Angels of Anaheim: 9 Players to Be Excited for in 2012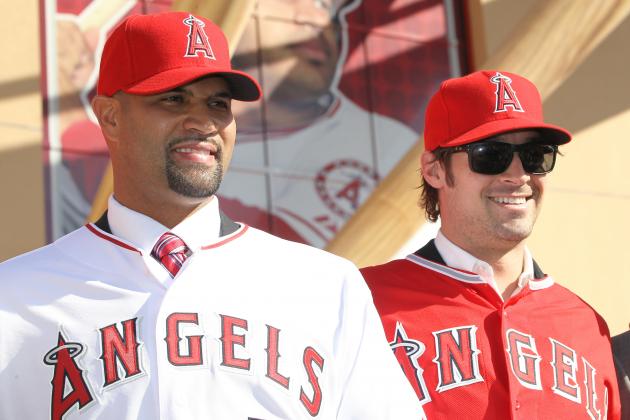 Stephen Dunn/Getty Images

The Los Angeles Angels of Anaheim have at least nine players to be excited about in 2012. Fans are thrilled with the signings of Albert Pujols and C.J. Wilson, but this team has more to offer next season.
Anaheim has the perfect balance of veteran leadership and young blood on the roster to make the Angels a contender next season—anything short of a World Series appearance will be a disappointment to fans.
This team has talent from top to bottom on offense and defense, both young and old, and here are nine players fans should be most excited about in 2012.
Begin Slideshow

»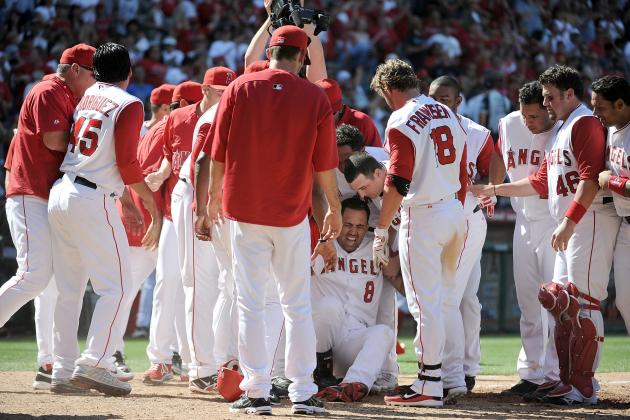 Harry How/Getty Images

Most fans remember Kendrys Morales for his May 2010 walk-off home run that resulted in an Angels win over the Seattle Mariners and a painful celebration at home plate. But what fans tend to forget is that Morales had a breakout season in 2009 before his injury.
In his first full season with the Angels, Morales showed off his power at the plate with 34 home runs and a .569 slugging percentage that was second to 2009 American League MVP Joe Mauer.
After being sidelined due to injury all of last season, Morales will be looking to pick up where he left off in 2012. With Pujols slated to take over first base, Morales will most likely fill the designated hitter role. Needless to say, Morales will tone down his home-plate celebrations in 2012.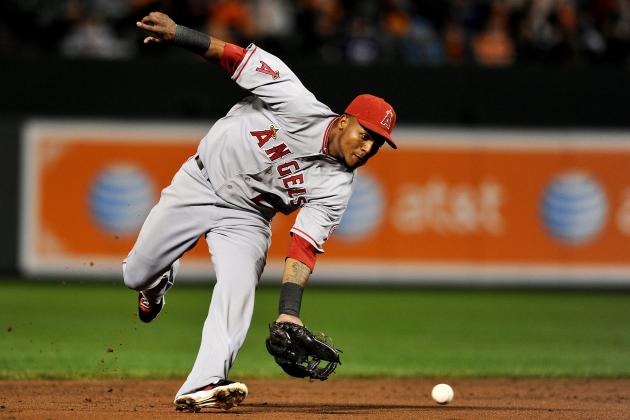 Patrick Smith/Getty Images

Erick Aybar has been an overlooked part of the Angels offense in past seasons, but in 2011 he proved he's just as valuable with his bat as he is with his glove.
The shortstop had a career year, with 10 home runs, 59 RBI and 30 stolen bases. Aybar was so impressive that the Angels' front office is ready and willing to sign him to a new contract if he plays well in 2012. To avoid arbitration, the Angels signed Aybar to a one-year $5.075 million deal.
Next season will be a contract year for Aybar, as he attempts to duplicate a successful 2011 performance and play his way into big money.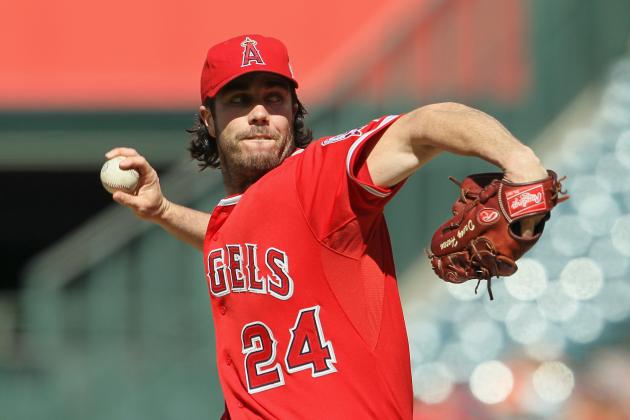 Jeff Gross/Getty Images

Playing in Jered Weaver's shadow didn't stop Dan Haren from having another solid year on the mound.
The co-ace pitched three shutouts and four complete games in 16 wins last season, and 2012 should be no different.
Haren has proven he can co-exist with other aces, so the addition of C.J. Wilson to the rotation shouldn't hinder his performance this season. Angels fans should expect another great year from Haren pitching in one of the best rotations in baseball.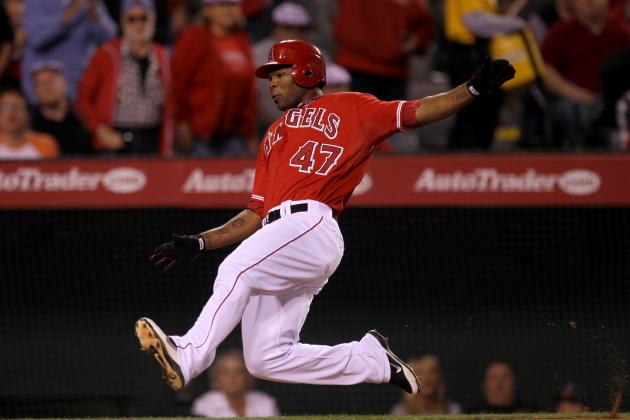 Stephen Dunn/Getty Images

Howard Kendrick got hot toward the end of last season with career highs in home runs (18), stolen bases (14) and runs scored (86).
On top of that, the second baseman earned a bid to his first All-Star game. The Angels were impressed enough to sign Kendrick to a new four-year $33.5 million contract.
Kendrick will be looking to make good on his contract and show fans he can be a regular at the All-Star game.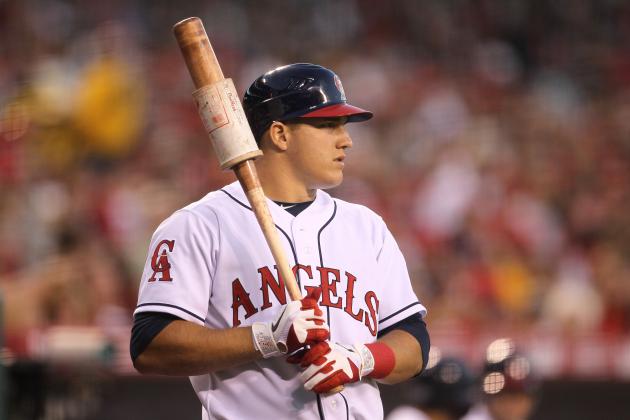 Stephen Dunn/Getty Images

The future of Angels baseball may be sitting on the bench most of next season, but fans should still be excited to watch Mike Trout take the field in 2012.
Assuming he makes the major league roster, Trout will be a reserve outfielder and play on occasion next season. The New Jersey native was the top prospect in 2010 before eventually earning the title of 2011 Baseball America Minor League Player of the Year.
Trout is still just 20 years old, but he's already playing like a major leaguer. If Bobby Abreu struggles in right field, then Trout could see more playing time next season.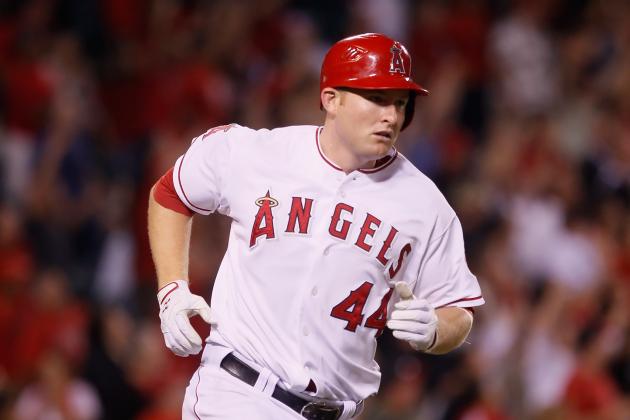 Jeff Gross/Getty Images

When Morales went down with his injury in 2010, the Angels figured Mark Trumbo could step in and get the job done at first base—but little did they know that the former 18th-round draft pick would burst onto the scene in the majors.
Despite finishing second in the Rookie of the Year voting, Trumbo led all rookies with 29 home runs, 87 RBI and a .254 batting average.
The 26-year-old is so determined to be on the field in 2012 that he's already begun a transition to third base. Trumbo's presence at the plate gives the Halos added power at the plate and some youth in the lineup.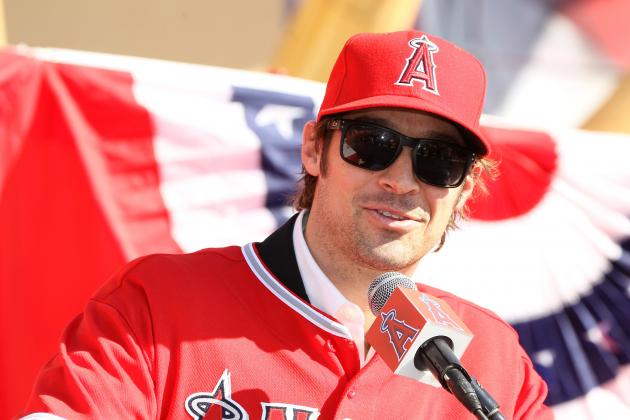 Stephen Dunn/Getty Images

Five years and $77.5 million is a lot to commit to a player who just barely started to reach his potential, but the Angels believe Wilson can build off the success he enjoyed with the Texas Rangers.
Wilson is returning home to southern California after career highs in games started (34), wins (16) and strikeouts (206). The Newport Beach product played in his first All-Star game last season and pitched well for the Rangers during their postseason run.
With two other very capable aces at the top of the rotation, Wilson won't have the added pressure of being the work horse for the rotation.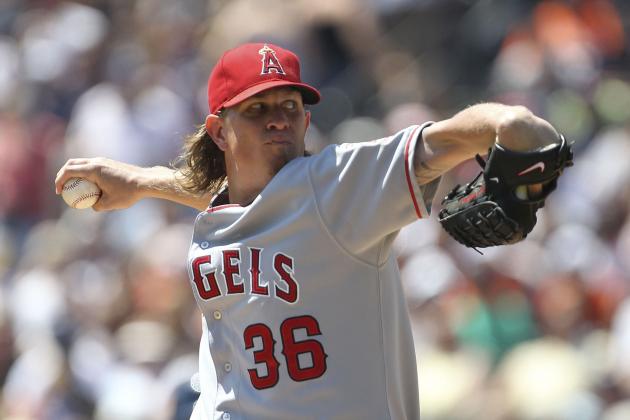 Leon Halip/Getty Images

Angels fans are anxious for Weaver to win his first AL Cy Young next season, and if he pitches like he did in 2011, he should be a leading candidate for the award.
Weaver finished the season in the AL top-five for wins (18), ERA (2.41), complete games (4), shutouts (2) and opposing batting average (.212). Anaheim wasted no time in locking up Weaver with an $85 million contract extension that would keep him an Angel through 2016.
Weaver will be a force on the mound for the Halos in 2012, and success from the team's ace usually translates into a lot of wins.
" };

Even when Pujols has a bad season he's still the best player in baseball. Despite career lows in RBI (99) and batting average (.299), Pujols still ranked in the top 10 in major categories and won his second World Series title with the St. Louis Cardinals.

The anticipation of Pujols' debut in the Big A is the talk of the town in L.A., and expectations for a title couldn't be higher. Don't be surprised if the Angels dethrone Dodgertown by the end of the season.