Villanova Basketball: Wildcats Continue Fall in OT Loss to Notre Dame
February 19, 2012

Chris Chambers/Getty Images
Saturday was a great day in college basketball. There were great conference games and even better non-conference matchups. On a day with more than its share of exciting finishes, Villanova allowed their game to be more exciting than it should have been. They paid the price for it.
The Wildcats led by double-digits for large portions of the game, leading by as many as 20 in the first half and 17 in the second. Even without their star, Maalik Wayns, it was a game they should have won.  Unfortunately, as with most of their games this season, they didn't.
Without Wayns and another starter, James Bell, Jay Wright went with a different starting lineup. He inserted little-used junior forward Maurice Sutton and freshman point guard Ty Johnson. Both acquitted themselves well.
In Sutton's first start, he energized Villanova on both ends of the floor, scoring 12 points, grabbing 10 rebounds and blocking four shots. Johnson ran the offense nicely for most of the game, scoring eight points and dishing seven assists against just two turnovers.
Along with those two surprise performances were junior guard Dominic Cheek's 19 points and freshman forward JayVaughn Pinkston's 24 points. The two combined for 11 rebounds and 7-of-13 shooting from three-point range.
Notre Dame coach Mike Brey appeared overly patient on the sidelines in the second half, perhaps knowing that some combination of Villanova's inexperience and weary legs would help keep his team in the game.
There was no quick spurt or devastating run from the Irish. It was just a full 18 minute and 26 second grinding down of the Wildcats in the second half, as they took the lead, 57-56 with just 1:34 remaining.  Notre Dame played patient team basketball in outscoring Villanova by 16 points in the second half and holding them to 21 points on 5-of-21 shooting.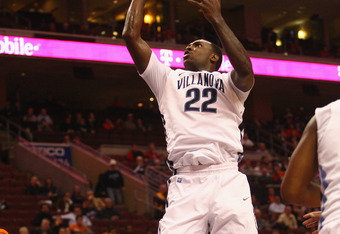 Chris Chambers/Getty Images
As admirably as Notre Dame played though, Villanova gave the game away more than the Irish took it.
Leading 54-44 with 5:08 remaining, the Wildcats made little use of their final nine possessions in regulation. They scored just six points, shot 1-of-7 from the field and turned it over twice. The lone made shot was a put-back by Sutton with 0.9 seconds remaining to send it to overtime.
It felt like maybe that would give the 'Cats a boost, but in their first six possessions of overtime, they scored two points on 1-of-5 shooting and a turnover. They clawed back to tie the game at 65 apiece, but the damage was done.
In the end, Notre Dame showed why it has won eight consecutive games and Villanova allowed the world to see why it's dropped five of its last six. Villanova just can't get it done in the closing minutes of a game. They can't shoot or score with any consistency and they can't get stops when they need them.
The Wildcats will get another chance at a win on Monday night when the host the struggling UConn Huskies. Sadly, if they manage to top Connecticut, it would be their most impressive win of the season.