Mike Wallace: Are the Pittsburgh Steelers Better off Without Him?
February 19, 2012

Jared Wickerham/Getty Images
There are only so many dollars to go around and as it stands now, the Pittsburgh Steelers are still $11.7 million over the salary cap, and they have plenty of work to do to get under that number by March 13.
Pittsburgh will likely continue to renegotiate contracts as it has already with LaMarr Woodley and Lawrence Timmons (via the Pittsburgh Post-Gazette), as well as make decisions on players such as Hines Ward, Aaron Smith, Casey Hampton and Chris Kemoeatu, to name a few.
While the loss of any of their long-time veterans will be a tough pill to swallow, there is no doubt that age has caught up to many of these players, and the team would be losing more in terms of leadership than on-field production.
The same cannot be said for its top free agent, wide receiver Mike Wallace.
Wallace is a restricted free agent and is expected to get a first-round tender, according to NFL Network insider Jason La Canfora.
The first-round tender ($2.742 million) is much more cap friendly than a franchise tag ($9.5 million) for a cap-strapped team like the Steelers.
Regardless of how the Steelers handle Wallace, team president Art Rooney II told the Pittsburgh Post-Gazette that Wallace would be "one of the priorities" this offseason.
There is little doubt that the Steelers will do everything in their power to lock up Wallace to a long-term deal. However, that may be out of their control.
ESPN's Adam Shefter says that there is a "50-50" chance that another team will try to sign Wallace from the Steelers.
A team such as the San Francisco 49ers, New England Patriots or Baltimore Ravens could potentially acquire Wallace, who will only be 26 when next season begins. Giving up a late first-round draft choice for a proven deep threat is by no means out of the question. In fact, it is much less risky than taking a chance on a draft choice.
To prevent against this, the Tribune Review's Scott Brown suggested that the Steelers could use a franchise tag on Wallace, meaning any team that signed him would have to give up two first-round selections.
The Pittsburgh Post-Gazette's Ed Bouchette thinks otherwise stating that he would be "stunned" if the Steelers would use the tag with the current cap problems.
Given the cap problems and real threat that Wallace could be signed elsewhere, it begs the question: Would the Steelers be better off without Wallace?
From a pure talent stand point, the Steelers would be losing the best deep threat in the AFC and one of the best in the league, besides DeSean Jackson.
As a rookie, Wallace led the league with 19.4 yards per reception and followed it up in his second year averaging 21 yards per reception. He also led the league in 2010 with seven 100-yard receiving games.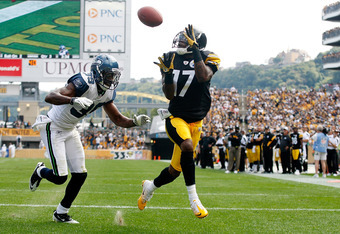 Jared Wickerham/Getty Images
Wallace was Pittsburgh's top option for the first time in his career this season and was very impressive, earning his first Pro Bowl berth. He led the team in receptions (72), yards (1,193), touchdowns (8), average (16.6) and longest reception (95).
Beyond the stats, there is not a defensive back that can keep up with Wallace.
However, receivers are a dime a dozen. There is a lot of talent available, especially with all of the spread offenses in the college game. Even though Wallace is an elite deep threat, wide receivers are not a position that carries a team to a championship.
Wallace also faced some criticism for his second half of the season.
Over the first eight games of 2011, Wallace had 43 receptions for 800 yards and five touchdowns and averaged at least 15 yards per reception five times. Even more impressive, Wallace had a reception of at least 40 yards in six of those games and went over 100 yards four times.
The emergence of Antonio Brown as a top threat took a hit on Wallace's production in the second half of the season, where he caught 29 passes for 393 yards and three touchdowns. He averaged over 15 yards per reception only once, had only one reception over 40 yards and registered no 100-yard games.
Wallace failed to fight for balls when experiencing tight coverage and had too many drops, including those that could have gone for touchdowns.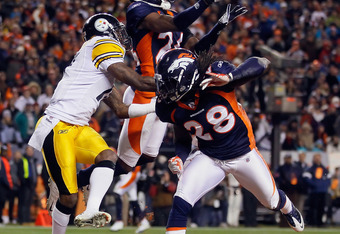 Jeff Gross/Getty Images
Despite the lack of production, Wallace figures to get paid and get paid well. The more he gets from the Steelers, the less they can spend on getting younger on defense and finding help for the offensive line, and it makes it tougher to sign Brown and Emmanuel Sanders next season.
The problem in signing Wallace could get bigger if another team with more cap space makes an offer. Though Pittsburgh could match, they may not want to for the reasons cited above.
If Wallace signs elsewhere, Pittsburgh could use the money it was going to use to sign him to keep Hines Ward at a reduced rate and lock up Jericho Cotchery.
That would give the Steelers two possession receivers to go with the playmakers Brown and Sanders.
The Steelers would also pick up an extra first-round pick, most likely a late-round choice if one of the playoff teams makes a move for Wallace.
The second first-round choice would give the Steelers plenty of flexibility in the draft for trades or to even stay put and get younger.
Pittsburgh could easily use two first-round choices to upgrade on defense, find help for their offensive line or to simply find the best available talent available.
Imagine the talent that Pittsburgh could find at the end of the first round.
Pittsburgh could bolster its offensive line with talent such as tackle Mike Adams or guard Cordy Glenn, or it could find a replacement for Wallace with the physical receiver Mohamed Sanu.
There are even more possibilities on defense, starting with nose tackle Dontari Poe, who could immediately step in for Casey Hampton. The Steelers could potentially fill their need at inside linebacker with Vontaze Burfict.
If Pittsburgh wanted to upgrade its secondary, safety Mark Barron and cornerback Janoris Jenkins are two potential options at the end of the first.
Two first-round draft picks would give Pittsburgh flexibility to trade up or down. Obviously, trading down would help accumulate picks in the first half of the draft and really help the team get younger.
The more exciting option would be to give up a second or third round choice and move up for talent such as guard David DeCastro, inside linebackers Luke Kuechly or Dont'a Hightower, outside linebacker Courtney Upshaw or cornerback Dre Kirkpatrick.
Multiple picks in the first round would give the Steelers an unbelievable amount of flexibility to immediately get younger and add talent who can start or significantly contribute as soon as next season.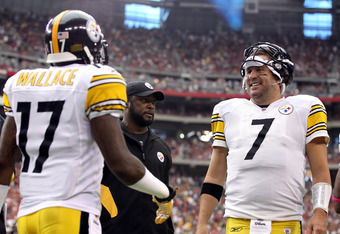 Christian Petersen/Getty Images
Is it worth it to lose Wallace for the combination of any two of the previously mentioned players as well as the financial flexibility they would have in free agency not locking him up to a long-term deal? Maybe.
But in the end, Pittsburgh will still be a passing team with Ben Roethlisberger at quarterback, even with new offensive coordinator Todd Haley in town, and the Steelers do not need to lose their best weapon.
As tempting as getting an extra first round pick would be, the Steelers will be better next year with Wallace. However, if he is signed away, not all will be lost as Pittsburgh will have plenty of options to improve themselves elsewhere.
Follow me on Twitter @ChrisG_FC