Washington Huskies Football: 10 Bold Predictions for the 2012 Season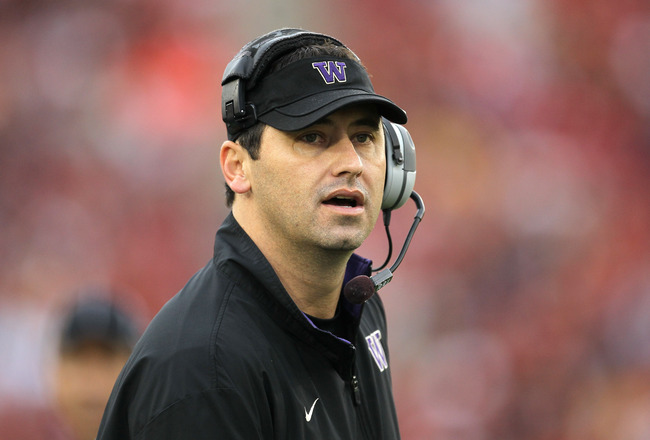 Stephen Dunn/Getty Images
After a season full of ups and downs, the Washington Huskies are looking to take the PAC-12 by storm in 2012.
Following a 67-56 Alamo Bowl loss to Baylor, the Huskies have a brand new look and feel to their team with the hirings of new defensive coordinator Justin Wilcox, linebackers coach Peter Sirmon and defensive line coach Tosh Lupoi.
These hirings have been heard around the nation as some are naming Washington's new staff as one of the best in the offseason. These new coaches helped head coach Steve Sarkisian pull in his third straight top 25 recruiting class.
The nation got a glimpse of what a healthy Keith Price can do when he can utilize his legs, as he accounted for seven touchdowns and out-dueled Heisman winner Robert Griffin III.
The 2012 season could be the season where the Huskies turn the tide in the PAC-12, these are my bold predictions for the upcoming season, although they might not be as bold in a Husky fans' eyes.
Enjoy.
1. Washington Will Win 9 Games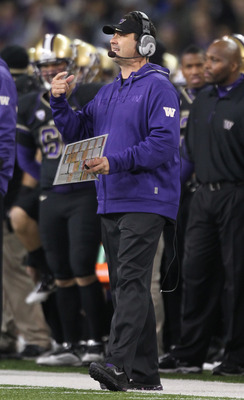 Otto Greule Jr/Getty Images
I told you these would be bold.
The Huskies schedule in 2012 is far from easy, with road games at LSU and Oregon. However, the remaining 10 games should favor the Huskies, minus USC.
With the amount of talent the Huskies have on offense, it will be up to the defense to see how far this team will actually go. And with a new coaching staff and a new mentality, if the Huskies produce just an average defense, they should win eight to nine games without a problem.
It is Sarkisian's fourth year with the program and I have no doubt he will start to produce more and more signature victories, especially against ranked teams.
2. Washington Will Lose to LSU by Single Digits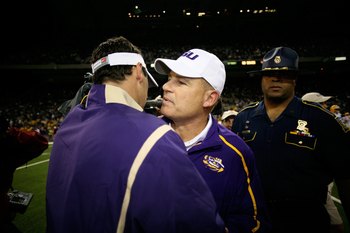 Otto Greule Jr/Getty Images
Yes, in Death Valley, the Huskies will show the nation they are for real on September 8th.
LSU lost its two "starting" quarterbacks in Jarrett Lee and Jordan Jefferson to graduation, and it looks like junior quarterback Zach Mettenberger will be taking snaps for the Tigers in 2012.
Mettenberger is far from a freshman so the last thing I want to say is that he might play like one. However, with a hopefully new and improved Huskies defense, I can see us competing at a high level against the reigning SEC champions.
A victory against the Tigers is a bit far-fetched, even for a Husky fan. But crazier things have happened in the world of college football.
3. Huskies Go Undefeated at Home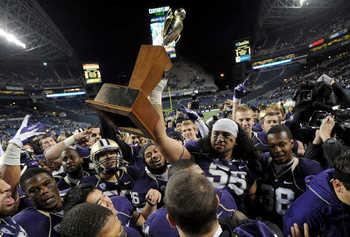 The Huskies will defeat San Diego State, Portland State, Oregon State, Utah and dare I say, Stanford and USC at home in 2012.
The Huskies will not be playing at their usual home in Husky Stadium, however I have no doubt that CenturyLink Field will produce the same home field advantage. The Huskies have four winnable games at home, excluding Stanford and USC.
The Huskies will be looking to avenge their blowout losses they suffered on the road to USC and Stanford in 2011, and I believe this Husky team has the firepower to execute those victories.
4. The Defense Finishes in the Top 3 in Total Defense in the PAC-12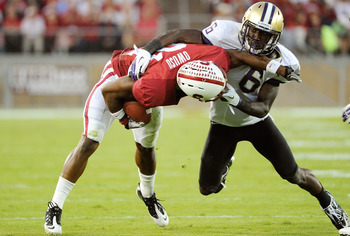 Thearon W. Henderson/Getty Images
The Huskies finished 11th in the PAC-12 in total defense in 2011 and Husky fans are hoping the new defensive coaches can produce a solid defense.
The Huskies lost middle linebacker Cort Dennison and defensive tackle Alameda Ta'amu, but gained a gem in freshman safety Shaq Thompson. Thompson has All-American written all over him and what's a better way to start your career than by helping your team to rank in the top three in total defense in the PAC-12.
Now that is asking a lot from a freshman, but he will have help from his fellow teammates in senior cornerback Desmond Trufant and junior safety Sean Parker.
5. Keith Price Equivalates His 2011 Campaign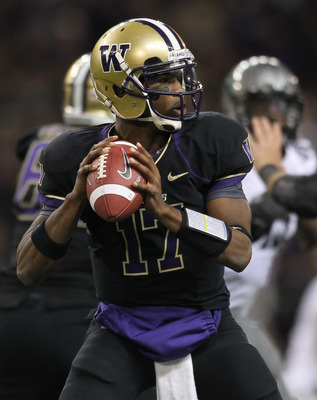 Otto Greule Jr/Getty Images
33 touchdowns, 3063 yards, 67 percent completion percentage and a 161.9 quarterback rating. Price can do this two years in a row.
Right?
I don't see why not, Price stole the show in 2011 as he finished in the top 10 in the nation in quarterback rating and touchdowns last year.
Now we have all heard of the sophomore slump, however Price is a fourth year junior and I just can't see him struggling with the amount of weapons that surround him on offense.
6. Huskies Produce 3 All PAC-12 Players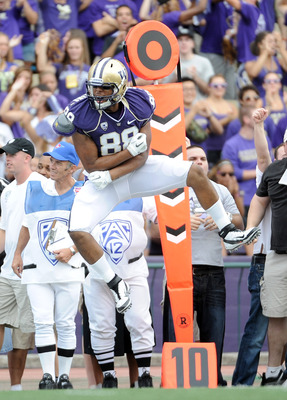 Harry How/Getty Images
You heard it here first, sophomore tight end Austin Seferian-Jenkins, sophomore wide receiver Kasen Williams and freshman safety Shaq Thompson will all receive all PAC-12 honors this year.
All three of these players are All-American caliber players and they will show the nation their top tier talent in 2012.
Even though Thompson hasn't even put on a Husky helmet yet, but there is a reason this guy was the top rated safety on the west coast in 2011. Thompson has all the intangibles you want to see in a safety, at 6'2" and 210 pounds, Thompson has big hit ability as well as big play ability. He can play almost any position on the field, offense or defense. Don't be surprised if he takes several interceptions back to the house in 2012.
Seferian-Jenkins and Williams showed their big play talent as they hauled in a combined 77 receptions, 965 yards and 12 touchdowns in their freshman campaigns.
7. Huskies Produce Two 1,000 Rushers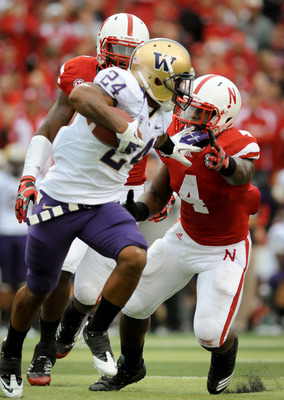 Eric Francis/Getty Images
And they will be two of the following three: junior Jesse Callier, sophomore Bishop Sankey or redshirt sophomore Deontae Cooper.
With the departure of Chris Polk, the Huskies look to find a new starting running back. I say they choose two.
Callier will show sparks here and there, Sankey has top end speed and the wild card still goes to Deontae Cooper. Cooper was a highly touted recruit coming out of high school and showed star-type ability in spring and fall camps, but two ACL injuries to the same knee has caused him to miss the field the pass two years.
But if Cooper can come back from this surgery with the same quickness more or less, then the Huskies have found their future running back.
8. Keith Price Throws for 4,000 Yards and Rushes for 500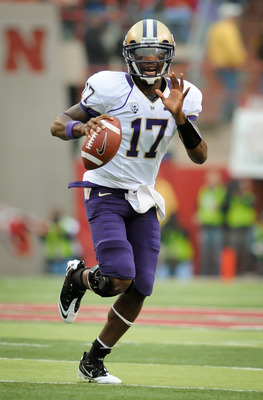 Eric Francis/Getty Images
We all saw what Keith Price can do when he has two healthy knees and ankles and if the Huskies offensive line can keep him off the ground, then I expect big numbers from Price.
Price's legs has always been his second option, but in some instances with his elusiveness and athleticism, people would think he was a scrambler by nature. With his smooth ball fakes and tremendous athleticism, I don't see why Price couldn't average 25 yards rushing per game.
With these type of numbers to go along with total touchdowns and ratings, don't be surprised if 'Keith Price' and 'Heisman' find themselves in the same sentence in 2012.
9. Huskies Finish in 1st or 2nd in PAC-12 North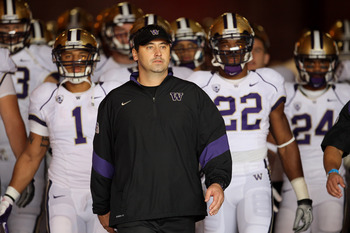 Stephen Dunn/Getty Images
Perhaps my boldest prediction yet, but if the Huskies play well defensively then the sky is the limit.
The Huskies finished third in the PAC-12 in 2011 behind Oregon and Stanford. If the Huskies want to make a trip to Pasadena in 2013, they will need to beat one of or both of these teams.
Is it too bold to say the Huskies could beat both Oregon and Stanford?
Probably, but given the amount of talent Oregon and Stanford lost in the offseason, maybe that prediction isn't as bold as some would have thought.
10. Huskies Beat Oregon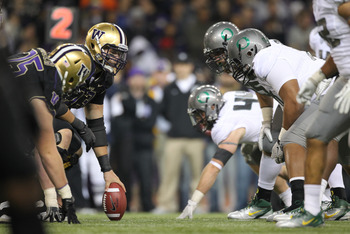 Otto Greule Jr/Getty Images
How could I not put this in here?
Oregon is losing its starting quarterback in Darron Thomas, its starting running back in LaMichael James and its starting wide receiver in Lavasier Tuinei. Even with those losses, the Ducks are still a very talented and dangerous team.
Not to mention that this game will played in the Autzen Zoo, but this will be the Huskies second conference foe of the season and it will be the Ducks' third which could be a positive and a negative for both teams.
Even though the Huskies have lost eight straight to the Ducks, I believe this year will be the year that the streak is broken.
Can't wait for October 6th.
Keep Reading

Washington Huskies Football: Like this team?