WWE Elimination Chamber 2012 Results: How Each Match Must Play out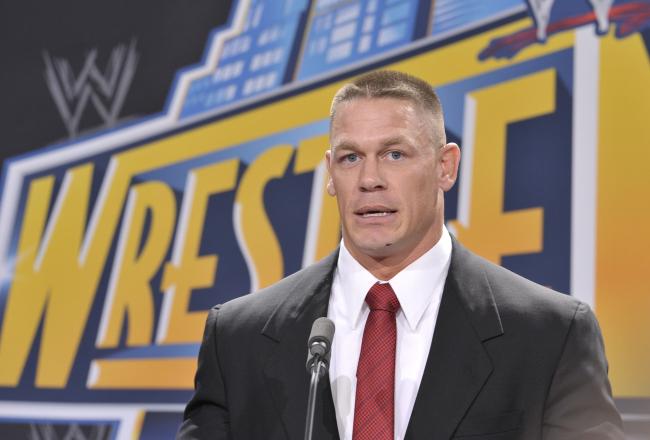 Michael N. Todaro/Getty Images
The Elimination Chamber has a great chance to set up a fantastic WrestleMania, but things need to happen in a specific way, like this.
As of now, the WWE website has only announced four matches. There is always the possibility of an addition, but that would be pure speculation.
So, without further ado, let's take a look at how they need to finish and hope the WWE agrees.
John Cena vs. Kane (Ambulance Match)
Will Sunday be the last of John Cena vs. Kane?
This feud needs to end on Sunday. I have never seen a rivalry that started with such potential promise, only to fall flat. Also, if I never hear the phrase "Embrace the Hate" again, it will be too soon.
Cena needs to come out of this match with only some momentum building to the Rock, but also a different style. He needs to show a lot more aggression throughout the match and in the buildup to WrestleMania. Cena's character is at its best when he's consistently aggressive; we just don't get that enough from him.
That needs to change here. I don't really care if he falls down and mounts a comeback late, but I don't want to see the bare minimum. Cena needs to beat Kane down, have the match well in hand, then keep going. In essence, we need to see him embrace the hate.
When this bout is over, Cena needs to be standing perfectly tall as the clear winner. Kane needs to move on to something and someone else.
Winner: John Cena
Beth Phoenix vs. Tamina Snuka
As is the case with Cena, Beth Phoenix needs to be the clear winner. I like Tamina; she can put up a good fight and build herself up as a future contender, but Beth needs to win cleanly, and in the end, relatively easily.
When this fight is over, she needs to complain about how there's no competition and nothing for her to do at WrestleMania, only to be interrupted.
This is the best Divas match possible right now, and it needs to happen at the biggest stage in the world. Anything delaying that match from happening can't occur, so Beth needs to look incredibly strong.
Winner: Beth Phoenix
Raw Elimination Chamber Match: CM Punk vs. Dolph Ziggler vs. Chris Jericho vs. The Miz vs. R-Truth vs. Kofi Kingston
The first man out of this needs to be Chris Jericho. In case you don't remember this guy, Jericho has already run down every member of the Elimination Chamber.
He will be the last man in this bout, so what needs to happen is, all five need to be duking it out. When Jericho comes in, they all stop what they're doing to jump him, taking him out early. Then, he can complain and get a WrestleMania title match (which needs to happen) with the champion, which we'll address shortly.
The Miz and R-Truth also need to take each other out. One of them can score the pinfall, while the other is attacked seconds later when vulnerable. It doesn't really matter which one does what, but they have to take each other on at Wrestlemania; it only makes sense for that to be built up here.
Kofi Kingston, Dolph Ziggler and CM Punk need to be the final three here. They are all great workers that will do great in this match. For the sake of a heel/face final, Kingston needs to be the next man eliminated, setting up a Ziggler vs. Punk final.
Ziggler deserves the attention of lasting a long time, being the final man eliminated, but he shouldn't win. Punk has a lot of momentum, and a match between he and Jericho at Wrestlemania would be special. Ziggler's time will come, but it's not here.
Winner: CM Punk
SmackDown Elimination Chamber Match: Daniel Bryan vs. Wade Barrett vs. Cody Rhodes vs. Big Show vs. The Great Khali vs. Santino Marella
Let's start with the most recent addition, Marella. I want him to do well in this match, but not as a joke. Santino has a great humorous character, but he is a much better worker than we've seen. If the WWE is going to put him in this match, that part of his character needs to be exposed.
Make no mistake, I am not saying that Marella needs to win, but he needs to outlast both big men, showing well while in the ring. After that, he can bow out gracefully.
Who should win the Heavyweight Title match?
Khali needs to be the first man out. I understand his international influence and the huge market that is India, but he is not right to last long in this match. Realistically, the Big Show needs to take Khali out, only to have the remaining stars gang up on him afterwards. Show needs to be removed from the main event for a while, and an early exit is a good way for that.
After that (and Marella's elimination), the final three need to be the heels. That sounds counter-intuitive, but in this match, it works. Bryan, Barrett and Rhodes have by far the best combination of momentum and in-ring skill of the six men in the match.
For the sake of the characters, Bryan would then turn Barrett and Rhodes against each other and quickly jump the one who wins that fight. He has done a fantastic job developing himself as an opportunistic heel, and that's the best way to continue that in a No Disqualification Match.
Winner: Daniel Bryan
This article is
What is the duplicate article?
Why is this article offensive?
Where is this article plagiarized from?
Why is this article poorly edited?