Chicago Bulls: Why They Must Lock Up Mike James for the Rest of the Season
February 19, 2012

Jonathan Daniel/Getty Images
The Chicago Bulls got beat up on Saturday to the New Jersey Nets 97-85. It was only the team's second loss at home and eighth loss of the season.
The lone bright spot of the game for Chicago was the play of fourth-string point guard Mike James, who is moving up the depth chart quickly and if they aren't careful could be playing elsewhere soon.
In 23 minutes Saturday he scored 16 points and dished out seven assists. This was one game after scoring eight points and getting four assists against Boston on Thursday.
James is currently on his second stint with the Bulls this season. He was signed earlier to provide depth when both Derrick Rose and C.J. Watson were injured. When both returned he was released so his contract would not become guaranteed for the remainder of the season.
James almost put an end to the Linsanity before Jeremy Lin had a chance to start for the Knicks. Reportedly the Knicks were close to releasing Lin and signing James. As we know that didn't happen and the rest is history.
In the last four games without Rose, Watson and John Lucas have done very little in the area of slowing down the opposing point guards. In the last two games, James has been called on for his defense and has at least slowed down Rajon Rondo and Deron Williams.
James' 10-day contract is set to expire on Friday and if the Bulls were smart they would just lock him up for the rest of the season rather then try to re-sign him to a second 10-day contract.
So far this season he has appeared in five games and has received 17 minutes or more of playing time in three of those. In those three games he is averaging 11 points and seven assists in about 19 minutes per game.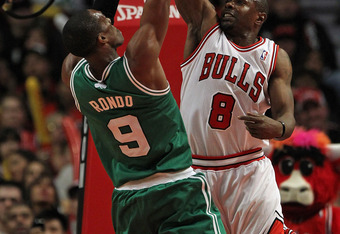 Jonathan Daniel/Getty Images
He has played far superior to Lucas and with his size is much more capable of not being taken advantage of on defense.
James is listed at 6'2" and 188 lbs, while Lucas is listed at, in my opinion generously, 5"11" and 165 lbs.
I would be very interested in coach Tom Thibodeau actually using James and Watson together in the same backcourt rather then James and Lucas like he was Saturday.
The Bulls next host Atlanta on Monday in another afternoon game. Rose remains day-to-day and with only two games left before the All-Star break, I wonder if he will see him in either game.
In what was thought to be a lucky break, the Bulls avoided seeing Nets center Brook Lopez make his season debut.
Instead they got a very impressive game from their power forward. Kris Humphries scored 24 points and grabbed 18 rebounds. On the other end for the Bulls, centers Joakim Noah and Omer Asik combined to go 0-of-8 from the field and grab only 14 rebounds.
Maybe people can now start booing Humphries for his play on the court instead of his divorce with reality star Kim Kardashian.
Make sure to follow me on Twitter @dachicagofan, and check out my weekly Bulls podcast every Wednesday on my site, The MG Experience.