Vitali Klitschko Dispatches of Dereck Chisora in 12 Rounds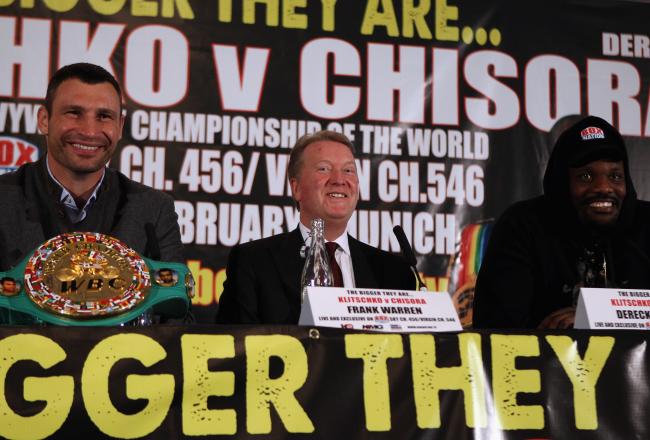 Andrew Redington/Getty Images
Reigning World Heavyweight champion Vitali Klitschko exacted revenge for the pre-fight disrespect of Dereck Chisora by clinching a unanimous points decision in Germany tonight.
The London-based fighter was forced to feel the wrath of the Ukrainian for his pre-fight slap. Many felt that the distasteful move by Chisora would only heighten Klitschko's resolve.
Unfortunately for Dereck Chisora, these predictions were prophetic.
Prior to the main event, US singer Christina Perri warmed up the crowd at the sold-out Olympic Hall in Munich. Her eerie minor key melodies would set the tone for what would be a frightening reality for Chisora.
As with all opponents of Klitschko, fight predictions proved to be futile in their application. While Chisora was by no means out-classed, the ability to inflict enough damage to win the bout was lacking.
From round one, Chisora showed a remarkable resemblance to a young Joe Fraizer. His bobbing and head movement made him an elusive target. But he didn't display the famed left hook or KO power of Smokin' Joe.
Throughout the first three rounds, Chisora forced the fight to Klitschko by keeping him on his back foot. The height differential of six inches between the two did not seem evident, as Chisora looked to work Vitali from the inside. This game plan was foiled by the referee rarely allowing a clinch to last longer than a few seconds.
Can David Haye defeat Vitali Klitschko should they meet this year?
It wasn't until the fourth round that Chisora would break through and share the spoils of a round. Working the body and utilising the jab, the Finchley man looked to be making in-roads and forcing Vitali backwards.
Rounds six and seven went to Chisora, as he started to land some decent punches. Though nothing impacted Klitschko severely. Time and again, Chisora came within inches of landing a telling right, but Vitali's head movement at just the right moment proved vital.
Vitali consistently worked his powerful jab and over-hand right to good effect. He landed nicely on Chisora throughout the fight, but his power never seemed to shake or damage Chisora.
Many Klitschko opponents have struggled to find a proper range and Chisora succumbed to this difficulty. From the ninth round onwards, Vitali looked tired and lethargic. He tried to work from behind the jab, but there was no weight to his punches. The inability of Chisora to capitalise on this would be his Achilles' heel.
The final three rounds would consist of the pattern that was consistent with the earlier rounds of the fight. Chisora marked the body of Klitschko with constant midriff work but could never make the breakthrough.
The judges final score cards read 118-110, 118-110 and 119-111. This would lead people to believe that the fight was more comfortable than it actually was for Klitschko. Chisora expressed in his post-fight interview that experience beat him tonight.
There is quite a lot of truth to this, as a more ring-savvy, journeyed pugilist could have come closer. Vitali's face at the final bell was laden with weariness. Chisora was only the fourth man to go the full distance with Vitali, and it sets up a summer date with Daivd Haye if the post-fight talk is to be believed.
Haye will have seen a slow-footed 40-year-old who may be there for the taking. Tonight, however, Chisora didn't have the skill set to record a victory.
What was an acrimonious build up proved to provide a footing for a good heavyweight contest in a division that is devoid of worthy opponents for the Ukrainian brothers.
This article is
What is the duplicate article?
Why is this article offensive?
Where is this article plagiarized from?
Why is this article poorly edited?