Rick Nash Trade Rumors: Philadelphia Flyers May Need to Pony Up and Acquire Nash
February 18, 2012

Harry How/Getty Images
 On Saturday afternoon, the Philadelphia Flyers suffered another brutal in-division loss. The latest perpetrator was the Pittsburgh Penguins. In my opinion, all six goals allowed by the tandem of Ilya Bryzgalov and Sergei Bobrovsky were preventable.
A right-handed, offensive-minded defenseman would be a nice addition to the Flyers' blue line, but what players may be available and for what cost?
Practically speaking, the Flyers would need to consider options such as Luke Schenn and Pavel Kubina (see my prior piece for information, analysis and opinion). Both defenseman have issues in their own zone and the Flyers cannot afford that right now.
Shea Weber of the Nashville Predators is probably not an option, mainly because the Predators appeared poised to make a deep run in the playoffs.
Given that Bryzgalov possesses a nine-year, $51 million contract, he is, in all likelihood, the Flyers' goaltender. Bobrovsky, who has a .900 save percentage and a 2.99 goals against average, may have trade value if the Flyers want to acquire a veteran to support Bryzgalov. So, ultimately, the season may rest on Bryzgalov's struggles with his own confidence and positioning.
There are two ways that a team can win though—solid goaltending or outscoring the opposition.
Suppose that Bryzgalov never regains his form. The Flyers' only shot to win would rest upon low-cap hit backup goaltenders and their ability to outscore the opposition.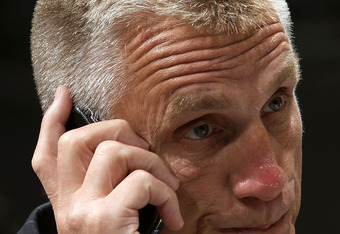 Bruce Bennett/Getty Images
The Flyers have already scored the most goals in the NHL this season, but they are an abysmal 14-10-5 at home.
If quality defenders are too expensive and if trading Bryzgalov is next to impossible, the Flyers may need to win by scoring more goals. It is not the most traditional of stances, but if the Flyers could acquire a goal scorer without mortgaging the future, wouldn't Flyers fans be in favor?
The Flyers seem to have significant interest in Blue Jackets captain and star winger Rick Nash. Scott Howson, the general manager of the Blue Jackets, met face to face with Flyers GM Paul Holmgren on Saturday for the second time in the last two weeks.
Nash is a 6'4", 219-pound power forward who may want out of Columbus after seven years. Nash and center Jeff Carter never seemed to establish chemistry and frankly, Nash has not had much support in his prior eight seasons in Columbus.
Nash has 18 goals in 57 games this season and he has eclipsed the 30-goal plateau in six seasons and the 40-goal mark in two seasons.
Nash does carry a hefty $7.8 million cap hit and the Flyers have approximately $3.5 million in available cap space, per capgeek.com.
I am not a psychologist, but suppose Howson has come to Philadelphia for a second time to talk Holmgren into another deal because he feels that he got the short end of the last one (Jeff Carter to Columbus for the rights to Jakub Voracek and the eighth overall pick in last year's draft, Sean Couturier).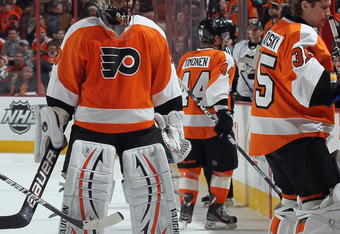 Bruce Bennett/Getty Images
If the Flyers were able to meet the Blue Jackets' asking price without losing multiple young players, the Flyers could establish one of the scariest top nine in the NHL. Hypothetically speaking, imagine this lineup:
Hartnell-Giroux-Voracek
Nash-Briere-Jagr
Read-Schenn-Simmonds
Feel free to substitute Read or Schenn in the potential deal, with Couturier remaining in Philadelphia.
Think about this—how many teams have more than two bona fide "shutdown" defenders? The Nashville Predators come to mind with their recent acquisition of Hal Gill (to join Shea Weber and Ryan Suter), but who else?
So, if teams do not possess enough shutdown defenders for three threatening scoring lines, perhaps the Flyers' best option at the trade deadline is to acquire more scoring. Certainly, strengthening a weakness is a means for improvement, but strengthening an asset has the same effect, particularly when 42 goals have come from rookies this season.
Rookie scorers are unknown commodities in the postseason. The playoffs are about matchups and a Flyers lineup with Nash and Claude Giroux, particularly if they are playing on separate lines at even strength, would create a matchup nightmare.
Nash is under contract through the spring of 2018, so he would be under team control for several years to come.
Depending upon the resolution of the collective bargaining agreement and next year's cap figure, the potential acquisition may preclude the Flyers from re-signing Jaromir Jagr, but would the Flyers be a better team now and in the future with Nash and Jagr in 2012 and Nash through 2018 without Jagr?
In addition to goal scoring, Nash would add size and strength to the Flyers' forward corps, particularly if the 6'3" James van Riemsdyk was involved in a potential deal. He would protect Claude Giroux, Danny Briere, or whatever centerman feeds him the puck.
Unlike Schenn and Kubina, there would be very little question of what Nash would be able to provide. He scores goals and is unafraid to play in the corners. The fact that he uses his size as an asset would further ingratiate him in the hearts of the Philadelphia faithful.
No, Nash can not play goal (at least not that I have seen or heard), but he is a dynamite offensive talent who could provide a sorely-needed spark to a slumping and underachieving team this year and for the next six seasons.