Chicago Cubs: 2012 Is the Season of Hope That Has No Hope
February 20, 2012
Brian Kersey/Getty Images
Spring training is upon us. Pitchers and catchers reported on Saturday for the Chicago Cubs in Arizona.
Usually spring training is the time for hope in every baseball town. The time of year where there is hope of what could be. However, things are different for the Cubs this season.
For the first time in a long time, there is real hope of what the future could hold on the north side of Chicago.
For the first time in a long time, there is an actual plan on the north side.
For the first time in, I believe, ever, the Cubs are actually rebuilding, which means 2012 will just be another season that doesn't end with a World Series championship.
And when I say "rebuilding," I mean they are ripping up the foundation and starting from the ground up.
Therefore, while there is hope for the future, there is no hope for the 2012 season.
Gone are Jim Hendry, Mike Quade and the old way of doing business. In their place are Theo Epstein, Jed Hoyer, Dale Sveum and a whole new way of doing business.
The Cubs decided to avoid repeating the same mistakes and didn't overpay for Prince Fielder, Albert Pujols or C.J. Wilson.
The big free-agent signing of the offseason was David DeJesus. We have seen trades sending away Sean Marshall, Tyler Colvin and Andrew Cashner and bringing back Ian Stewart, Travis Wood and Anthony Rizzo.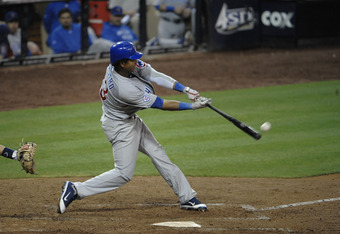 Denis Poroy/Getty Images
Oh, and before I forget, Carlos Zambrano also got a one-way ticket out of town and Aramis Ramirez signed with the division rival Milwaukee Brewers.
So who is left? Who will be taking the field for the Cubs on opening day?
Well, in the outfield we will see the familiar faces of Alfonso Soriano, Marlon Byrd along with newcomer DeJesus in right field.
The infield got a big face lift with Starlin Castro, Darwin Barney and Geovany Soto being joined by Stewart at third and Bryan LeHair at first.  
If you are thinking that this team might have trouble scoring, you are probably right and by looking at the pitching staff you might realize it could be hard for this team to stop their opponents from scoring as well.
Travis Wood, Paul Maholm and Chris Volstead will join Matt Garza and Ryan Dempster in the starting rotation while the only familiar names in the bullpen are Carlos Marmol and Kerry Wood. Randy Wells and Jeff Samardzija will compete for starting spots, but could land in the bullpen or be possibly traded if they don't make the rotation.
The only position players who might push for a spot from the minors are outfielder Brett Jackson and the newly acquired Rizzo, who is projected to be the first baseman of the future.
In no way am I attacking Epstein or the plan they are putting in place. All I am pointing out is how different this season will be compared to any other that the Cubs faithful have experienced.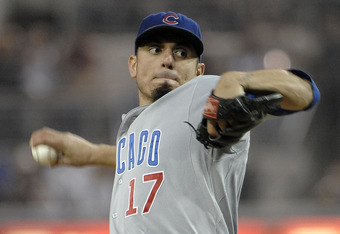 Denis Poroy/Getty Images
Chairman of the board Tom Ricketts brought Epstein in to do away with the lovable losers and actually bring a meaning to the Cubs' way of doing things.
It will not be an easy task. It will not be something accomplished over night.
The product on the field this season won't be pretty. There will be a lot of losses.
Just remember there is hope. They hired the right guy and when the time is right they will have money to spend.
Just don't expect that 103 World Series drought to end this season.
Make sure to follow me on Twitter @DaChicagoFan and check out my Web site The MG Experience for my weekly Bears, Bulls and Blackhawks podcasts.