NHL Trade Rumors: Rick Nash and Power Forwards Who Will Be Traded
February 18, 2012

Harry How/Getty Images
The NHL's Feb. 27 trade deadline is fast approaching, so trade rumors are heating up. With so many teams still in the playoff hunt, it appears as though it could be a seller's market since many squads will be looking to add players in order to improve their playoff positioning.
As important as it is to have skilled forwards, players who can mix that skill with size and strength are at a premium. The officials have failed to curtail clutching and grabbing like they did the first couple seasons after the lockout, so plenty of teams will on the lookout for big forwards who can win battles and score goals.
Here are three power forwards who will be traded prior to the deadline.
With the Columbus Blue Jackets in last place in the league by a wide margin, it isn't surprising that they are rumored to be major sellers. There are a number of assets on the team who could prove useful for postseason contenders, but the crown jewel is Rick Nash. Not only is he one of the preeminent power forwards in the game, but he is the best player in Blue Jackets history. Because of that, it will take quite a bit to acquire him in a deal.
According to Aaron Portzline of the Columbus Dispatch, Blue Jackets general manager Scott Howson, as well as several scouts, has been keeping tabs on teams like the New York Rangers, Philadelphia Flyers, San Jose Sharks and Washington Capitals, among others. Nash's $7.8 million cap hit through 2017/18 could make him tough to move, but every team could use a player like Nash, so somebody is bound to take the bait.
Dustin Penner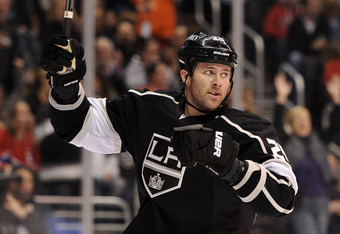 Harry How/Getty Images
To say that forward Dustin Penner's tenure with the Los Angeles Kings has been a disappointment would be an understatement. Over parts of two seasons Penner has just seven goals in 62 games. He has been a healthy scratch for the Kings on a few occasions and is simply taking up valuable cap space with his $4.25 million cap hit. Since his contract is up at the end of the year and he has four career seasons with 23 goals or more he should still be movable.
Terry Koshan of the Toronto Sun thinks that Penner is a possibility for the Toronto Maple Leafs, particularly because he wouldn't cost a ton to acquire. Penner has a history of success with general manager Brian Burke scoring 29 goals in 2006-07 when they were a part of the Anaheim Ducks organization. Burke loves big-bodied players and Penner is definitely that at 6'4" and 245 pounds. If the Leafs can't make a better deal, Penner is a good fallback option.
Mike Knuble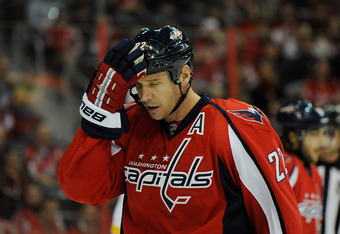 Patrick McDermott/Getty Images
Having been a healthy scratch over the past few contests, there has been plenty of speculation regarding forward Mike Knuble's future with the Washington Capitals. Knuble has been a very useful player for the Caps, posting seasons of 29 and 24 goals over the past two years, but things haven't gone nearly as well in 2011/12. Knuble has accrued just three goals and 12 points over 54 games, and doesn't appear to fit into Washington's equation any longer.
Chuck Gormley of CSN Washington thinks the Capitals would be best off moving Knuble in order to make room for other assets at the deadline. At 39 years of age Knuble may be playing in his final NHL season, especially since his $2 million contract expires at the end of the year. He is a veteran who has played in plenty of big games, he has a history of goal scoring and he has a 6'3", 233-lb. frame, so the Caps should have no issue finding a dance partner.