NBA Rumors: Brandon Jennings and Stephen Jackson Only Offer Melodrama for Bucks
February 18, 2012

Jonathan Daniel/Getty Images
The NBA season could be going much better for the Milwaukee Bucks, but if it gets any worse, Brandon Jennings and Stephen Jackson will be the players to bring it to you. 
The Bucks are in the middle of a 12-17 season and are on a three-game losing streak, but none of that matters right now. 
The big items of note are the two stars who are on the wrong side of disgruntled at the moment, and it will prove to make an awful season even worse. 
Brandon Jennings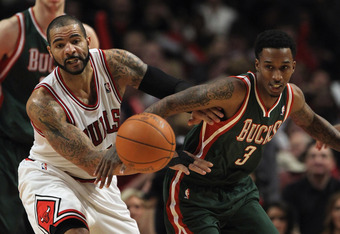 Jonathan Daniel/Getty Images
First up is the player who is no doubt reeling from not making the All-Star team and may be taking it out on everyone standing in his way. 
The starting point guard told ESPN The Magazine's Chris Broussard that he'll explore all his options after the season and may very well be playing his last ball in Milwaukee. "I am going to keep my options open, knowing that the time is coming up. I'm doing my homework on big market teams," Jennings states.
That's pretty much the last thing you want to hear from your star guard, especially when you are the Bucks, struggling to keep players in Milwaukee. 
The fallout, at least for now, has been tempered very well by the franchise. ESPN's Marc Stein reports on the latest concerning Jennings and rumors that he very well might be traded in the wake of his comments. 
Stein writes: 
There's been no indication yet that the Bucks are prepared to trade Jennings in the wake of his...comment(s) to ESPN The Magazine's Chris Broussard last week...Milwaukee isn't letting the fact that Jennings has made public his reluctance to commit long-term to an unglamorous market alter his cornerstone status. Jennings' decision to say what he said struck many observers as an ill-conceived frustration rant after he was snubbed for the Eastern Conference All-Star squad.
For now, the Bucks are willing to let things lie for the time being. There is no reason to jump the gun and start trading one of their best players. 
This may be the last we hear of this, unlike another situation brewing. 
Stephen Jackson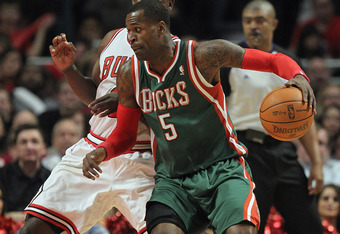 Jonathan Daniel/Getty Images
At the same time, a player who can always be counted upon to make a scene is doing just that. Jackson is once again disgruntled. 
Gery Woelfel of The Racine Journal Times reports Jackson and head coach Scott Skiles are not getting along. In the wake of limited playing time, Jackson said, "We don't have no relationship like I've had with other coaches and I don't expect to have one. Too much stuff has happened."
It is no secret that Jackson is unhappy with the organization not getting him an extension, and Woelfel now contemplates the Bucks' next move, stating that, "Considering the strained relationship and Jackson's limited playing time and productivity, it's a given the Bucks will try to unload Jackson before the March 15 trading deadline."
That is wishful thinking regarding a player who puts a strain on any franchise he touches. It would be a small miracle to get a team to take on Jackson's contract and his propensity for high drama. 
The Bucks could use a respite, and would certainly take it in the form of a Jackson trade.