Blake Geoffrion Acquisition Brings Sentimental Value to the Montreal Canadiens
February 18, 2012
Richard Wolowicz/Getty Images
On Friday, the Montreal Canadiens traded defenseman Hal Gill and a fifth-round pick to the Nashville Predators for a second-round pick, Robert Slaney and a player with a very familiar name to Canadiens' fans: Blake Geoffrion.
Geoffrion is a 23-year-old forward with just 42 NHL games under his belt. In his career, he has just 11 points. But what he brings to the team is much more important than just talent.
Blake Geoffrion is the first fourth-generation NHL player. His father, Danny, had a fairly mediocre playing career, playing just 111 games in all. But before Danny, the Geoffrion name was one of the great names in hockey.
Blake's grandfather is Bernie "Boom Boom" Geoffrion, so named because he is said to have invented the slap shot. He played all but the last two seasons of his Hall of Fame career in Montreal. In that time, he played in 11 All-Star Games, won the Stanley Cup six times—including five years in a row—and led the league in scoring twice. He won the Calder Trophy as the rookie of the year and won the Hart Memorial Trophy as league MVP in 1961.
With the Canadiens, he played more than 800 games, amassing more than 370 goals and 750 points with the team.
Amazingly though, Blake's connection to the team's history doesn't stop there, because Blake is also the great-grandson of Hall of Fame Canadien Howie Morenz.
Morenz was one of the first great Canadiens. In the first year of the Hall of Fame in 1945, Morenz was inducted alongside Georges Vezina and Hobey Baker, among others.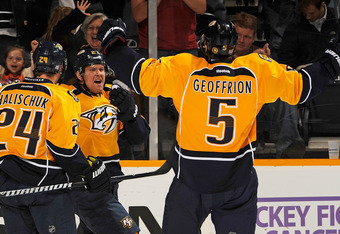 Frederick Breedon/Getty Images
At a time when scoring came at a premium, Morenz still put up an impressive 472 points in 550 games. He was a three-time Hart winner, three-time Stanley Cup champion and twice a first-team All-Star.
The Canadiens have been bad this year and moving Gill was a reflection of the team's standing more than anything else. But by receiving Geoffrion rather than just picks or prospects, the Canadiens have added the closest active connection to their former years of utter dominance.
And for Blake, it's a dream come true.
As he said from the airport where he was preparing to return home to gather his equipment, "When they told me I was being traded to the Montreal Canadiens, I couldn't believe it. I thought they were pulling my leg. I'm thrilled. I can't wait."
Geoffrion will soon get his chance to play at the Bell Centre, where the jerseys of two of his esteemed relatives hang from the ceiling.
And, as exciting as it may be for Geoffrion, it will be just as exciting for Canadiens fans, who will see a reminder of the team's greats skating for them on a regular basis.