Champions Tour: Top 5 Good Things About the Champions Tour
February 17, 2012

Otto Greule Jr/Getty Images
It's always a big transition for professional golfers when considering transitioning to the Champions Tour from the PGA Tour. A few, like Fred Couples, Kenny Perry, Tom Lehman and Tom Pernice, Jr., play both.  This season Pernice has decided to focus on the Champions Tour, but as Lehman pointed out during the ACE Classic, it's hard to do both well.
"I think the decision kind of gets made because if you're competitive, which most guys are, you don't like being kind of in the middle on any tour," he said. "I'd rather go one way and really accomplish something versus kind of just float."
Because the Champions Tour is a go low fast environment, it is very competitive.  As Kenny Perry pointed out, "The only difficult part of the Champions Tour is trying to win."
Top five:
5.  Seeing old competitors and becoming friends with them.
"You've got a competitor like Hale Irwin who was tough as nails on the PGA Tour," Perry said.  "Here's a guy I was like afraid to go up and talk to, and now it's just so cool to be able to talk to him, to a guy like Crenshaw or Tom Watson, all these Hall of Famers. Tom Kite, I was paired with last week.  To me, that's the coolest experience of it all, just to be able to hang out with these guys. These are the guys that I looked up to when I was coming up through the ranks."   
4.  Going to new courses.
"I like the newer places," Tom Lehman said.  "Last year, I played for the first time up in Seattle at Snoqualmie, which I thought was a beautiful place."  He also is enjoying new cities.  "I had never been to Savannah before the Champions Tour in my life, and Savannah is one of my favorites cities in the world.  I just love it there.  I can't wait to go back. Having new places to go is pretty cool."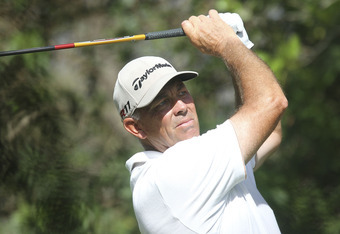 Phil Inglis/Getty Images
3.  Tough decisions: Which Tour?   
Two of Kenny Perry's favorite PGA Tour events are Crowne Plaza Colonial and The Memorial.  "I'm actually not going to play them for the first time in 24, 25 years," he said. "I'm trying to play all the Champions Tour events this year just to see what it's all about.  See the tournaments, see the sites, the locations." 
He still has some sponsor relationships such as with Greenbriar and Transitions on the PGA Tour and will play those.  "All the tournaments I had great success at I may end up missing for the first time in a long time, which is going to seem very odd to me." 
"A lot of my favorite events on the PGA Tour are now opposite my favorite events out here.  Memorial, Colonial opposite the Senior PGA Championship, and a great event in Iowa, which is close to home."  (Minnesota)
2.  Good if not great money.
As Tom Lehman pointed out, it would be great if the Champions Tour played for the same money that the PGA Tour plays for, but they do pay for as much or more than the PGA Tour played for in the pre-Tiger days.
1.  The competition. 
Champions Tour players love the battle.
"It's very competitive," John Cook said after firing a minus-three, 69 in the first round of The ACE Classic where the first-round leader, Larry Mize, posted a 62. "Things haven't changed from 25 years ago," he added with a glint in his eyes. "These guys are all the same players."      
Tom Lehman, who shot a 64 and was two back of Mize said, "It's like the PGA Tour line, These Guys are Good, only it's These Guys are STILL Good."
Kathy Bissell is a Golf Writer for Bleacher Report. Unless otherwise noted, all quotes were obtained first-hand or from official interview materials from the USGA, PGA Tour or PGA of America.