Washington Capitals: What Will the Caps Do with Mike Green?
February 17, 2012

Bruce Bennett/Getty Images
Heading into the final two months of the 2011-12 Regular Season, the Washington Capitals find themselves on the verge of falling out of the Playoff race, sitting four points back of the Southeast Division leading Florida Panthers. 
While the team's performance has been overwhelmingly disappointing in all corners of the rink, the absence of top defenseman Mike Green has been a crushing blow that the Caps have struggled to cope with. 
Green, who has played in all of ten games this season, also represents another issue for the Capitals at season's end, as he'll be eligible for restricted free agency as of July 1.
Generally speaking, defensemen who are capable of posting 30-goal and 70-point campaigns are a hot commodity in the National Hockey League, but Green's inability to stay healthy makes deciding what kind of a contract to give him all the more difficult. 
The 26-year old is among the most dynamic rearguards in the game when he's playing with confidence and a clean bill of health, but unfortunately for Caps fans, that's rarely been the case, as Green has suited up for just 59 games since the beginning of last season. 
Going forward, General Manager George McPhee has a difficult decision to make in regards to Green's future with the team.  While a two-time Norris Trophy finalist certainly isn't easy to replace, if Green is looking for a contract worth more than $3-4 million over three to four seasons, it wouldn't make sense for the team to retain him. 
As of now, the Capitals' top three offensive threats from the back end are eligible for either unrestricted or restricted free agency at season's end, and it may be difficult for McPhee to keep Green, John Carlson and Dennis Wideman, as each could command roughly $4 million annually.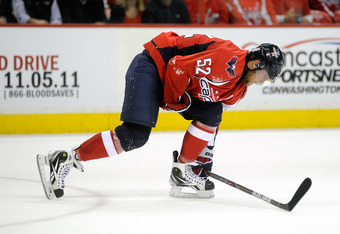 Greg Fiume/Getty Images
From a numbers standpoint, Green obviously has the highest upside, but if his health continues to be a liability, finding ways to keep Wideman and Carlson will be bigger priorities for McPhee. 
If the team can't come to an agreement with Green before free agency opens, Washington will quietly shop him, as it would allow McPhee to chase something on the open market with the money previously allotted for Green. 
Moving Green may bring more stability to a blue line that has been plagued with injuries for the past two years, but the Capitals are obviously a much more dangerous team with him in the lineup, so bringing him back at the right price would be an ideal outcome for the team. 
For now, Green is looking to return to action within the next week, and if he can put together a couple of months of strong play while helping the Caps climb back into the Playoff race, he could increase his staying power in D.C. by leaps and bounds.