The NFC North Mailbag, 2/17 Edition
February 17, 2012

Leon Halip/Getty Images
It's a light NFC North mailbag for this week, but that won't stop your intrepid writer from tackling the two questions posed to me. Instead, it simply serves as a reminder that if you have questions about the Green Bay Packers, Chicago Bears, Detroit Lions or Minnesota Vikings, you should send them along.
You can do so by sending them to my Twitter account (follow button is below) and I guarantee they'll be answered. This week's questions concern the Lions' chances to win the division in 2012 and what it will take for Bears quarterback Jay Cutler to be happy in Chicago.
@FBALL_Andrea What do the #Lions need to do to surpass the #Packers in the NFC North?

— Erik Frenz (@ErikFrenz) February 17, 2012
It's clear from what the Detroit Lions accomplished in 2011 that they have the offensive firepower to match or beat the Green Bay Packers.
No opposing quarterback out-threw the Lions' Matthew Stafford in any of the 17 total regular-season and playoff games, and he ended the year with 5,038 yards, just one of three quarterbacks to break 5,000 in 2011.
But the Lions lost both meetings against the Packers, losing first on Thanksgiving day 27-15 and again in Week 17, 45-41. These losses are due primarily to two things: a struggling secondary and a lack of discipline.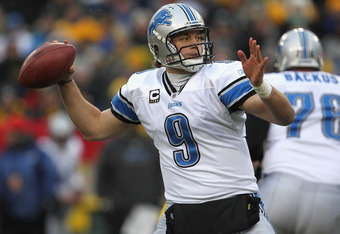 Jonathan Daniel/Getty Images
There's little doubt that the Lions will be working hard to improve both areas this offseason. Detroit was one of the most heavily-penalized teams in the 2011 season and they had 11 penalties in each game against the Packers, costing them a total of more than 180 yards between the two.
On defense, the Lions gave up an average of 367.5 yards to their opponents last season, putting them in the bottom 10 in both rushing and passing yards allowed. Defense—especially the secondary—is a major focus for the team in this year's draft. If they can find the right pieces to fit, they should look significantly better on that side of the ball in 2012.
The Lions aren't that far off from being able to defeat the Packers and win control of the division. If they can avoid the continued mental errors that have contributed to their high penalty rate and shore up some holes on defense, the Lions could end the year at the top of the NFC North even if the Packers look as strong as they did in 2011.
@FBALL_Andrea If the Bears draft a T or WR, will Jay Cutler stop pouting?

— Doug Kyed (@DougKyed) February 17, 2012
If I were Bears quarterback Jay Cutler, I'd be more than a little frustrated about my time in Chicago.
Ostensibly brought in to bring stability to the position as well as increase the effectiveness of their passing game, Cutler has been hamstrung by ill-fitting offensive coordinators and a lack of quality wide receivers, as well as by a leaky offensive line that saw him sacked a league-worst 52 times in 2010.
The sack issue improved somewhat in 2011, with then-offensive coordinator Mike Martz allowing Cutler to call more plays on the field, thus speeding up the team's passing game.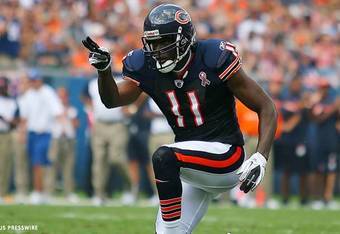 But the receiver issue wasn't properly addressed at all. The Bears unwisely brought in Roy Williams, formerly of the Dallas Cowboys and Detroit Lions and the man at the center of the worst trade Cowboys owner Jerry Jones said he's ever made. If a team signs a receiver who is that thrilled to make a first down then you know he's not going to pan out.
Earl Bennett proved a refreshing change of pace. Considering that he and Cutler played together in college at Vanderbilt, they were able to work well together pretty quickly, but Bennett is still no substitute for a player in the mold of Brandon Marshall, Cutler's favorite target when he was with the Denver Broncos.
This year, with Martz gone and general manager Jerry Angelo finally replaced by someone who appears far more competent when it comes to draft and personnel matters, the Bears look poised to draft a wide receiver in the first round for the first time since 2001.
They'll do it and end up with either Notre Dame's Michael Floyd or Baylor's Kendall Wright. Either of the two would be a real shot in the arm to the Bears' passing game and hopefully keep Cutler from having to rely on running back Matt Forte to lead the team in targets in 2012.
Chicago needs offensive line help, as always, and they could find those missing pieces in later rounds. But receiver is the most pressing issue on that side of the ball; drafting one (and perhaps nabbing a veteran in free agency if they can afford it) should help bring a smile to Cutler's face.
But pouting, generally, is part of the deal with Cutler. Sorry, but no amount of success on offense is going to prevent him from throwing at least a few tantrums next season—it's just his nature.
Follow me on Twitter and keep an eye out for the next call for NFC North mailbag submissions: Follow @FBALL_Andrea