Knicks Rumors: New York Made Mistake Cutting Renaldo Balkman over Mike Bibby
February 17, 2012

Ezra Shaw/Getty Images
The New York Knicks signed J.R. Smith today for the remainder of the season, according to the staff of ESPN New York.
Without getting into the ramifications of what that signing means and how it could affect the team, let's take a look at Renaldo Balkman, the player the Knicks cut, and if they should have dumped Mike Bibby instead.
Balkman
Pro: Size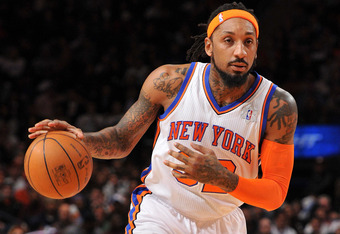 Christopher Pasatieri/Getty Images
At 6'8", 225-pounds, the former No. 20 overall draft pick could bang down low.
The NBA is a league where size is extremely important and having a big man out there who can defend and use six fouls is always a boon.
Con: Production
Balkman never lived up to his expectations as a first-round pick and averages just 4.0 points, 3.5 rebounds and 0.5 blocks per game for his career.
Those numbers were significantly down with the Knicks, and he barely saw the floor under coach Mike D'Antoni.
Bibby
Pro: Experience
Bibby is in his 14th NBA season and has been on a number of playoff teams, including the Miami Heat during their Finals run last year.
He knows what it takes to win and can still contribute on some nights.
Con: Age
The former star point guard is 33 years old and breaking down.
He no longer has the athleticism to guard anyone in the league and can't do much on offense besides spot up and shoot.
With those factors taken into account, Balkman should be the one still on the roster with Bibby fading off into the sunset.
The PF is only 27 years old and has a lot less mileage on his legs. He could still contribute to this team if a big was to go down with injury, but the Knicks would be hopeless if Bibby were leading the offense.