J.R. Smith: Newest New York Knicks Signing Hurts Jeremy Lin, Team
February 17, 2012

Doug Pensinger/Getty Images
J.R. Smith took to his Twitter account this morning to post, "New York Knicks It Is!"
This now signals the end for Smith's venture into the Chinese Basketball Association. As people are well aware of, he decided to leave the NBA during the lockout so he could continue to play ball.
He chose China but didn't realize that his team would hold him to his contract through the end of their season. Well, now that China's season is now over, Smith is free to come back as a free agent in the NBA.
He has been shopping his name to many suitors over the past week or so and has gotten some interest. But he has made his decision to join his former teammate, Carmelo Anthony, on the New York Knickerbockers. He is going to join the "Linsanity" that is Jeremy Lin as well.
But this move for the Knicks and Smith is going to be a disaster and will not live up to many people's expectations.
Ever since Mike D'Antoni threw Lin onto the basketball court (because he was out of options and needed a player that wasn't a waste of space like Baron Davis), the Knicks have not lost a game.
They had a thrilling victory over the Toronto Raptors and a big win over Kobe Bryant and the Los Angeles Lakers, where Lin outscored Bryant. Lin has turned the Knicks into a team where people can watch and not cringe with disgust.
Adding the presence of Smith to this wondrous equation baffles Lin's professors up in Harvard.
To point out the obvious, Smith is a hot-headed person, where if he has enough space, his ego will grow out of control. In the bright lights of New York, Smith's ego could get big enough to stretch all of Manhattan.
Especially that he came from a basketball league where he ran the games (see his 60-point game off the bench); he is already coming to New York thinking that he is hot stuff.
He will be in for a rude awakening when he sees that he will also have to come off the bench for the Knicks.
The Knicks starting five is pretty set for the long run. With the smartest backcourt in the NBA in Landry Fields and Lin, they have the ability to drive the lane and score, shoot the three and score, and solve the current economic problems and score.
Once Anthony returns, he will take his spot back from Bill Walker, who has been a serviceable shooting guard in Anthony's absence. Then Amar'e Stoudemire at power forward and Tyson Chandler anchors the center position.
Then, my man, Iman Shumpert comes off the bench with Steve Novak and Jared Jeffries. Sometimes Mike Bibby is allowed to play with the big boys, but only for a little bit.
From what I can see, there is no place for a shooting guard who had a horrible attitude.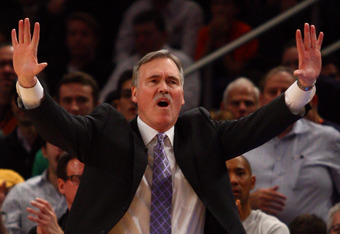 Chris Chambers/Getty Images
I haven't gotten to the worst part about Smith; he doesn't play defense. Synergy rated Smith as one of the worst defenders in the league but ESPN's John Hollinger doesn't think he is the worst.
"I don't think he was that bad, but he certainly wasn't good. While Smith has the size and physical skills to defend, well, he's inattentive, takes bad gambles and doesn't play hard." – John Hollinger, ESPN
Anything that can be said about Smith is all right in that quote. He has the ability but doesn't use his full set of talents.
Even if he does get into the game, all he is going to do is take away shots from people who can score in the NBA.  He will throw up shots that don't come close, anger Knicks fans everywhere and will ultimately make them unwatchable again. Gone would be the days of Lin scoring 25+ points a game.
Smith doesn't bring anything to the Knicks table that isn't already in place. At first, he will try to be humble and fit in with the team, but eventually his old ways will come back to him. He will try to score but will fail and the Knicks will start to lose games.
D'Antoni has not always been a good discipline coach. He can let his players get wild and out of control. It happened with him in Phoenix with Stoudemire and Shawn Marion and it has started happening with Melo, Stoudemire and the rest of the Knicks.
Smith's bad-boy persona will thrive with the Knicks, and he will be out of control until the front office decides to send him packing to another team.
Overall, the JR Smith experiment will not be a great success with the Knicks. He will take away shots from people who can shoot, his defense will hurt a team that already doesn't play great defense and his attitude and personality will do more harm than good.
The Knicks should have kept the team the way it was.