NBA Rumors: Raymond Felton Blaming Nate McMillan for Slump is Awful Career Move
February 17, 2012

Ezra Shaw/Getty Images
Raymond Felton is going to become an unrestricted free agent on July 1, which is why it was absolutely stupid of him to insinuate that Portland Trail Blazers coach Nate McMillan is the reason for his poor play.
Chris Haynes of CSNNW.com interviewed the maligned point guard and he wasn't afraid to openly point fingers at his coach.
"I know I'm struggling, but it's hard to perform the way you know how when you know they don't have confidence in you," Felton said. "Never in my days playing basketball, have I felt like a coach wasn't confident in my abilities. It's hard to play knowing that."
Felton's abilities have declined rapidly since he was traded to the Blazers this offseason.
Before he was traded to the Denver Nuggets from the New York Knicks, the UNC product was averaging 17.1 points, 9.0 assists and 3.6 rebounds per contest.
He looked like a potential All-Star and was a key member of the franchise's turnaround.
Now, he's going through a rough patch in Portland, putting up just 9.9 points, 6.3 assists and 2.3 rebounds.
His comments came after a particularly brutal game against the Los Angeles Clippers in which he recorded just two rebounds and a steal to go with his five turnovers and zero points on 0-of-7 shooting in 24 minutes.
It's crazy to think this is a guy who signed a two-year deal worth $15.8 million back in June of 2010.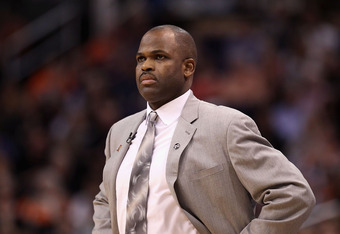 Christian Petersen/Getty Images
If he ever wants to get another big contract like that in his career, Felton is going to have to own up to his own struggles on the court
Blaming anyone else, especially his coach, is just childish and proves to GMs around the league that Felton isn't cut out to lead an NBA team.
He needs to battle through this cold streak and start earning McMillan's trust, not foolishly demanding it when he hasn't proved he deserves it on the floor.