Vitaly Petrov Replaces Jarno Trulli at Caterham Formula 1 Team
February 17, 2012

Paul Gilham/Getty Images
In a not entirely unexpected move, Jarno Trulli has been replaced at Caterham by Vitaly Petrov.
Rumours suggesting Trulli's seat was under threat from Petrov had been circulating since December, but after the Italian drove in the first test at Jerez last week, it appeared he might be safe.
However, following lengthy discussions and difficulties with his sponsors, Petrov has finally been announced as a Caterham driver, saying in a statement on the team's website:
This is a very exciting day for me.  I would like to thank Tony, Kamarudin Meranun and SM Nasarudin for giving me the chance to join a team that made its F1 debut at the same time as me, and has grown from one of the new teams to a serious force for future honours.  The passion and spirit that Tony and the whole team have to keep moving forwards is infectious, and I am honoured to be able to join them and play my part in helping the team mount a serious challenge to the teams ahead in 2012 and for many seasons to come.
Caterham owner and team principle Tony Fernandes also spoke of the Russian's arrival.
We are all delighted to welcome Vitaly into our team and are very excited about the role he will play in helping us take the next steps forward in 2012 and for many years to come.

As the first Russian to race in F1 he carries the hopes of a huge nation with ease and his talents, experience with one of our current competitors and insights on and off track will play a huge role in our development as we fight to join the established teams ahead.

I also want to take this opportunity to thank Jarno for the absolutely pivotal role he played in the formation and progression of our team since he joined us in December 2009.

It was not an easy decision to bring Vitaly in to replace Jarno, but it was one we made to ensure that we give fresh impetus across the whole team and with a realistic eye on the global economic market.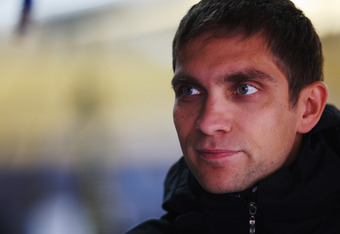 Mark Thompson/Getty Images
The final sentence confirms what we already knew—that Petrov brings much-needed income to the team in the shape of his sponsors.  But Trulli's below-par performances in 2011 will also have played a major part in the decision-making process.
Jarno was comprehensively outqualified and outraced by his teammate Heikki Kovalainen, and no longer looked like the driver he once was.  Now 37, his F1 career is almost certainly over, after 252 starts and a single race win.
The Italian was typically magnanimous in his parting words, focusing on the positive experiences from his two years at the team.
From zero we built up and established a solid F1 team.  I'm really proud to have been part of it.  I understand the decision the team has made and I want to wish to the whole team the very best of luck for the season ahead.
With Narain Karthikeyan taking the second seat at HRT earlier in the month, the 2012 grid is almost certainly now confirmed, with no other seats looking under direct threat at this time. 
But in the secret world of pay drivers and wealthy sponsors, we can never be entirely sure.