San Jose Sharks: Positives, Negatives Come from OT Loss to Lightning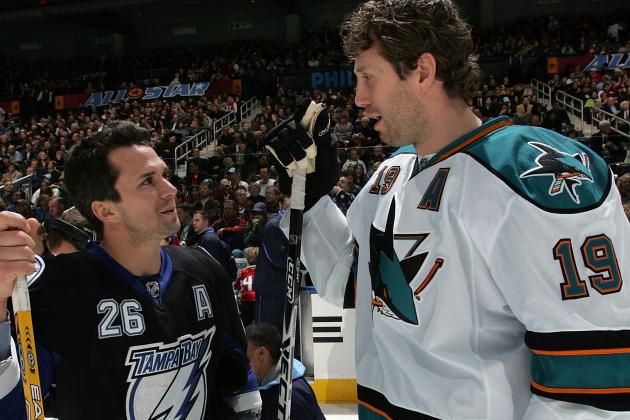 Bruce Bennett/Getty Images

The San Jose Sharks marched a step deeper into their nine-game road trip last night with a visit to Tampa Bay.
After beating the Lightning 7-2 in San Jose on December 21st, the Sharks felt confident going into this game. They were coming off an impressive 5-3 victory over the Capitals, and knew they could repeat that offensive success on Thursday.
After Dwayne Roloson was announced as the starter, the confidence must have gone up. The 42-year-old has an .883 save percentage and 3.67 goals-against average this season.
The confidence lead to another brilliant offensive showing. The Sharks scored five goals on 50 shots last night. Unfortunately, Tampa Bay scored six times on only 25 shots, and the Sharks ended up with one point in an overtime loss.
Losing in OT always provides a mixed bag, but this visit to Tampa was especially full of both positives and negatives.
Begin Slideshow

»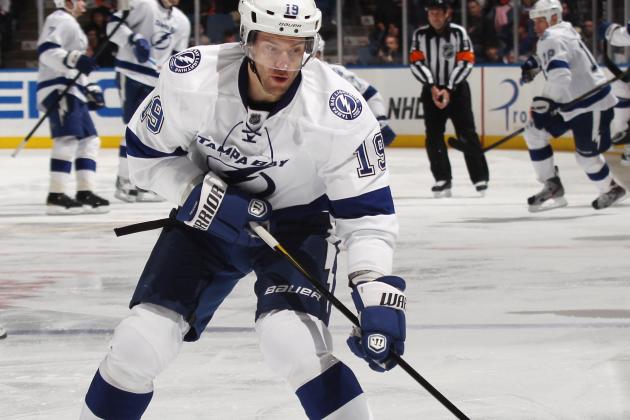 Bruce Bennett/Getty Images

The Sharks did leave Tampa with one point in the standings, but they made a much bigger acquisition before the game.
Doug Wilson got together in person with his buddy, Steve Yzerman, earlier on Thursday afternoon and talked trades. And 20 minutes before the game, they decided to help each other out.
The Sharks sent Tampa Bay a second-round draft pick that originally belonged to Minnesota. In return, San Jose landed 31-year-old forward Dominic Moore.
Moore is only in his seventh NHL season, but has been traded part way through five of them. This type of track record tends to say two things about a player: One, he's expendable, and two, he's coveted.
Moore brings speed, grit and puck-possession skills to a team looking for all three.
His 55.7 percent win percentage on faceoffs this season will fit perfectly in with the NHL's second-best team on draws. His speed and experience will help fill a void left on the second line by Martin Havlat's injury. When Havlat returns, Moore's versatile skill set will help him fit in with whichever line he ends up on.
Moore is coming off of a career year in which he tallied 18 goals and 14 assists. More importantly, from San Jose's perspective, he came up big during the Bolts' playoff run, posting 11 points in 18 games. In the previous year, he was instrumental in the Canadiens' surprise trip to the Eastern Conference Finals.
While the Sharks would love to have won last night, they'll take the OT loss, along with a guy who will almost certainly help them significantly the rest of the way.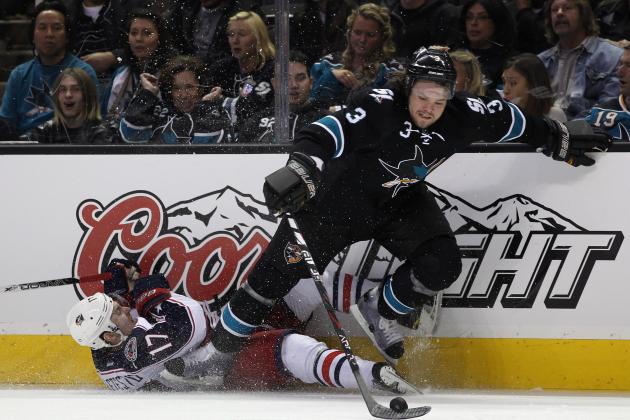 Ezra Shaw/Getty Images

Douglas Murray took a puck to the throat early in the first period. He did not return.
Hopefully for the Sharks' and for Murray's sake, no damage was done, and once he's evaluated, he can re-join the Sharks line-up.
Even so, missing a top-four defenseman for an entire game is never good. And it was especially costly on Thursday.
The Sharks were playing a skilled offensive team in Tampa Bay. Without one of their most physical defensive players for almost the entire game, the Lightning were able to get to prime scoring areas around the net all night.
With Jim Vandermeer and Jason Demers also inactive, the Sharks were forced to cycle just five defenseman following Murray's injury. This led to more-than-ideal minutes for everyone who was healthy.
Dan Boyle played over 30 minutes, and Brent Burns, over 27. Those two extreme professionals can obviously handle the extra load; but on a nine-game road trip, extra minutes start to feel like extra periods by the end.
Luckily for San Jose, they are healthier right now than they've been almost all season, but staying healthy is the hard part—and the important part—on a road trip like this.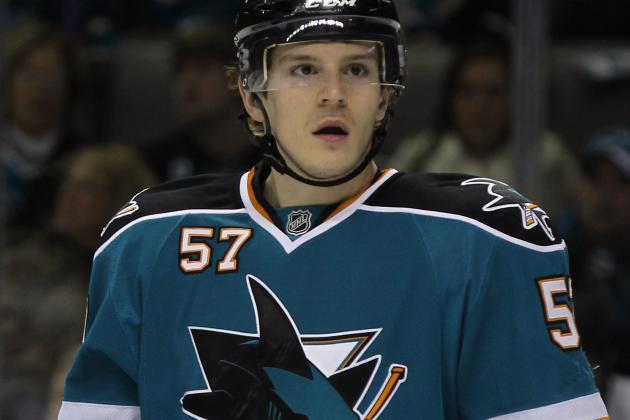 Bruce Bennett/Getty Images

This was one of the best games of Justin Braun's young career.
That's no small claim. The young blue-liner has been the most consistent defenseman outside of San Jose's top four this season. His offensive game always present, but he has a much greater sense of defensive responsibility than, say, Jason Demers.
Thursday was no exception, and Braun was a major reason San Jose generated 50 shots on goal. He was all over the ice, jumping up at the right time, keeping the puck in, getting shots through and blocking shots.
He ended up as a minus-2 (as playing alongside Colin White tends to do to players), but his ice presence was invaluable, as was his ability to step up and play over 23 minutes.
Better yet was the play of Tommy Wingels, who more definitively had the best game of his career, thus far.
The 23-year-old forward started on the second line last night, with Benn Ferriero inactive. Dominic Moore was acquired before the game, but he was obviously not going to go out and play against a team he thought he would be playing for just minutes earlier.
Wingels was arguably the best Shark on the ice tonight. He came out with a ton of energy and, like Braun, was everywhere on the ice. He was hitting everywhere, generating scoring chances and playing awesome defense all night.
After setting up Marc-Edouard Vlasic for an easy tying-goal late in the second period, Wingels tied the game up again with an absolute no-doubter late in the third.
He doubled up on both his goal and assist totals for the season, and did exactly what the Sharks need to do to pick up points on this road trip—battle and execute.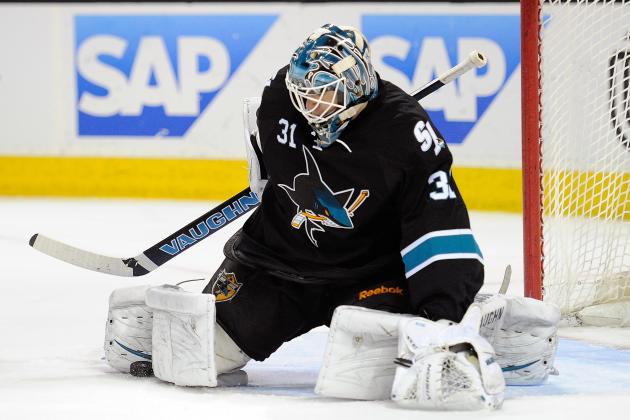 Thearon W. Henderson/Getty Images

For some reason, tonight's game reminded me a lot of a game the Sharks played last postseason.
It was Game 3, in the first round against the Los Angeles Kings. The Sharks were down 4-0 early, after Antti Niemi gave up four bad goals. But then Antero Niittymaki came in. Niittymaki was solid; but more importantly, the Sharks' offense was absolutely unstoppable. Jonathan Quick had to play a whale of a game to stop the Sharks from completely obliterating his team, and he did.
Still, the offense was so powerful that they ended up with five goals and forced overtime, where they won it 6-5.
In Thursday's game, the Sharks' offense was more relentless than I can remember it being since that playoff game. The Sharks put up 50 shots on Dwayne Roloson, and it seemed like half of those were potential goals.
Roloson, however, was on his A-game, and San Jose didn't end up with the absolute rout that they could have just as easily had.
Tampa Bay, like L.A. last April, was pretty good offensively. They took advantage of Sharks turnovers and played a fast-paced game that led to some quality scoring chances. And like in that playoff game, Antti Niemi didn't give his team a chance to win.
The numbers look bad enough. Niemi allowed six of 25 shots to get through, including two of four in the second period, one on a the Lightning's lone power play and one on one shot in overtime.
Why Todd McLellan stuck with his netminder is one question. Pulling Niemi against the Kings in last year's playoffs gave San Jose a win, and a similar decision would have at the very least gotten them to a shootout tonight.
But the coach stuck with his starter. The well-rested Niemi has no excuses—he simply needed to play better.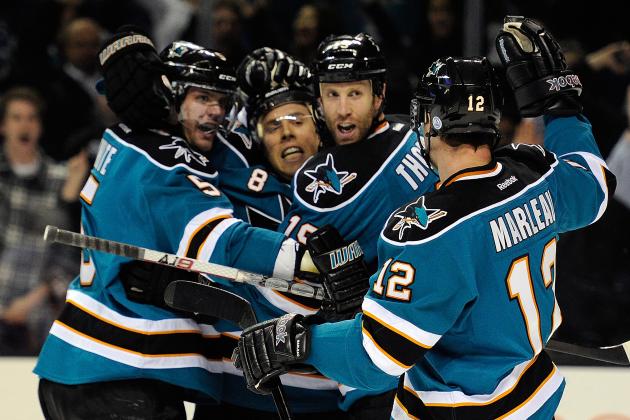 Thearon W. Henderson/Getty Images

Pardon the Jay-Z reference. Although you hockey fans probably don't get it anyway. However, quoting my favorite rapper makes every bit of sense right now.
The San Jose Sharks appear to have their swagger back.
All season long, something has been missing from San Jose's game. Sure, they've been in control of the Pacific Division almost every morning since day one. And sure, they've played a ton of quality games and beaten a ton of awesome teams.
But something changed with this team during the All-Star break.
It's not that they're suddenly on a hot streak—tonight's OT loss makes them 4-3-1 since the break. And while their scoring is way up—they've scored at least five goals in five of those eight games—they've also allowed three in all but two of them.
What the difference boils down to is, for lack of a better word, swagger. The Sharks have played hard essentially in every period of each game. They've skated well, fought for loose pucks, been aggressive on the fore-check and played with fire and emotion.
The increased number of goals is a testament to that. The sense of urgency is back with regards to the power play—and they've scored seven times with 29.2 percent efficiency on the man-advantage.
Tonight, the power play looked as good as it had all season, and if it weren't for Roloson's mastery, they'd have been three-for-three instead of one-for-three. The Sharks also fed off of their expired power plays, another sign of hunger and high energy.
The elevated number of goals allowed since the break—and last night—can be attributed to two main factors. The first is Antti Niemi, whose simply been off his game as often as he's been on it lately.
The second is the increase in "swagger." The Sharks have not been such a deadly offensive team in a long time, and as a result have to realize that a higher-potency offense tends to lead to a higher sense of urgency in their opposition.
If the Sharks' offense continues to roll, the goals-against average will likely continue to be a little higher than before. But if Niemi gets going and the defense figures out how to adjust, the return of San Jose's swagger will start to show up in the points column.