Boston Red Sox 2012: 10 Things to Watch for in Spring Training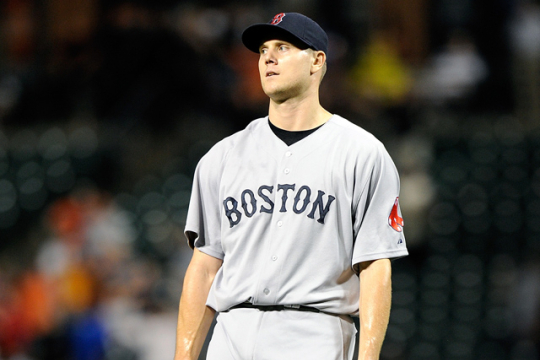 The Red Sox punctuated their 7-20 September with a walk-off loss to the Orioles, ending their season
After a catastrophic 7-20 record in the month of September, the Boston Red Sox plummeted out of the playoff picture and became a punch line throughout the sporting world. Manager Terry Francona lost his job, general manager Theo Epstein bolted for the Chicago Cubs, and veteran players such as Jonathan Papelbon and Jason Varitek were allowed to leave as free agents.
New general manager Ben Cherington reined in spending this winter, looking for cheap options to fill holes on the roster rather than shelling out huge dollars for a marquee free agent. Indeed, the biggest splash this team made was tabbing Bobby Valentine as their new manager, a radical shift from the player-friendly Francona.
As the Red Sox look to return to the playoffs after a long absence (for them), here are 10 things to watch for as they begin spring training in Ft. Myers, Florida.
Begin Slideshow

»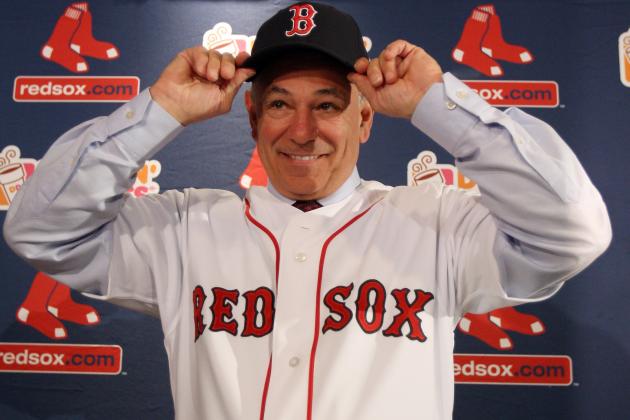 Elsa/Getty Images
Bobby Valentine's first season with the Sox will not be short on challenges
The biggest "acquisition" the Red Sox made last season was undoubtedly Valentine, a colorful personality notorious for the hard-line stance he takes with players. Whereas former manager Terry Francona used to let the players ease their way into "baseball shape," Valentine will be making players run extra sprints and travel on bus trips to every park in the Grapefruit League.
How veteran, curmudgeonly members of the Sox like Josh Beckett and Kevin Youkilis react to this aggressive brand of leadership could set the tone for what is sure to be a very challenging season.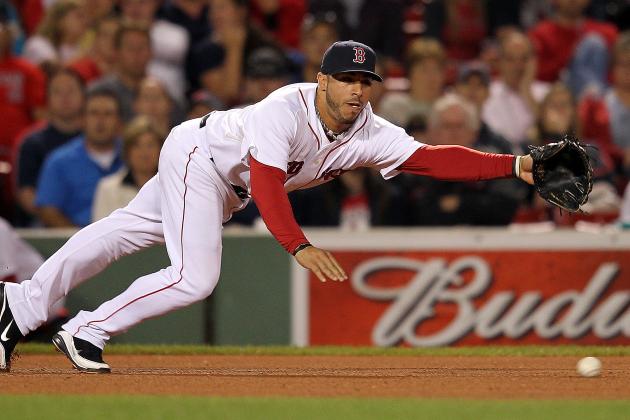 Jim Rogash/Getty Images
Mike Aviles is the likely starter at shortstop after the trades of Jed Lowrie and Marco Scutaro
When new general manager Ben Cherington dealt injury-prone utility infielder Jed Lowrie to Houston, Red Sox fans raised their eyebrows. When incumbent shortstop Marco Scutaro was sent to the Colorado Rockies for Clayton Mortensen (a relief pitcher sporting a 5.12 career ERA), Sox fans waited for the acquisition of Scutaro's replacement. And waited. And waited.
Now, it appears that the starter on Opening Day will be either Nick Punto or Mike Aviles, both of whom started exactly six games at shortstop last season. Top prospect Jose Iglesias is the heir apparent, but his glove is lightyears ahead of his bat, as indicated by his .235 batting average at Triple-A Pawtucket last season. Fans can only hope that the offensive firepower the rest of this team possesses can fill the gaping hole either Punto or Aviles will bring to the bottom of the Sox' lineup.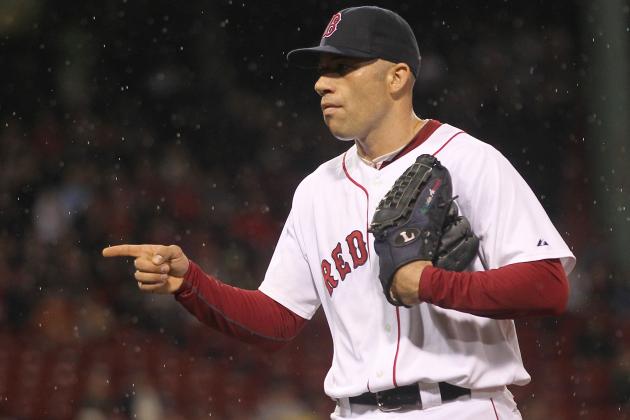 Jim Rogash/Getty Images
Alfredo Aceves was one of the Red Sox' most dependable pitchers in 2011
With matching Tommy John surgeries keeping overpaid, underachieving starters John Lackey and Daisuke Matsuzaka on the shelf for an extended period of time, the Sox are without a bona fide fifth starter. The contenders for the job consist of Alfredo Aceves, whose versatility and consistency made him one of the most valuable members of last year's team, and a veritable who's who of washed up National League starters: Aaron Cook, Vicente Padilla, and Carlos Silva. While Aceves is far more effective as a reliever, it would still be surprising if he were not the winner of this competition when the Sox break camp.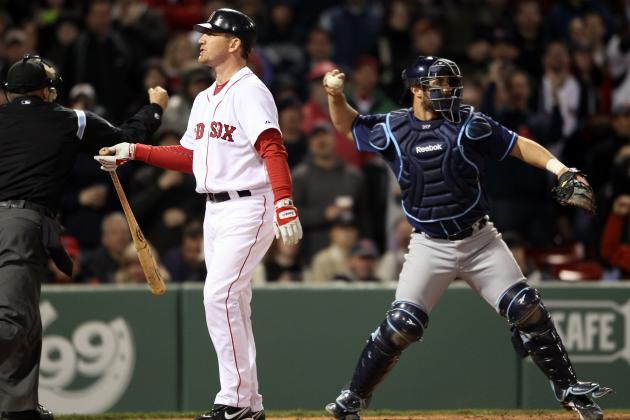 Elsa/Getty Images
This season, Red Sox fans will not miss seeing JD Drew take another called third strike
Red Sox fans everywhere will not shed a tear when they look upon the Fenway Park outfield and see someone other than JD Drew patrolling right field. The question now is, who will be there instead?
This is actually one area in which the Sox' offseason restraint paid off; they have a solid homegrown player in Ryan Kalish, to be complimented by veterans Ryan Sweeney and Cody Ross. With the injuries to Kalish and Carl Crawford, Sweeney and Ross will likely both be pressed into duty right away, but by midseason this platoon arrangement should pay dividends for the Sox' offense as they can simply ride the hottest bat.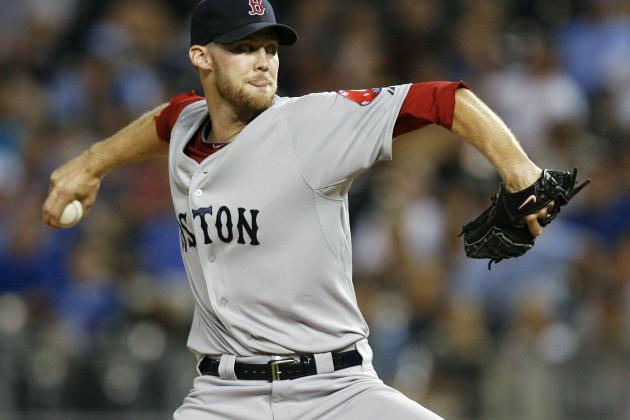 Ed Zurga/Getty Images
Daniel Bard is slated to be the #4 starter for the Red Sox in 2012
It seemed, for most of last season, that the 1-2 punch of Papelbon and Bard represented both the present and future of Red Sox closers. Fans salivated as the 100+ MPH fastballs Bard blew by hitters on a nightly basis, coupled with an occasionally devastating 90+ MPH slider. When the Sox allowed Papelbon to leave for Philadelphia without much of a fight, it was widely assumed that they did so because Bard was ready to step in as closer.
The news that he was, in fact, to become a full-time starter troubled many fans; drafted as a starter out of North Carolina in 2006, Bard sported an ERA of 7.08 along with a gaudy 78 walks in only 75.0 innings pitched in 22 minor league starts. Whether he has developed and will have the longevity to be effective for a full season remains to be seen.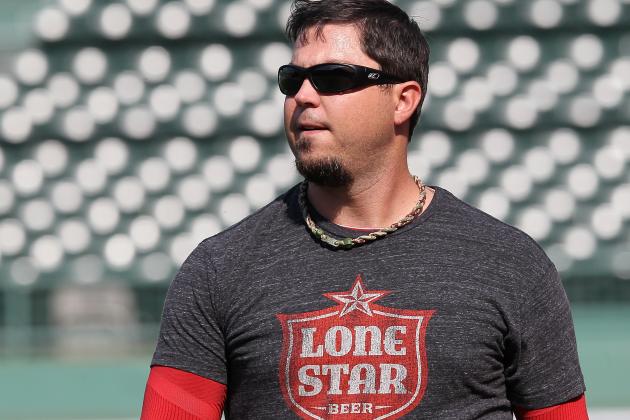 Jim Rogash/Getty Images
Josh Beckett was at the center of controversy in the offseason surrounding the team's 7-20 September meltdown
For the first five months of last season, everything was great for Josh Beckett: he was having one of the best years of his career, his team was winning, and he was healthy. Then, in September, the wheels came off. His ERA for the month was 5.48, the team suffered a catastrophic collapse, and he was villainized in the media for his role in the now infamous "Fried Chicken and Beer" scandal. Not exactly known for his affection for the media and fans, Beckett has always had a tenuous relationship with Boston in even the best of times. It will be interesting to see how he reacts to being back under the microscope as the team enters camp.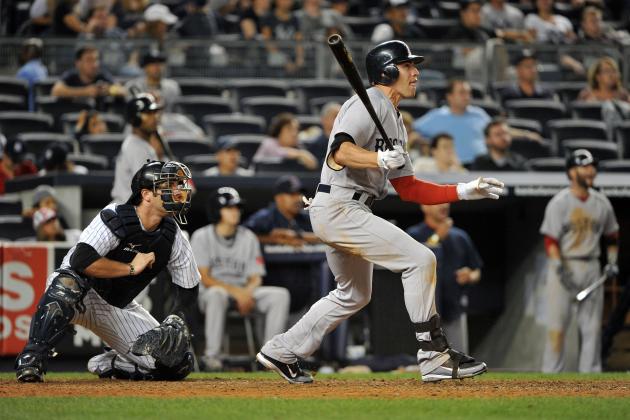 Christopher Pasatieri/Getty Images
Jacoby Ellsbury's career year helped the Red Sox lead the league in runs scored
Ellsbury, the runner-up to Justin Verlander in last year's American League MVP voting, enjoyed by far the best season of his young career. Leading the team in at-bats, runs, home runs, and steals—all while hitting leadoff—Ellsbury cemented his status as a legitimate superstar. As a free agent at the end of this upcoming season, his timing could not have been more perfect; über-agent Scott Boras is likely, as we speak, assembling one of his famous "binders" espousing how Ellsbury is the second coming of Mickey Mantle. The Red Sox are, no doubt, going to have to pony up big cash to keep Ellsbury in town, and as a young player on an older team, his value has never been higher.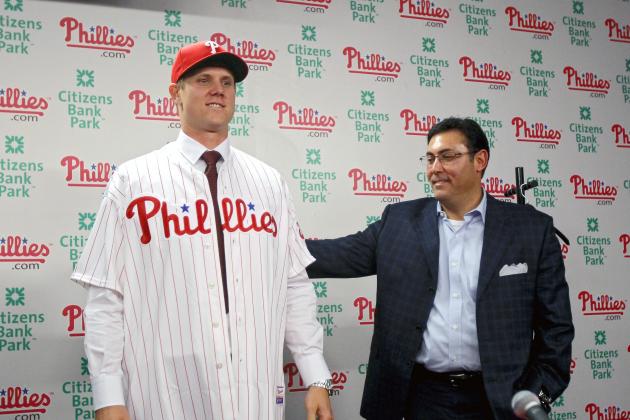 Len Redkoles/Getty Images
Former closer Jonathan Papelbon left the Red Sox for a big payday with the Philadelphia Phillies
Pop quiz: who had fewer blown saves over the last three seasons, Bailey or Papelbon? Who had a lower ERA? Who had a lower WHIP? The answer to all three of these questions, surprisingly, is Bailey. What cannot be measured is the impact the move from perennial non-factor Oakland to the pressure cooker of Boston will have on the psyche of the 2009 AL Rookie of the Year.
Bailey has never appeared in a meaningful September game, let alone in the playoffs against the Yankees. Boston fans loved Papelbon because of his fiery spirit and late game heroics; for Bailey to win their hearts (and not get run out of town a la Keith Foulke), he will have to perform well on and off the field from the first day of camp.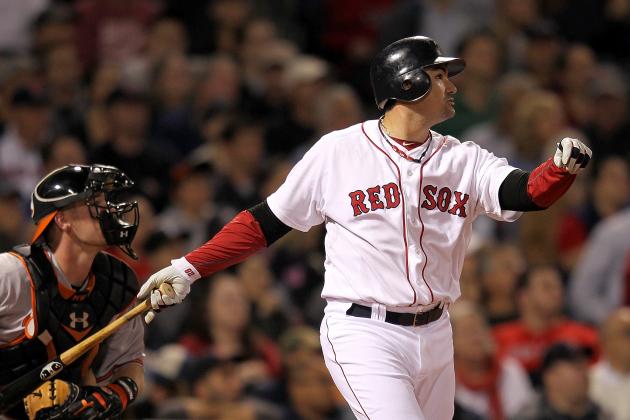 Jim Rogash/Getty Images
Adrian Gonzalez enjoyed a fine first season in Boston, but he was slowed late in the year by fatigue in his surgically-repaired right shoulder
It is hard to believe that a season in which Gonzalez finished second in the American League in batting average, third in RBI, and in the top 20 in home runs could be considered disappointing, but a balky right shoulder greatly contributed to Gonzalez' second half swoon last year. His average, RBI, and home run totals all plummeted after the All-Star break, which coincided with the team's struggles and ultimate collapse.
Now, with a full offseason of rest and rehabilitation, Gonzalez has declared himself 100 percent healthy heading into spring training. As the centerpiece of a lineup with several question marks, the $154 million man must step up for an entire season if the Red Sox are to have any chance of contending in the stacked American League East.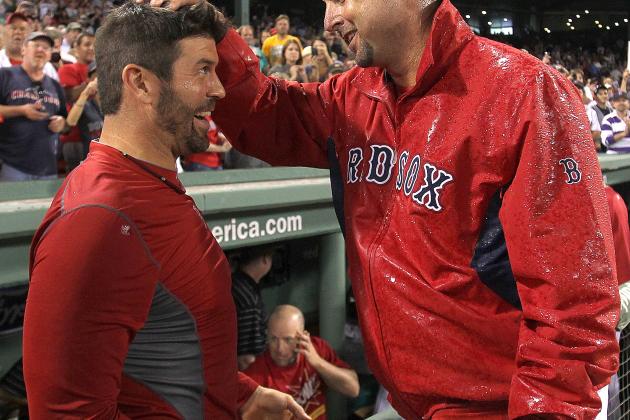 Jim Rogash/Getty Images
2012 will be the first year in a long time without captain Jason Varitek and Tim Wakefield in camp with the Red Sox
It appears that the Red Sox have finally severed ties with mainstays Varitek, the captain, and Wakefield, the longest-tenured member of the team. While both struggled numbers-wise last year, their presence in the clubhouse helped keep the team afloat over the course of a very tumultuous season. Their departure leaves David Ortiz as the last everyday player from the legendary 2004 World Series champions, and more importantly leaves a gaping void in clubhouse leadership. Given how last year ended, now is a vital time for leaders to step up and take charge of this team; the most likely candidate is former MVP Dustin Pedroia, one of the few players to escape criticism at the height of the team's collapse.