Indiana Basketball: Not Your Ordinary 20-Win Season for Tom Crean and Hoosiers
February 16, 2012

Andy Lyons/Getty Images
No one knows exactly what words were exchanged between Tom Crean and his team following Wednesday night's 71-66 win against Northwestern. But for anyone who has followed this program closely over the past four years, you could venture a pretty good guess on how they were feeling.  
Winning 20 games in a basketball season isn't anything new to the Indiana fanbase, nor is it unfamiliar territory for Coach Crean. In fact, it used to be considered par for the course for both. But don't try telling Crean and his group of seniors that it's just another 20-win season, that Wednesday night was nothing special. They know better than that.
Four years ago, when Tom Crean took this job, he knew it was a heap of trash. He also realized that under that pile of trash lie five crimson-colored banners, and sooner or later he would have Indiana back where it belonged in the national landscape of college basketball.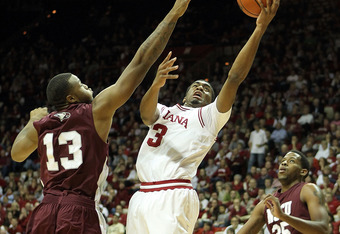 Andy Lyons/Getty Images
He certainly wasn't under any delusion that Malik Story was going to lead them to a Big Ten title in his first year, or that Nick Williams would have them cutting down the nets any time soon. It was all he could do to simply field a roster for the 2008-2009 season. And if a few players like Verdell Jones III, Tom Pritchard and Matt Roth could stick around, maybe he could begin to build some sort of foundation.
Despite a dire 6-25 start to his tenure at Indiana, Crean kept preaching patience to the Hoosiers and their fans. He probably needed as much convincing as anyone else. Every time something went right, two more things went wrong.
The Hoosiers' top-20 class of 2009 finally began to show its potential with a big breakout win against the Pittsburgh Panthers. And just as soon as freshman Maurice Creek was beginning to blossom into a future star, he was rolling around underneath the north basket in Assembly Hall with a fractured kneecap.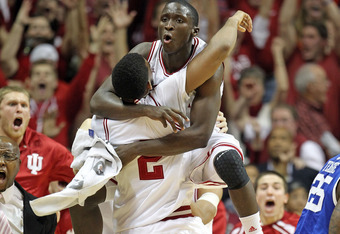 Andy Lyons/Getty Images
Another 10-win season went by, which meant another offseason that Tom Crean had to sell the Indiana fanbase on brighter days ahead. 
The 2010-2011  season comes along. Creek gets back on the court, Victor Oladipo and Will Sheehey appear to be vastly underrated recruits and the Hoosiers' sophomores are expected to take a big leap forward. November and December pass, and Indiana appears poised to make some noise in the Big Ten.
At the conclusion of what appeared to be another breakout win against Michigan, the familiar sight of Maurice Creek rolling in pain underneath the north basket of Assembly Hall occurs like a scene out of a poorly-written movie. A couple more nagging injuries, poor NCAA rulings (Guy-Marc Michel) and a few bad breaks later, and the foundation was laid for another late-season collapse.
Again, Tom Crean instructed the Hoosier faithful not to panic, Cody Zeller was coming to town. However, no one truly believed a freshman could make that big of a difference.
This season began like every other, another devastating Maurice Creek season-ending injury (torn Achilles this time), a few easy wins and the Hoosiers looking like they were world-beaters against less-than-stellar competition. But they weren't fooling anyone; everyone knew it wouldn't be until the top-ranked 2012 recruiting class came in that Indiana would truly be back to basketball relevance. Just make it to the NIT and all would be fine with the fanbase. Luckily, the team had something different in mind.
When reflecting back on this season, the moment that will stick out above all others is the walk-off win against the top-ranked Kentucky Wildcats, when in one cathartic experience, the Hoosiers instantaneously washed away the memories of three very painful years.
However, an equally important and an equally meaningful moment took place Wednesday evening in Indiana's locker room.
Tom Crean was finally able to return the favor to the seniors who had stuck with the program through its darkest days. He was able to stand with Verdell Jones III, Tom Pritchard, Matt Roth, Daniel Moore and Kory Barnett as they won their 20th game and ensure them that they would play at least one NCAA Tournament game in their careers at Indiana. And perhaps it was only fitting that it was senior Verdell Jones who put the team on his shoulders late in the game.
Wherever they were, Kyle Taber, Brett Finkelmeier and every other player who had his fingerprints on the last four years were sharing in the celebration.
In the history of Indiana basketball, there have been plenty of 20-win seasons, and there will be plenty more to come. This season alone, dozens of Division I basketball teams will earn their 20th win and think nothing of it. You can be sure that isn't the case for Tom Crean and the Indiana Hoosiers.
For more articles by Dan, go to Hoosier Cafe