25 Hilarious Bobby "The Brain" Heenan Moments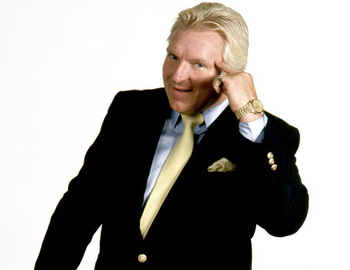 Photo from ring-rap.com
Bobby Heenan was the greatest wrestling manager of all time and the funniest guy to sit at an announce table.
The king of the one-liner and the king of the ad-lib made us laugh for decades.
A throwback to vaudeville or variety shows, Heenan's sharp tongue and deft wordplay was one of the most entertaining parts of wrestling during his entire career.
Throat cancer has tried to take away one of wrestling's great voices, but it can never touch these clips and these memories.
Dr. Von Brandenburg
It'd be easy to fill this entire list with Gorilla Monsoon and Heenan moments. Their banter and comic chemistry is sorely missed.
In this segment, after a beating handed out by Ken Patera, Bobby Heenan donned a neck brace and did a lot of complaining. He and Gorilla Monsoon welcomed Heenan's personal doctor, Dr. Von Brandenburg, to Prime Time Wrestling.
Heenan doesn't have his usual amount of witty lines here, but his weaseling is enough to make us laugh.
The Bobby Heenan Show
Though it was ultimately nothing more than a minor cult classic, giving Bobby Heenan his own talk show was the right move.
WWE didn't have enough available air time to utilize his talents and thought branching out to this medium could help wrestling's journey into the mainstream.
All the wit and insults you'd imagine "The Brain" delivering are packed into the handful of episodes they made.
Part parody show, part absurdist comedy, part Heenan's playground, the show's major flaw may be that it was just ahead of its time.
Bobby Heenan vs. a Phone
Only Heenan could take such a simple gag and turn into such amusing stuff.
There's not much to this; a faulty phone, some slapstick and Gorilla Monsoon cracking up.
But with just that, Heenan found a way to mine comic gold.
Nobody else had us simultaneously rooting against them and loving them like "The Brain."
We wanted to see him fall on his face, made a fool of and he made his suffering, no matter how minor, monumentally entertaining.
AWA
Like many WWE stars of the '80s, Bobby Heenan started out in Verne Gagne's AWA. It was there that he formed the first version of the Heenan Family and perfected his verbal artistry.
In this promo he deftly rattles off insults, dogging the University of Wisconsin-Madison and the High Flyers.
Heenan is smooth here like, he was for so many years. He was the best trash-talker in the business.
It's fun to watch Mean Gene's reactions.
He has to hold back laughter several times.
Best Brain Line: "The entrance exam, you have to be able to write your name in three different colors of crayon."
Santa Claus
Leave it to Bobby Heenan to take a silly joke like telling kids that Santa Claus isn't real and turn it into a face-reddening spectacle.
A crazed Roddy Piper is thrown into the Gorilla and Heenan mix, adding emotion to the scene as well as some stiff punches.
Heenan's maniacal laughter at his own jokes and the amount of fun he's having cement this segment as a classic.
Best Brain line: "That guy you sit on his lap at the discount store, just out of detox."
Weasel Suit
Heenan flopping around the ring in a weasel suit is one of the most iconic images in wrestling history. WWE would try to recreate the moment years later with Heenan and the Ultimate Warrior, but the AWA version did it better.
After losing a match to Greg Gagne, Heenan was forced to wear the weasel suit and he made the most of the incident with some zealous slapstick.
Weasel chants went on to become something crowds many years later would go nuts with.
Mike McGuirk
Ring announcer Mike McGuirk was the recipient of countless Heenan ribs. She was the Brain's comedic muse, inspiring some of his best one-liners.
I always confused as a kid, and admittedly still am, why a woman was named Mike.
Hearing Heenan berate McGuirk makes me curious to the material he could have come up with for Lilian Garcia or Justin Roberts.
Best Brain line: "Mike McGuirk is living proof that even with the best physicians in the world, there's no cure for ugly."
Sean Mooney
Heenan's lengthy line about Mooney's family tree is hard to appreciate on live television, but luckily for us, we can rewatch the video and catch all of it.
I never understood why Heenan had to share the spotlight at these roundtable segments with Hillbilly Jim and Hacksaw Jim Duggan. Mr. Perfect played well off Heenan, even if he was just laughing at Heenan's jokes.
I suppose they wanted to balance out the heel/face ratio, but why hear Duggan and Hillbilly when you can hear "The Brain"?
Survivor Series 1993
There are countless examples of Heenan shining on commentary, but one of his best performances was at Survivor Series 1993 during a match between Bret Hart's team and Shawn Michaels' team.
He went off on everybody, but handed out dig after dig on Stu Hart.
I don't know if McMahon told him before the show to just let loose or if he got carried away. Either way, Heenan was on his game that night. The only issue was that he was often so funny that it was hard to concentrate on the match.
Best Brain line: "Oh no, they're going to repossess my teeth."
Dennis Miller Show
Bobby Heenan is the type of guy you could listen to tell stories long into the night. Dennis Miller gave us a taste of that on his talk show in 2004.
Not only does Heenan smear humor over every word that comes out of his mouth, but he has a wealth of experience and inside information.
Seeing him post-managing and post-commentary on TV was a treat. The more people who are exposed to him, the better.
Best Brain line: "When a man gets on the plane at seven in the morning and he's 7'5'' and he weighs 550 and he's tanked, don't give him tools."
Fired by Monsoon
Heenan left WWE in 1993 with thoughts of retirement. He ended up going to WCW, mostly because they offered a lighter schedule and better insurance.
His exit from Monday Night Raw and WWE was classic Heenan.
Watching him scrounge around in the dark for his roll of toilet paper and loose socks was equally heart-rending and hilarious.
Fans couldn't know at the time that they wouldn't see "The Brain" back in the WWE for nearly a decade or know that they when he finally did return, throat cancer would have started to eat away at him.
Best Brain line: "My belongings!"
Prime Time Wrestling
Gorilla Monsoon and Bobby Heenan were so entertaining on Prime Time Wrestling that they didn't even need the wrestling.
Perfect chemistry powered their banter. With minimal production value, they could turn a banal situation into comedy.
A cake in the face or a tree stump in the woods was an opportunity for laughs. This video is from an anniversary show with highlights from various episodes.
Best Brain line: "That could be anybody's banana."
Cow Palace
One of the more subdued promos in Heenan's career saw him calmly rattle off a number of choice insults.
He makes fun of Ivan Putski's finishing move, the 49ers and George Wells.
Sarcasm and smoothness on the mic were on full display here.
Best Brain line: "He played end, guard and tackle, he sat at the end of the bench, guarded the water bucket and tackled anybody who came near it!"
AWA 1984
Give Bobby Heenan a single minute to work with and he will have it bursting with one liners.
Discussing Verne Gagne's Pro Wrestling Report, Heenan goes into rapid-fire comedy mode. He somehow manages to sell the paper while trashing it.
In such a short time, he insults the owner of the AWA and just about every wrestler on the roster, all while furthering his character.
Best Brain line: "You even did a column in here. That's like reading the walls at a bus station."
Hall of Fame Speech
It was a special night when Bobby Heenan, Harley Race, Superstar Billy Graham and Sgt. Slaughter were inducted into the WWE Hall of Fame.
The night ultimately belonged to Heenan, whose induction speech stole the show.
He showed that even weakened by cancer, he was still the same guy—quick-witted, sardonic, brilliant. He popped off joke after joke, having almost as much fun as the fans.
Best Brain line: "I have to go on the road here with Larry Flynt."
Returns to Nitro
Nobody made weaseling as entertaining as Bobby Heenan.
After taking the nWo's side previously, Heenan came back to the announce table trying to claim he was a hero for his actions.
Behind him, the crowd chants "Weasel! Weasel!" as loud as they'd chant for any wrestler. Is there a commentator who could get that reaction other than "The Brain"?
Best Brain line: "Roll it!"
Vs. Boss Man
"The Brain" is not known for his wrestling abilities. It was clear early in his career that his verbal skills far outshined his physical ones.
Once his weasel character was well established, Heenan periodically stepped in the ring to appease fans' desires to see him get the whippings he deserved.
Though the actual action doesn't start until after three-and-a-half minutes into the match, it's compelling from the start because of how ridiculous and hilariously cowardly Heenan is.
Andre the Giant
Andre's face turn and rejection of Bobby Heenan made for great television.
As a kid, it was exhilarating to think that one of the biggest, baddest and coolest villains was coming to the other side.
Seeing Heenan go down in flames in the process made it that much more rewarding.
Andre had Heenan roll around in a tub of grapes and Heenan denied that it was indicative of a failing relationship. He then asked the giant if everything was "hunky-dory" only to get his hand crushed in the process.
Few people can make getting hurt look so funny.
Best Brain line: "Rolling around in grapes is very therapeutic."
HBK Attacks Marty Jannetty
In one of the most shocking heel turns and tag team break ups of all time, Shawn Michaels ended the Rockers with a swift superkick.
Bobby Heenan's quips made the moment that much more memorable.
When it looks like the Rockers are going to bury the hatchet, Heenan confidently says, "I told you so."
Before Jannetty's feet even fall to the floor, Heenan announces, "I knew that was going to happen."
Best Brain line: "Jannetty tried to dive through the window to escape."
Kentucky Derby Museum
In a funny Prime Time Wrestling segment, Bobby Heenan tries to buy a horse from a shady character at the Kentucky Derby Museum.
If someone were to describe the scene to you, it'd sound boring. Two guys walking around a museum and looking at horses, how's that entertainment?
But Heenan's ignorance and stinginess along with, of course, his comic timing make this a fun watch.
Best Brain line: "You sit like this on the little leather thing and these are called hoof holders."
Narcissist Unveiled
Some unintentional comedy from Bobby Heenan came about during Lex Luger's WWE debut. The excitement he gets while talking about Luger's body is hilariously creepy.
Heenan's head just about explodes when Luger starts to make his thighs quiver.
But is that funnier than the fact that Heenan could never correctly pronounce "narcissist?"
Even with how silly this concept is, "The Brain" sells it. His presence made any wrestler, any gimmick seem more important.
WrestleMania IX
No wit, no wise-cracking here.
Heenan showed off at the WrestleMania IX opening ceremonies that he is also quite proficient at slapstick.
Riding in backwards on a camel doesn't sound all that funny on paper, but Heenan turns it into a masterful performance.
All the heat he'd drawn over the years makes the moment that much better as fans were eager to watch him make a fool of himself, if not fall completely off the animal.
The fun starts at 6:50 into the video.
Balls
In an interview during WrestleMania V, Mean Gene comes ever so close to saying "balls" on live TV. Had he done it years later during the Attitude Era, it would have gone unnoticed.
Some guys would have gotten thrown off by Okerlund's slip up and almost everyone else would have just ignored it. Heenan quickly made it much funnier by feigning the same goof.
He's had tons of funnier moments, but few times has he so effortlessly shown off his ad lib skills.
Last Night with WCW
Another simple gag had Heenan allude to it being his last night on Nitro early in the show and then begin to shake his colleagues' hands in farewell.
Fooling everybody is pretty funny, but really his own reaction to the prank that makes this so priceless.
He seems like it might either have a seizure or fall out of his chair from laughing.
Feel free to add your own jokes about how much better off he'd be had he been serious about leaving WCW.
WrestleMania 8
A decent Shawn Michaels and Tito Santana match, a blasé Rick Martel and Tatanka match as well as Bret Hart and Roddy Piper battling it out for the Intercontinental title wouldn't have been the same without the Brain.
Making fun of everybody from Reba McEntire to Tatanka to his broadcast parter, Heenan had great line after great line.
It was never just a joke fest with Heenan's commentary either. He expertly played a character, a snide weasel of a man we hated and loved just the same.
Best Brain line: "Two ugly people looking at each other. That's fun."
Keep Reading