NHL Trade Rumors: Luke Schenn Would Be Great Fit for Philadelphia Flyers
February 17, 2012

Claus Andersen/Getty Images
With James van Riemsdyk reportedly making progress in his comeback from a concussion, rumors surrounding a swap for Toronto Maple Leafs defenseman Luke Schenn are heating up again.
Bob Mitchell of the Toronto Star reported in January that the Philadelphia Flyers were looking for a defenseman and that Schenn would be a good fit alongside his brother, Brayden.
Riemsdyk wore a regular jersey in Wednesday's practice after being in a non-contact jersey on Tuesday, according to the Philadelphia Inquirer.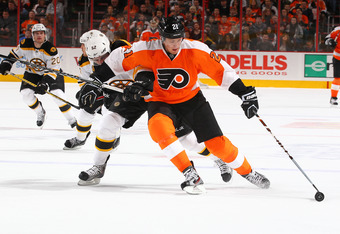 Al Bello/Getty Images
The Flyers have allowed 2.93 goals per game this season, eighth-most in the NHL. They also lost Chris Pronger for the season in December because of severe post-concussion syndrome.
According to Mitchell, Maple Leafs general manager Brian Burke told SportsNet's "Prime Time Sports" in January that he was looking for a big, strong winger with playoff experience, and he's said he's willing to part with a first-round pick to get the player he wants.
There is no question the Flyers need some defense. They are currently fourth in the Eastern Conference, but they have to continually outscore opponents to pick up games. They are scoring 3.23 goals per game, second in the NHL. Adding a player of Schenn's caliber—the No. 5 overall pick in the 2008 NHL draft—would be a huge win for the Flyers as they contend for the Stanley Cup this season.
It's all going to depend on how Riemsdyk progresses before the Feb. 27 trade deadline. He's showing signs of getting back to 100 percent, but he's not out of the woods yet. If he's ultimately cleared before the deadline, there's a good chance this swap is made.
And for the rest of the NHL, it would make the Flyers a team to be wary of in the postseason.